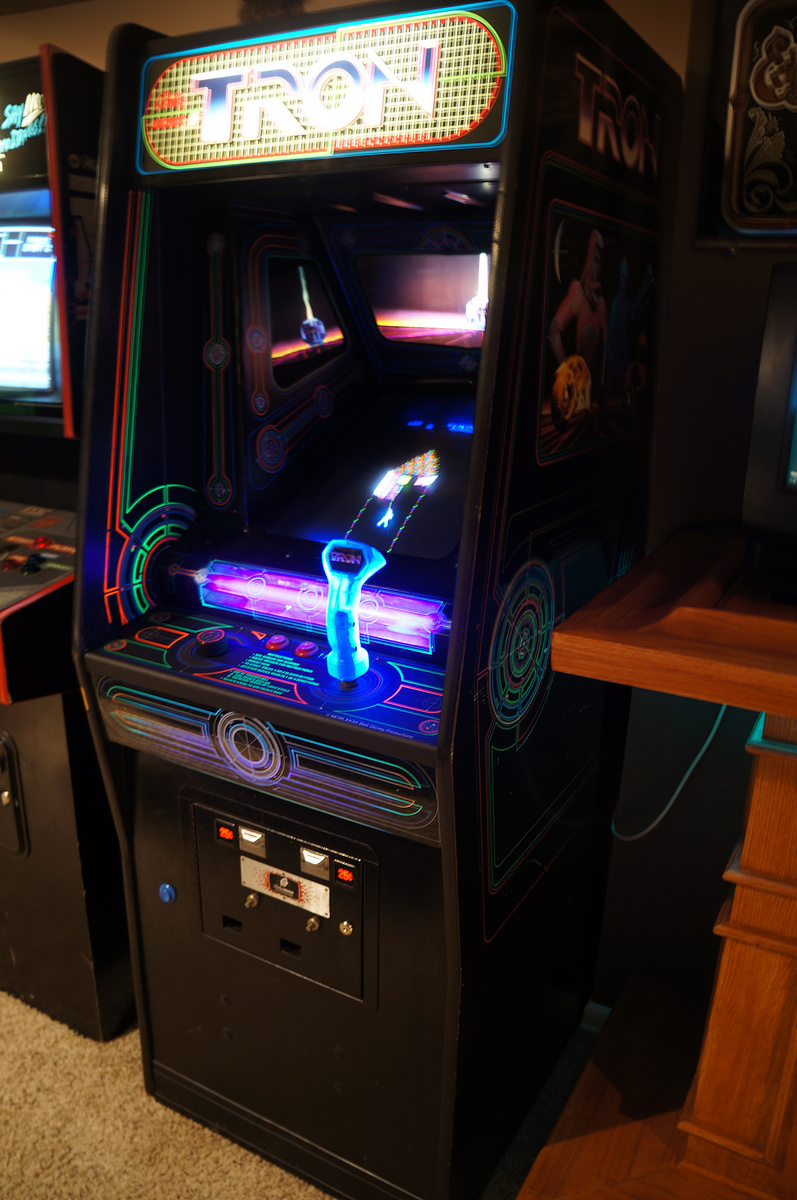 I was doing some work video shooting around the arcade recently, and went through and was hitting the start button on each one of my games to play for 60 seconds. Much to my dismay and surprise, when I fired up the start button on Tron the game was playing... in silence. No sound. Nothing. Nada.

This absolutely gorgeous nearly HUO Tron (home use only) was giving me the silent treatment. Literally. I pulled out the game, opened it up and starting checking over the basics. Adjusted voltages, tightened cables, and still nothing. Next I pull out the board and reseat all the chips. Still nothing. I go into the setup menu and this time I am seeing the error "Sound Board Interface Error".

Well, that's a new one. I research the error and yes, its failed communication with the Tron sound board out of a 3 board stack. Possible causes are the interconnect cables, Z80 cpu and sound RAM. I swap around all those nasty interconnect cables hoping to have swapped in a good one for a bad. Still get the error. At this point I try bidding on an untested boardset for parts on ebay and was outbid to $100, for an untested (read broken) boardset! Stupid ebay.

Finally I come home one day and start digging through my parts boards. I find a Z80 cpu and two 6116 RAM chips and set them aside. First I swap in the RAM for the Tron and still have no sound. Finally I swap in the Z80 cpu and hit the start button. Wait a second... WHAT IS THAT?... THE TRON INTRO SOUND! Yes! Success! The old Z80 cpu must have bit the dust after 30 years of service.

Thank the Lord that I didn't spend $70 on new interconnect cables, or $100 on another broken Tron board. Sometimes, it takes a little time, effort and prayer to fix these things. Thank GOD my Tron is fully functional again. I have a gameday coming up in a few weeks and I like my herd to be working in full force.

To read more about how I found this Tron cocooned in an old man's basement for 20 years, click here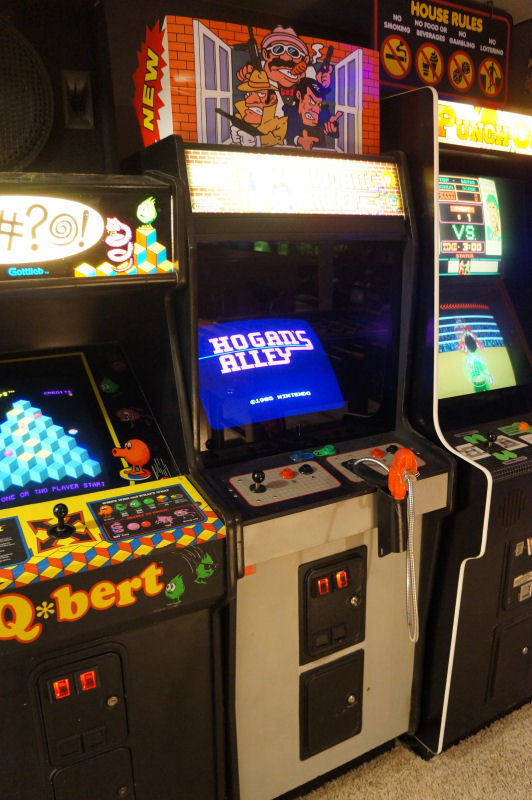 Easy come, easy go. Such is the life of a collector. Sometimes, you just have to sell a game and watch it leave the arcade... unless it's my HUO Tron or Star Wars arcade game. My childrens, childrens, children will inherit that Star Wars machine. If all my kids die before I do, they will have to scrape out all the electronics and bury me inside that cabinet. Sell anything, but my Star Wars.

Recently I did some rearranging of the gameroom and in order to make everything flow better, one game had to go. I spent many a sleepless nights trying to figure this one out. I have a lot of games that get a lot of play, they aren't going anywhere. I have games that no one cares for but "I" like them, they aren't going anywhere (I just don't get why Xevious doesn't get any love). Then I have those inbetween.

I have an outstanding Nintendo row. I have 8 Nintendo games all lined up to be exact. It's a sweet sight and the first thing that you see when you walk into my arcade. I like Nintendo. However, they get played in this order. Everyone plays VS Super Mario. Some people play Donkey Kong and Punchout. Then there is the rest which only get minor play. So which one bothered me the most?

Well, I really liked VS Hogans Alley. I wouldn't have owned it if I didn't. However, the cabinet was an original grey VS cabinet and therefore didn't match the other ones on Nintendo row. It was also the only game which I couldn't disable the attract music which I find mildly annoying. Finally, this particular game would never coin up with a freeplay button in a proper manner. Somehow, the board was timed to sense the split millisecond that you would drop a quarter. If you held the freeplay button 2 milliseconds too long the game wouldn't coin up. Anyone that wanted to play this game had to rapidly tap the freeplay button until the board "sensed" a quarter drop. Uggg. Three strikes and you're out.
VS Hogans Alley has now been sold.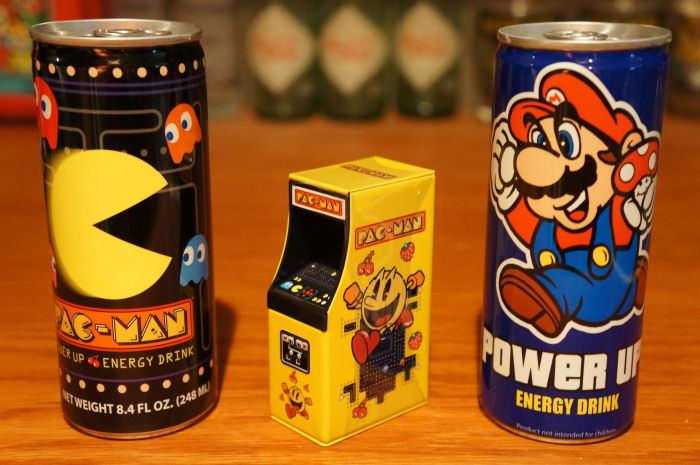 I have my own personal arcade. There are video games, all lit up that you go and play as much as you want. However, I feel that ambience is just as important to an arcade or gameroom experience. People have walked around my gameroom before, looking on the wall and shelves to get ideas on how I decorated my gameroom. I'm always on the lookout for new items to put in there. I typically collect anything arcade or vintage related.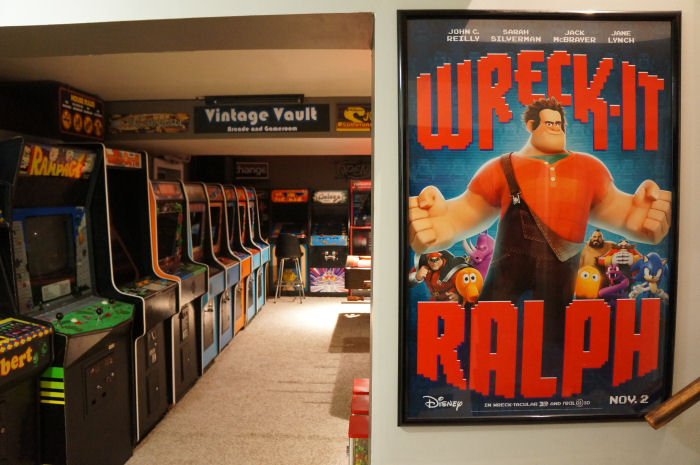 Recently I was in store and seen a metal Pacman candy tin shaped like an arcade game, as well as Pacman and Super Mario Bros energy drinks. Bam. There you go. I bought those guys and brought them home to put up on the shelves. I also picked up a vintage 1988 Super Mario Bros lunch box with thermos. It was a little worn, but still fits the bill since I have a VS Super Mario Bros stand up game in the arcade.

Now Wreck It Ralph is a good example of something non-vintage but it is definitely arcade related. For Christmas, my wife got me a full sized 40 in. x 27 in.Wreck It Ralph poster. I framed the poster and it now graces the entrance of the arcade. Happy Hunting looking for your gameroom items!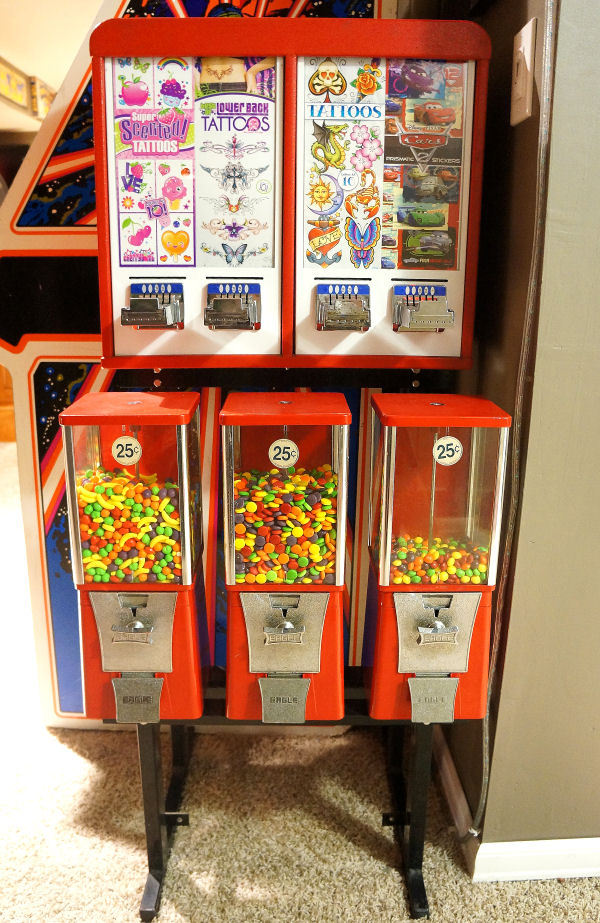 My kids LOVE temporary tattoos. They can't get enough of them. My little girl has covered her arms completely with them. Because of that, every time I pass one of these tattoo vending machines my kids want one at 50 cents a pop. Fifty cents! Why am I paying for something like that because my kids want a tattoo fix? I own my own arcade, have a soda machine, candy crane and small candy machines. BUT I don't have a tattoo vending machine. I have said many times that when I get a chance, I'm picking one of these things up. I've looked online at prices, and new units cost upwards of $500. Wow.

Flash forward to the present where I happened to attend a pretty lackadaisical Super Auctions. The classics were sparse and every item was selling for way too much money. Plus this particular auction was trying to sell off over fifty 8-Liners which are basically junky poker machines. They are big, bulky, and pale in comparison to a sweet Megatouch machine. The auctioneer eventually gets through the overpriced arcade games and all the 8-Liners. Finally, the last items to sell for the day were a small batch of vending machines. By that time, most everyone had left or were in line checking out with their purchases. I bid on a combo unit and won. According to the auctioneer, I won two units as long as I wanted to pay double the price. Nah, I told him I only wanted one and picked out the nicer unit.

I get this machine home, clean it up, fill it up with candy and put it in the arcade. I then put my 2 smaller mismatched candy machines up for sale. They both were eventually bought by the video game store Slackers. I use the proceeds of that sale to stock my new unit with temporary tattoos and Cars stickers. Can't beat auction prices on this one as opposed to paying $500 for a new unit. This vending machine is a sweet new addition to the Vintage Vault Arcade.
I've always said it. If you have 3 arcade games all your own, then you have your own personal arcade. This month in celebration of the NHL lockout being lifted I am sharing my friend Chris's arcade. The gameroom featured this month is aptly named "Hockey Haven".
You saw the pictures, now its time for the video! This is the latest video of the Vintage Vault Arcade and Gameroom and also video from the Christmas party. You see it all, Nintendo row, Midway row, drivers row and Williams row. I really dig the sounds coming out of the arcade, its almost like being Back In The Day. Lets face it, I have the arcade to relive those days, to preserve these games, and let several generations enjoy the experience we had growing up. Enjoy the video!