Mysterious forces are after Rock Dad and Bob the Bot. Can they survive to play games another day?
Includes bonus outtakes after the credits so make sure you watch it until the end!
One of my favorite arcade videos from the Vault was posted on Reddit which went viral for a brief time, raising it 40,000 hits in a day before youtube rolled some of those hits back, presumeably to review them in case they were bots. This was when a bus load of kids visited the arcade. Screenshot of the reddit article is below along with the original youtube video. Here is a link to the article (and hundreds of funny comments) Reddit article link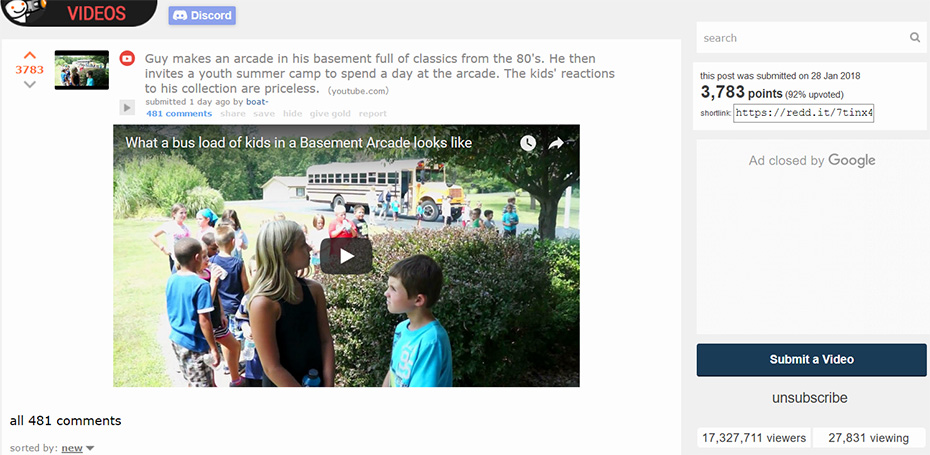 Where else would one spend New Years Eve 2017? Down in the Vintage Vault Arcade of course! This kid friendly affair was the perfect playground for adults and kids. The kids got all hopped up on the candy machines and ran the arcade. They literally ran through it... many times. Parents got to eat, drink, play and sing.

In the arcade there is a Video Jukebox with HD music videos. I just added 2 wireless microphones to the 4 wired mics for the increased fun factor. Along with the festivities and videogames, parents got to listen to and karaoke to 2400+ music videos stocked in the Video Jukebox. Good times, and no one had to drive home! Happy New Year!
Coming from our family Christmas at the Vintage Vault Arcade. Merry Christmas everyone! May you be blessed this holiday!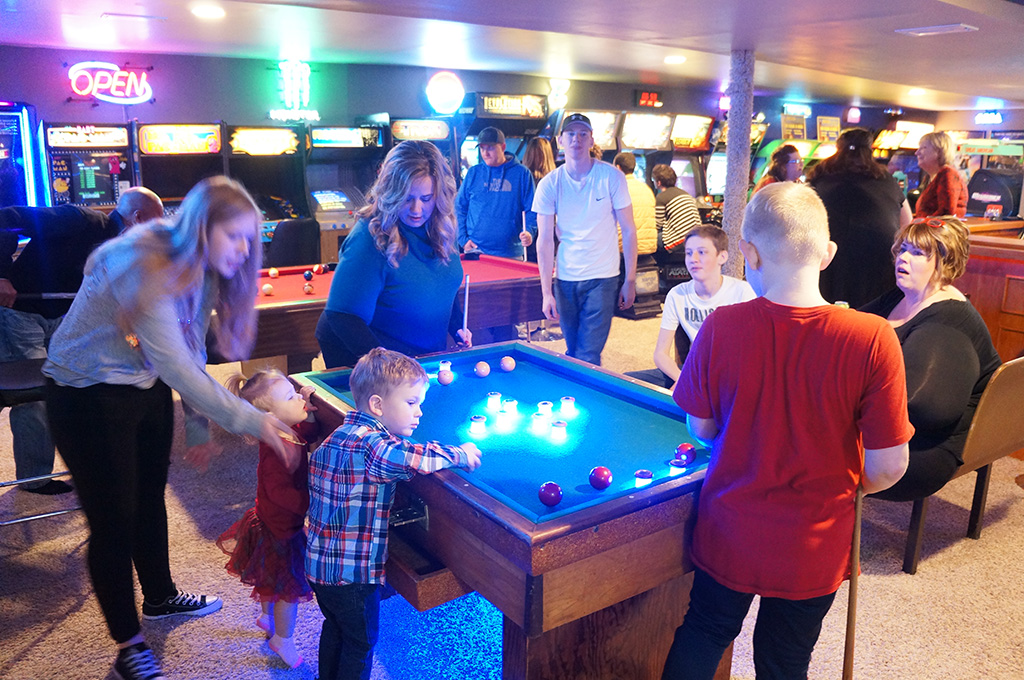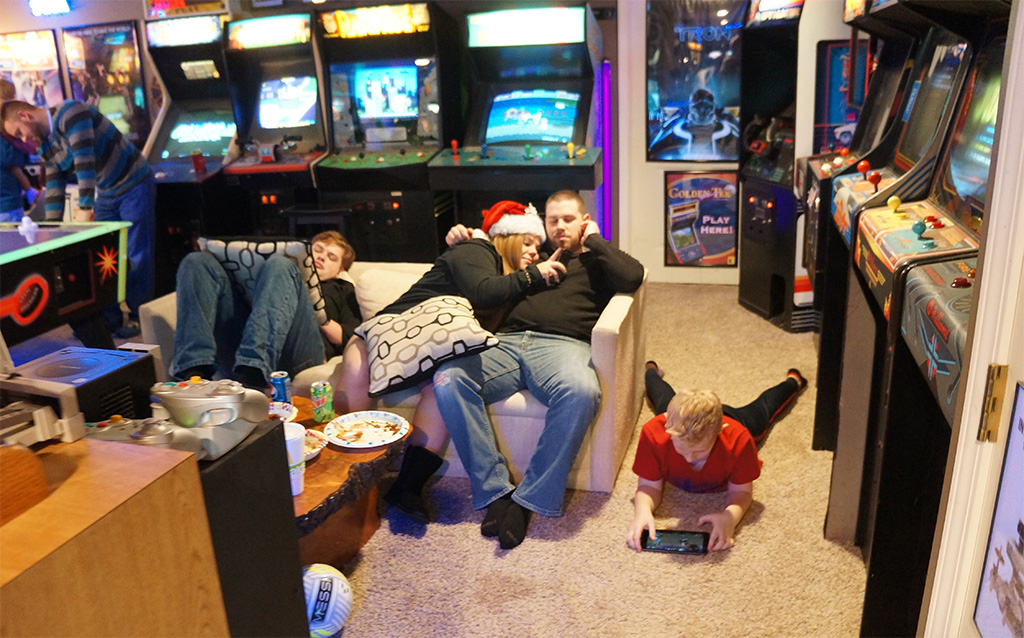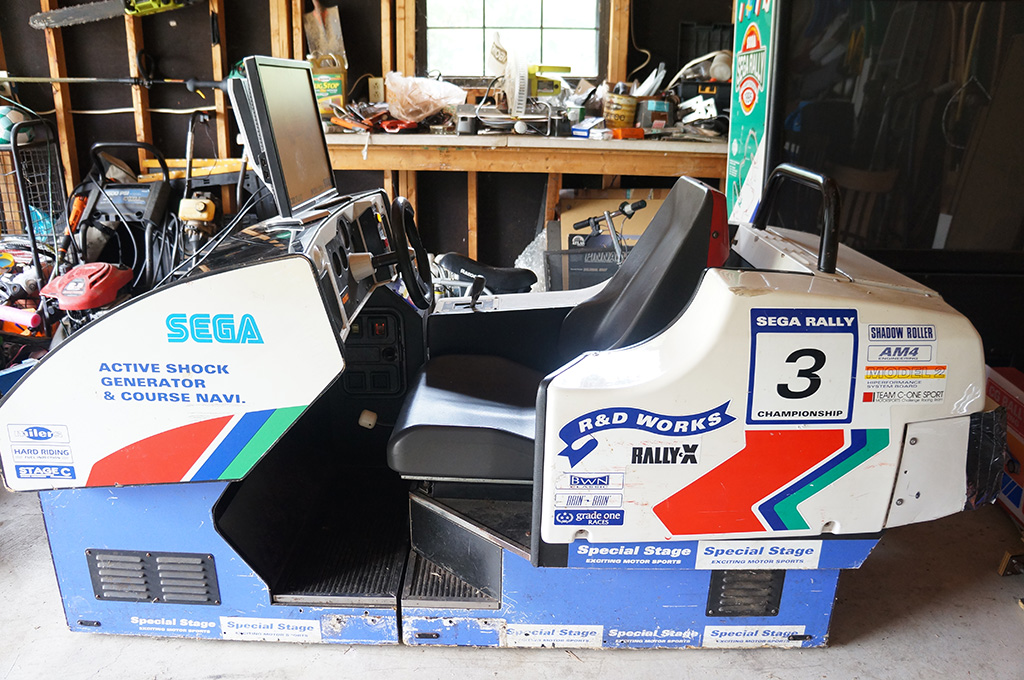 At the end of summer I picked up a second massive Sega Rally Championship Deluxe so I could pull parts off of it. You can read more about that road trip here. I honestly thought I would never come across another one of these again. I took off the uncracked bumper and marquee (title sign) and put them on my game in the arcade. In the process of testing parts for harvesting, I managed to get the game fully working over a couple of months using some spare parts I had received with my original Sega Rally driving game.

The projection monitor was shot, but I put in an LCD converter. In the end, I couldn't bear to part it out and I needed my garage space back. This game has now been sold, but its memory lives on with the parts I kept from it.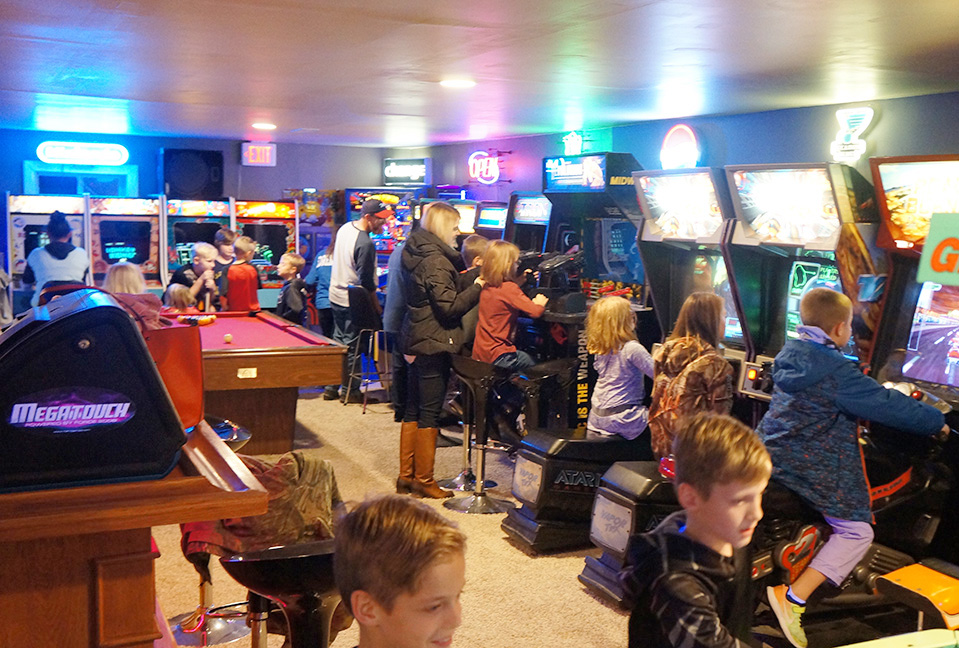 Fall is in full swing. That also means the outdoor soccer season has wrapped up for the year. My boy Isaac's soccer team won their league championship with a record 9 wins, 1 tie, 0 losses. This is a ten year old age bracket. It was definitely fun watching these boys win week after week.

Part of the celebration was a full on soccer party down in the Vintage Vault Arcade. Kids got so wild that a flying puck shattered a blacklight bulb. It was all good and fun though. Plenty to eat, plenty of games, went through $150 in quarters feeding them through the candy, gumball and tattoo machines. Good memories, good times, even had a trophy ceremony afterwards. Go team!
Q*bert escapes from his game! A fun adventure of what happens when a video game character makes it into the real world. Includes bonus outtakes after the credits so make sure you watch it until the end!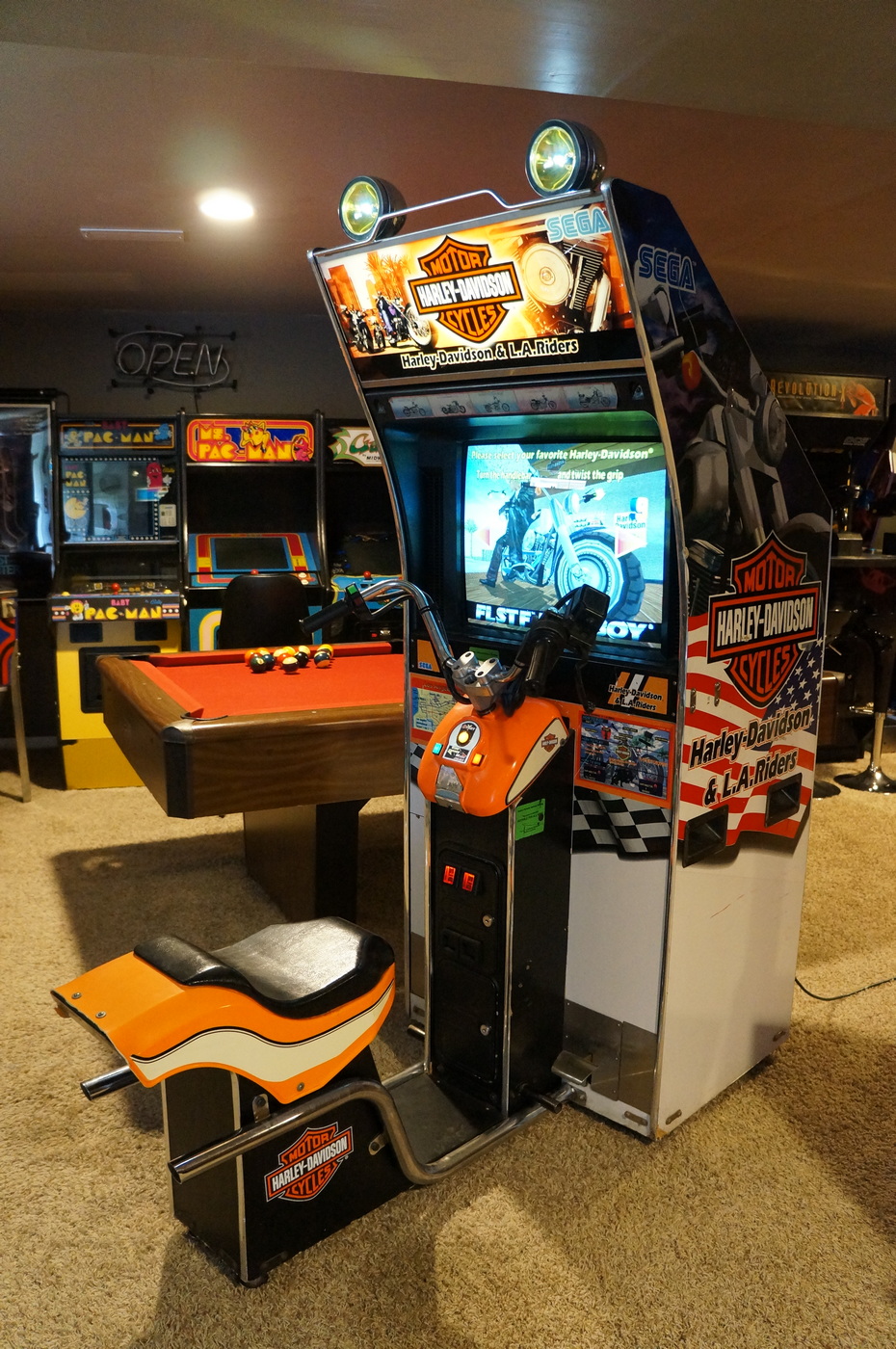 I played this game for the first time 8 years ago, at an arcade auction I went to for the great Star Wars road trip. Since then I have actively sought out this game. For some reason this game has eluded me for 8 years now. I've looked at several of them, broken down, cracked plastics, missing parts, missing head lamps, and buyers selling games as working 100% while the game kept rebooting right in front of my very own eyes. I even bought my Road Burners motorcycle game in the meantime which turned out to be a smart investment anyways. The Road Burners has become quite popular in the arcade, so its no surprise I still wanted this Harley motorcycle game still in the arcade.

A full 8 years later and I get a call about 2 Harley Davidson storage pickups, unknown working condition. After combining the 2 to make 1 good working game, it looks like I had my next pickup. Something had to go to make space on drivers row, and that game was Emergency Call Ambulance. Its had a nice run of 7 years in the arcade, and was time to pass it along to another. You can read more about my hospital pickup here, the Emergency Call Ambulance road trip.

However, the real prize here was the Harley Davidson motorcycle game, 8 years in the making. It looks like I finally got one in the Vintage Vault Arcade! To find out everything about the Harley Davidson and L.A.Riders trip click here.
I've always wanted one of these. Seriously. A larger than life menu board for the arcade. I happened to go on a mini road trip with fellow collector Todd to pick up an arcade cabinet he won on ebay. In the sellers garage, was 2 of these menu boards. This one had lettering from an ice cream shop. I asked him if it was for sale, and he shot me a price I couldn't refuse. Obviously I'm not serving ice cream or even cheese burgers, this board was to become the new high score board. Pretty sweet. This near 6 foot long leaderboard now graces the hallway entrance to the Vintage Vault Arcade. Come visit us at the arcade, throw up a high score and get your name immortalized.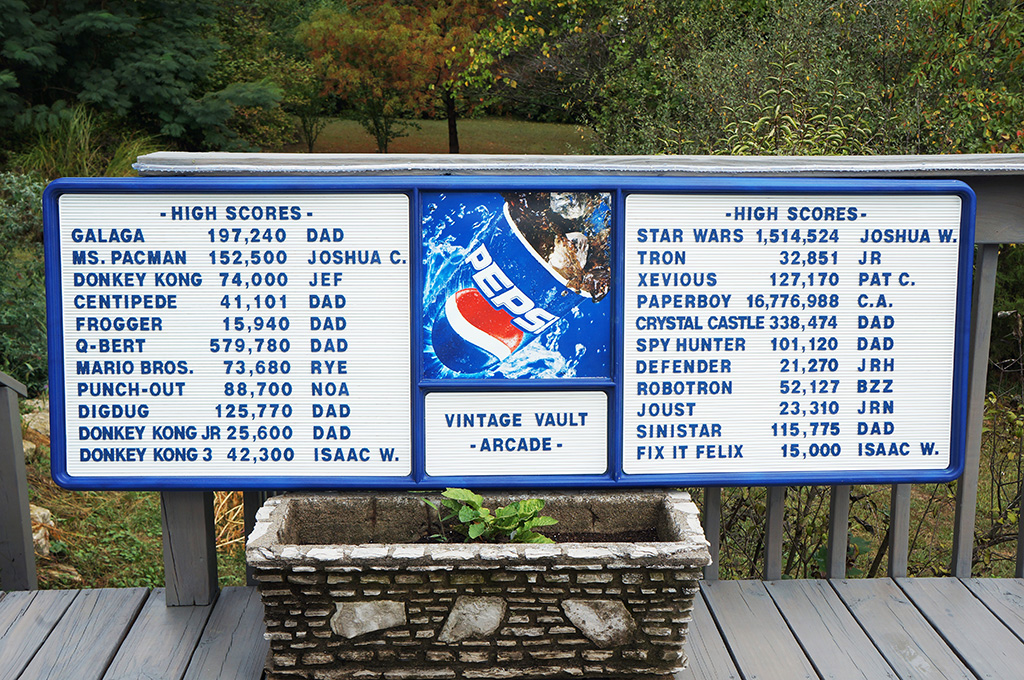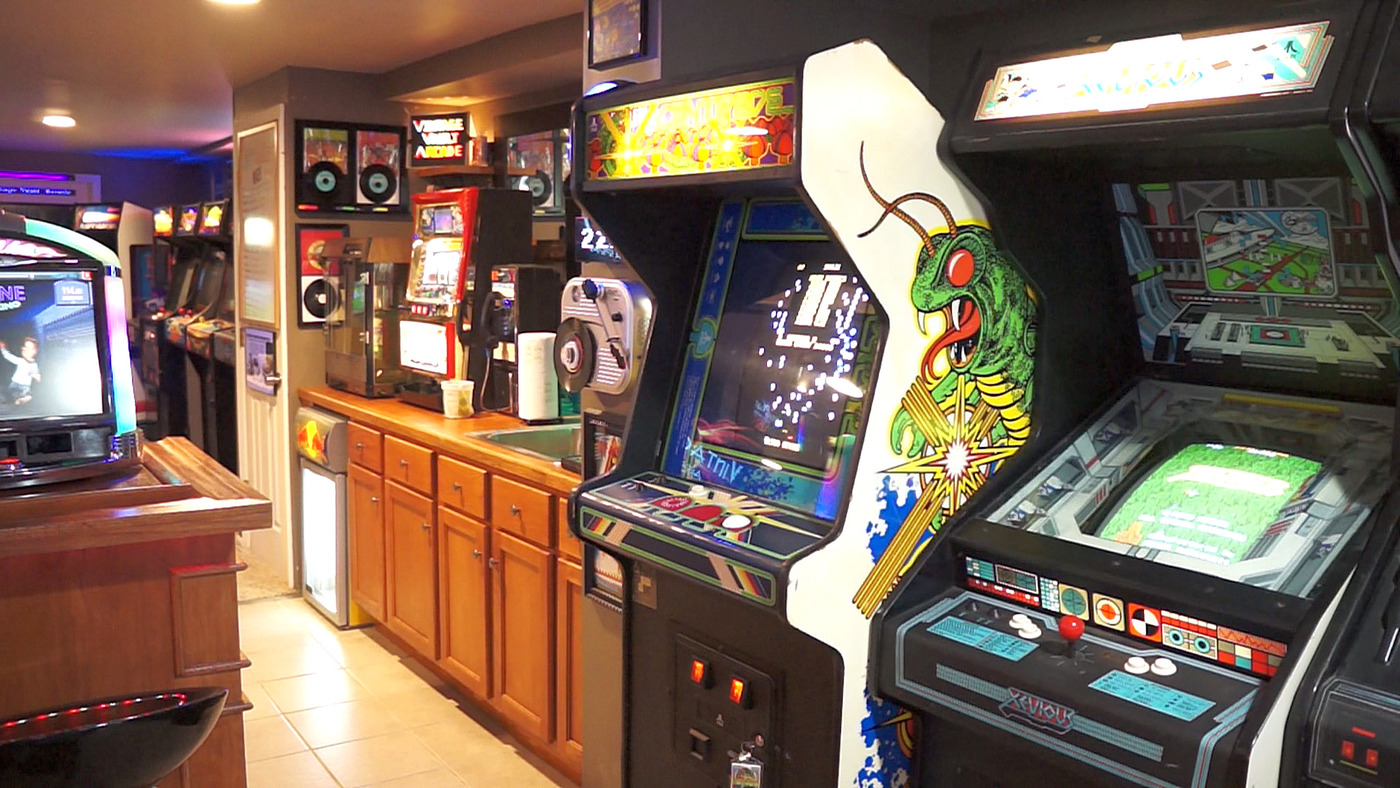 The most requested game for the Vintage Vault Arcade has been Centipede! It makes multiple top 10 lists (http://www.arcade-museum.com/TOP100.php) and also appears in the hit movie Pixels with Adam Sandler. Well it looks like I finally got one in the Vintage Vault Arcade!

To find out everything about the Centipede road trip click here.
The arcade was and still is all about the experience, as well as the fun in playing those games.
If you were an 80's kid, this is what it was all about. If you missed this era, take a peak into our world.
This is a fun mini video taken from the next Rock Dad episode, still being filmed. Enjoy!
This is the most recent video walkthru of the basement arcade.