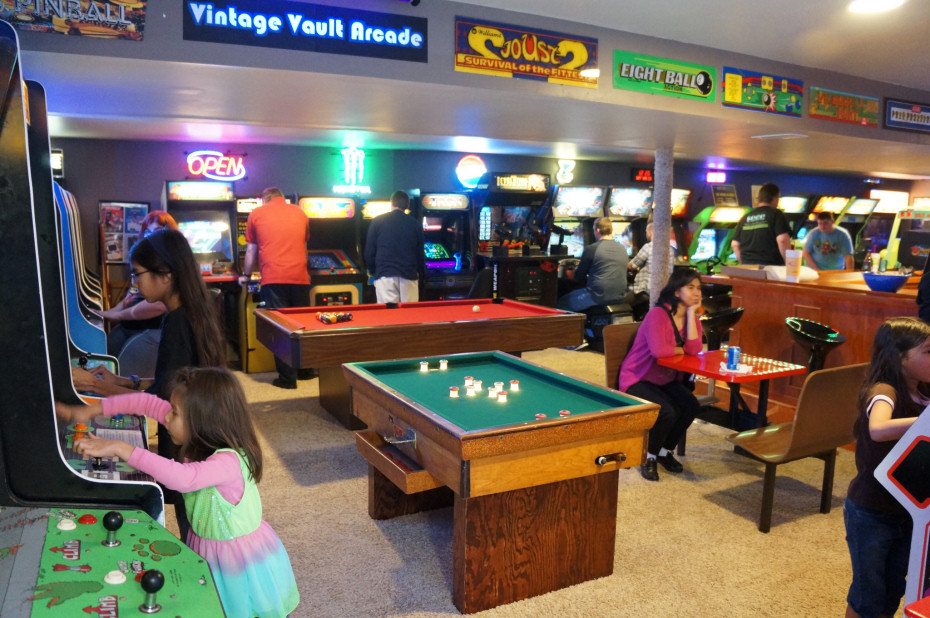 Late March I opened up the Vintage Vault Arcade to local arcade collectors, console collectors and retrogamers. This was a kid friendly event and got to meet a lot of new people.

We also had a wonderful family (and arcade collector) come in from Kansas City with his girls. As always, a great time for all.

It was nice to see a lot of the vintage games getting some play, such as Sinistar, Xevious, Tron and Q*bert to name a few. Bumper Pool, air hockey and the candy machines had absolutely no love loss that day either.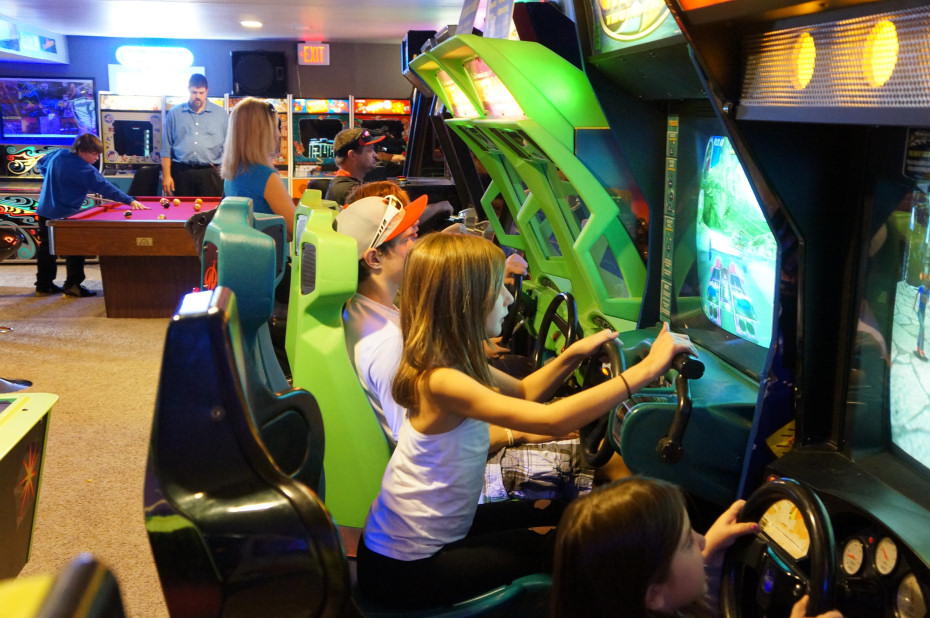 Last sunday the Vintage Vault Arcade hosted 2 separate end of season soccer parties. Since its obviously winter, this is for the indoor sports league. The same coach has a younger boys team, as well as a high school boys team. I happen to have boys on each team so it made sense to host the soccer parties.

Both teams had very strong seasons and had plenty to be proud of. Probably what shocked me the most is that I put out quarters for the candy machines. Arcade games and soda machine has freeplay, but candy machines don't. I'm not kidding when I say this, but the plowed through 200 quarters. You heard me, 200 quarters. Now thats a sugar rush. Well boys, until next season, practice up and stay strong!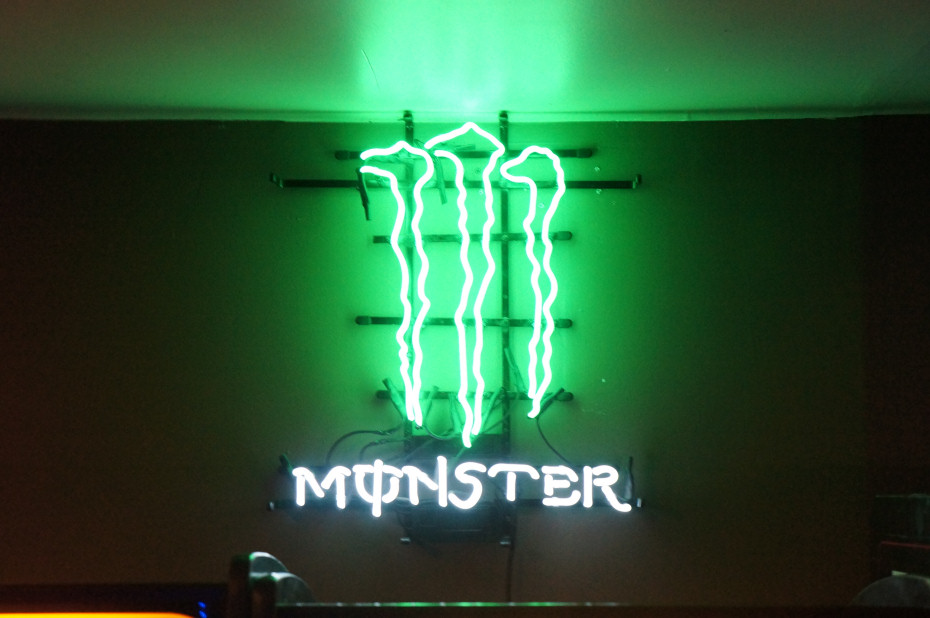 Like it or not, neons and arcades go together like peanut butter and jelly. A good arcade will have different kinds of lighting other than your standard light bulbs. The colors and lit up marquee title on a standup arcade draws you in to drop your quarter, while the lighting in the room draws you into the atmosphere as a whole. About 4 years ago I ordered a Monster neon from Japan. Neons are extremely fragile with their tiny glass tubes just waiting to be bumped and cracked. When cracked, the neon gas escapes and it won't light up anymore. Well, when I received my Monster neon it turns out 1 out of 6 legs in the Monster sign was cracked. It still lit up the other 5, and my neon had no lettering. I received a steep discount for the broken item. Rather than trash it, I decided to hang the neon in my arcade with broken leg and all.

Recently my good friend Keith had a pretty messed up Monster neon. He had a transformer going bad, causing blinking and also had an entire section out with a cracked tube. He gave me his neon for parts. I spent a few evenings and managed to transplant one leg out of his to repair my bad one. Next, I moved over all of the white Monster lettering which was still working, but blinking. I had a good second transformer so it all worked out. In the end I have a repaired, complete and better than before Monster neon sign. Neons and arcades go together like peanut butter and jelly!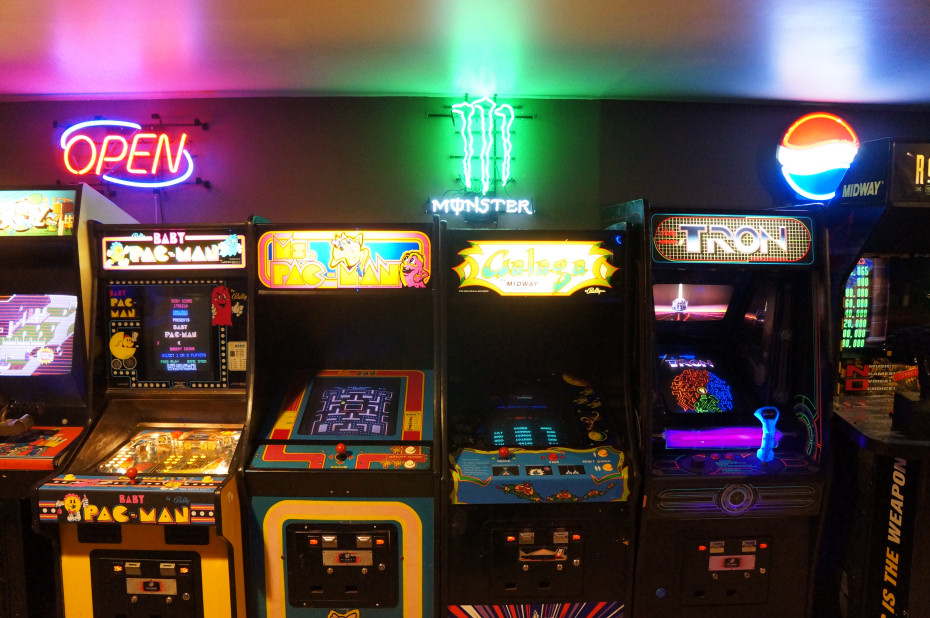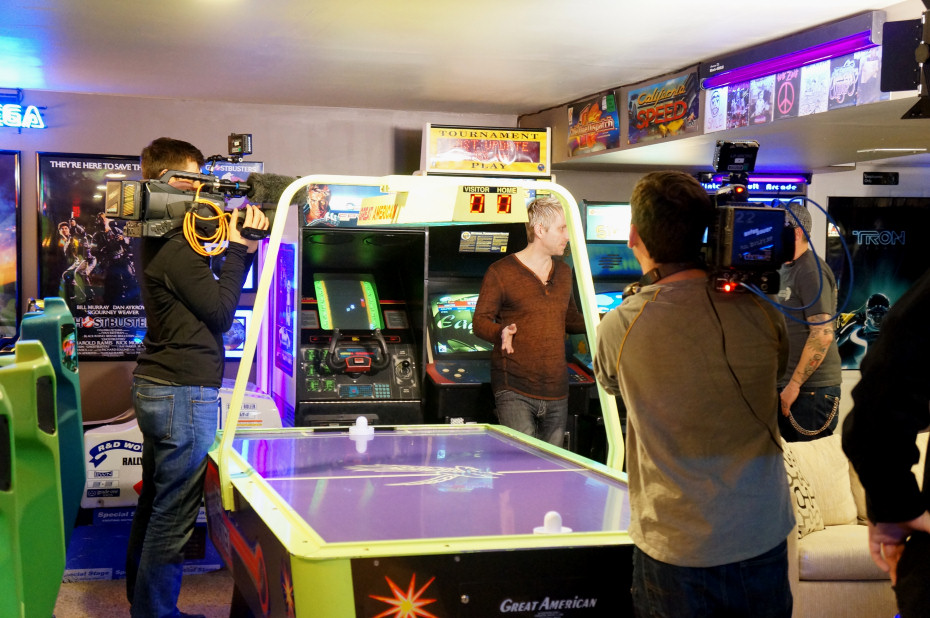 That show is called "Collectorama".

They knew that his dad collected "arcade games" and thought it would make a nice segment on the show. Last night the crew came out for the shoot which was a ton of fun. Everyone was all very down to earth which made the shoot that much more enjoyable.

I am the guy in brown faded shirt....if you don't recognize me from the "Rock Dad" videos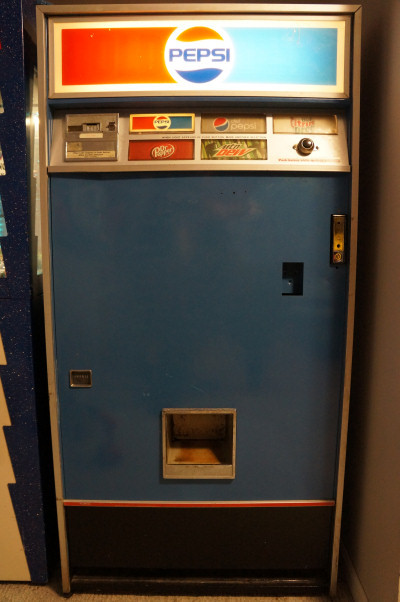 About 5 years ago I picked up an all metal vintage Pepsi soda machine. I've been able to place the vintage of it somewhere between the late 70's and early 80's. This machine holds 165 cans of ice cold soda. When I say ice cold, I mean I set the thermostat a few degrees above freezing which you shouldn't really do with your kitchen refrigerator.. I love this soda machine. Not only does this machine literally serve me up daily, it is a huge hit on gamedays. I like everything about this machine... except for the Pepsi sign. Someone, at some point tried to fix chips and knicks in the sign by "painting it". The result? The sign could no longer be backlit without devastating results. It almost had a scorched look to it. (see picture labled old sign below). The sign was unfixable at that point. Thank you Mr. Fix-It. Because of this, I had the back lighting turned off since I've owned it. It didn't look that bad with the light off so it stayed that way for half a decade now.

I've been looking for a replacement sign ever since. Unfortunately Pepsi changed the sign dimensions between each model they had so other signs were not interchangeable. After 5 years of looking, I found a sign on ebay with the right dimenstions, but was dirty, had stickers on it and a small crack in it. Disappointing, but since this was the first one I've seen all these years so I took a chance and bought it.

Delivery of the sign was off to a rocky start. The box was crumpled, and when I open it chunks of dried mud fell onto my carpet. I pulled out the sign which did not have damage, but the backside of it was caked with mud and cobwebs (no ebay pictures were taken of the backside for obvious reason). Seriously ebay seller, could you be any lazier? I see negative feedback in this guys future from packaging. Well after 2 hours of hard work and scrubbing black sticker residue from the sign, my persistence paid off. The colors on the sign were in remarkable condition. It does have a small crack and a few nicks, but it is 35 years old. Now for the light test.

I was surprised, pleasantly surprised. The crack and nicks don't look bad at all backlit, and the colors are SUPER vibrant. It took me another 30 minutes to take out the metal frame holder and swap the plexiglass signs, but I finally wrapped things up. Now I REALLY love this soda machine. Added bonus: The lit sign makes a nice stairwell night light when it gets dark. Sweet! Time to grab another cold, cold Pepsi!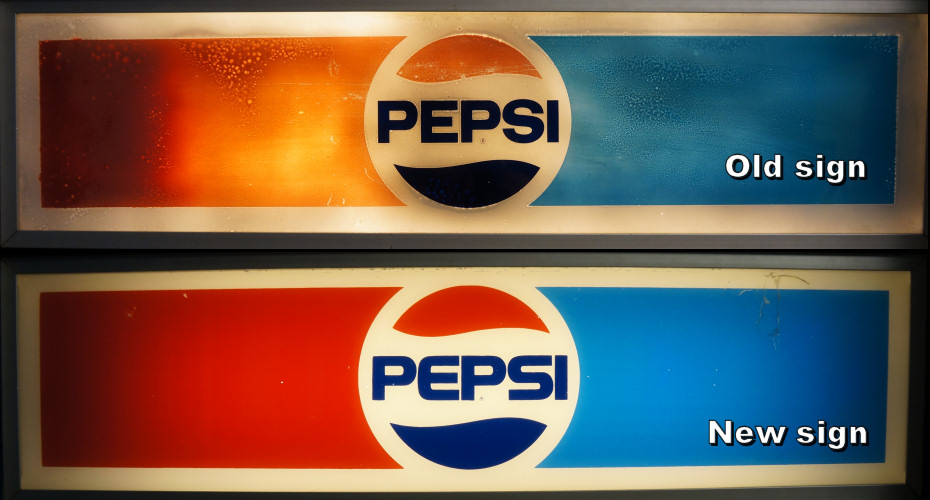 Special Valentines Day Episode! Bob the Bot falls in love.
Playing video games, music, family and robots. It's a Rock Dad life.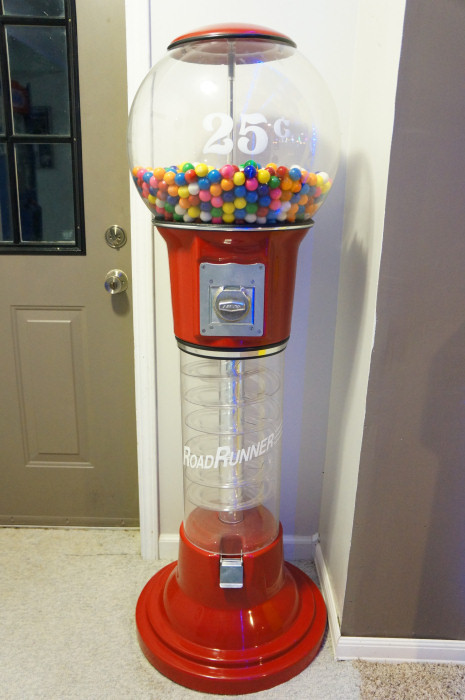 I've had a lollipop machine for ages now. It was an ebay pick up from some time back. The machine is similar in size and with similar features to...say a commercial gumball machine. However, my wife wasn't a fan of the kids running around the house with lollipops in their mouths, and my kids love gum. Let me repeat that. My kids LOVE gum. The youngest eats it like candy. She once got ahold of a pack of gum and ate the whole thing. Typically I have to pick up a few packs of gum every time I go grocery shopping just for the kids.

I had been looking unsuccessfully for a Roadrunner Gumball machine for many years now. There was something about the Wile E. Coyote and Roadrunner cartoon when I was a kid, and the spiral ramp that spits out the gumball that made me fall in love with this particular brand of gumball machine. What I did know was that I didn't want one of those smaller machines that spit out half inch gumballs. I wanted the full sized Roadrunner that spits out a massive 1 inch gumball.

Much to my surprise I recently had the opportunity to trade my lollipop machine for a Roadrunner gumball. Did I do the trade? You better believe it! I brought it home, cleaned it up, ordered new locks for it and stocked it with over 850 gumballs. Since this has been at my house my kids have gone through 10 gumballs a day. They are in gum overload, and have this game where they close their eyes, turn the crank and wait to be "surprised" by the color and flavor that pops out.

This last sunday I took the gumball machine up to church for the morning with over $30 in quarters to hand out. My childrens church kids probably emptied over 100 gumballs out of the machine. They literally could not stop turning the crank.

I absolutely love this thing. This Roadrunner gumball machine now graces the entrance of the arcade where the lollipop machine was located. I can already tell this will be a gameday favorite.