For your enjoyment, the Coronavirus Survival Guide. This is a light-hearted short video shot as an 80's style public service announcement. This video only contains semi-factual information and is not to be taken seriously. It is simply a family coping with self quarantine.
Nothing like having your own home arcade during a worldwide Coronavirus pandemic. All businesses, restaurants and meeting places have been temporarily shutdown... everywhere. Think I'll just hole up in here for awhile, play some games, listen to the jukebox and eat some pizza.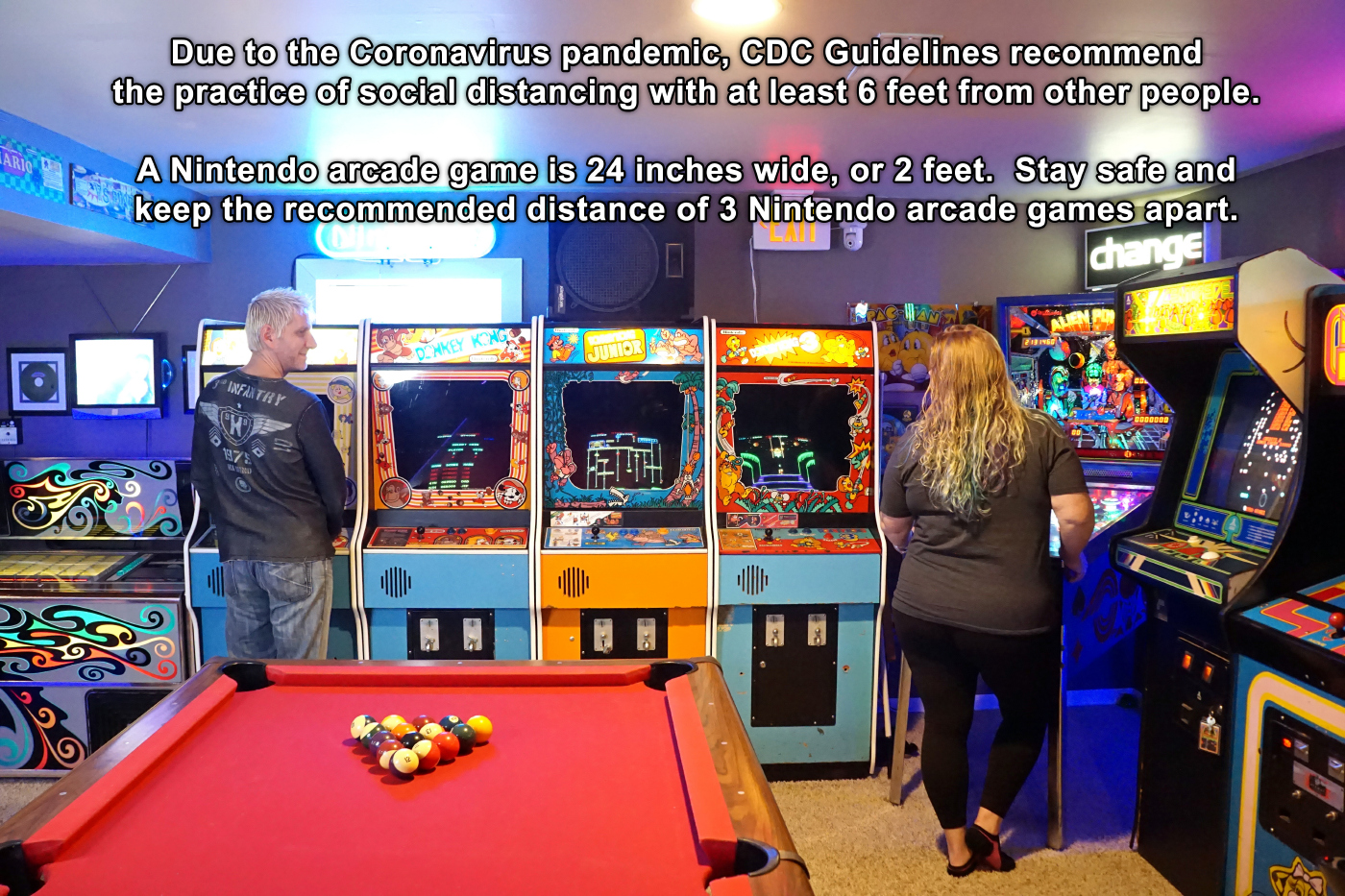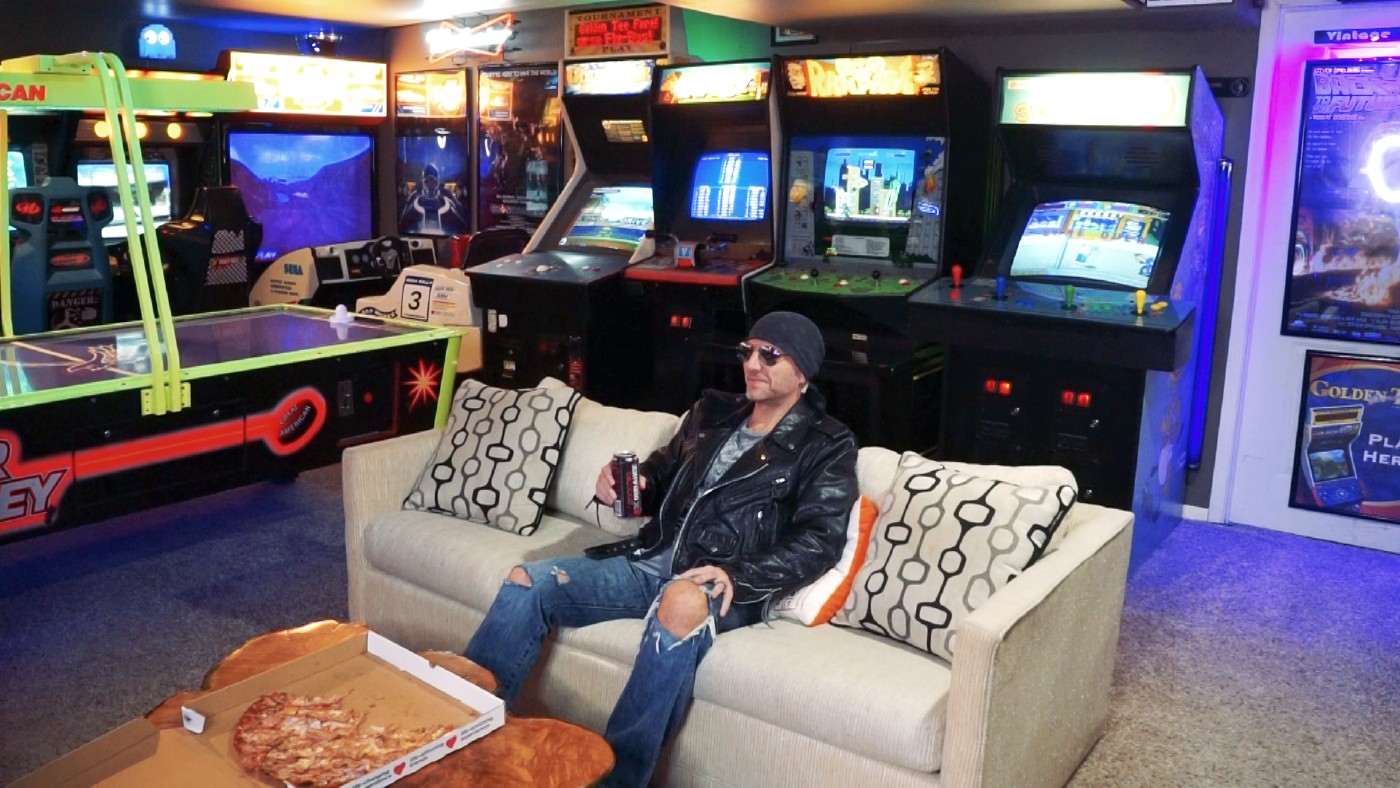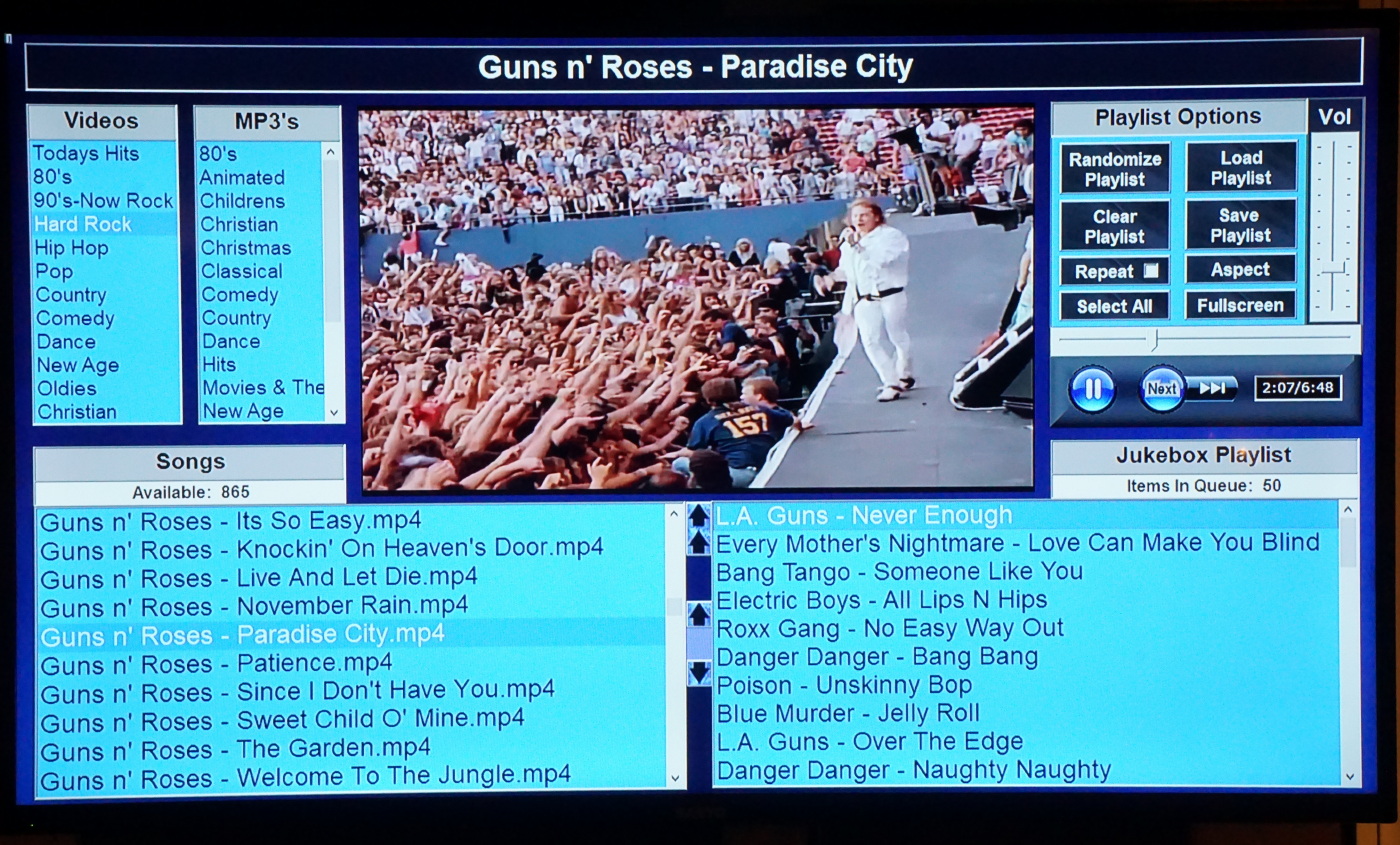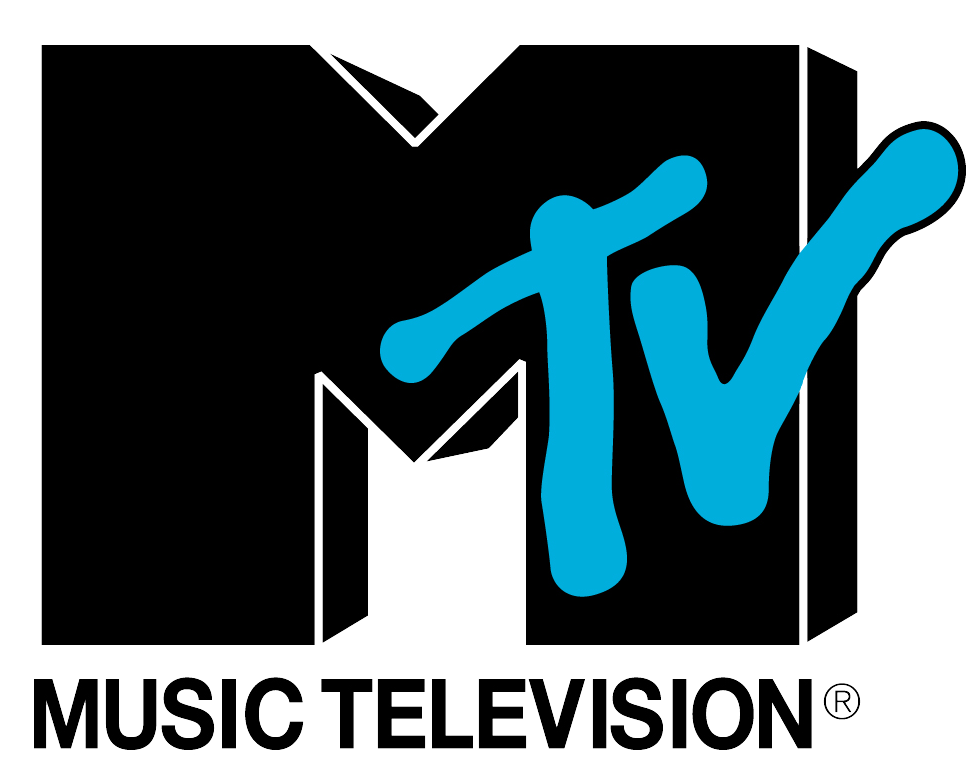 Its been a little over a year since I launched UHF Channel 33 in my home with RetroTV (80s commercials, tv & movie intros, etc).
This was a project that broadcast old analog TV airwaves. When you tuned an older TV in to UHF33 along with a rabbit ear antenna, you received the signal. I have now added a video switcher to broadcast my custom programmed video jukebox on UHF Channel 33.

I programmed the video jukebox back in the year 2000. There was no really good software for music videos at the time because everyone was focused on MP3's (remember Napster?). What's a programmer to do? Make your own! And that...I did. The jukebox has gone through many revisions and updates over the decades. It has over 2,700 music videos, with a heavy focus on MTV era videos. There are now multiple TV's scattered around the arcade, which are picking up the broadcast signal for an immersive MTV throwback experience. I want my MTV!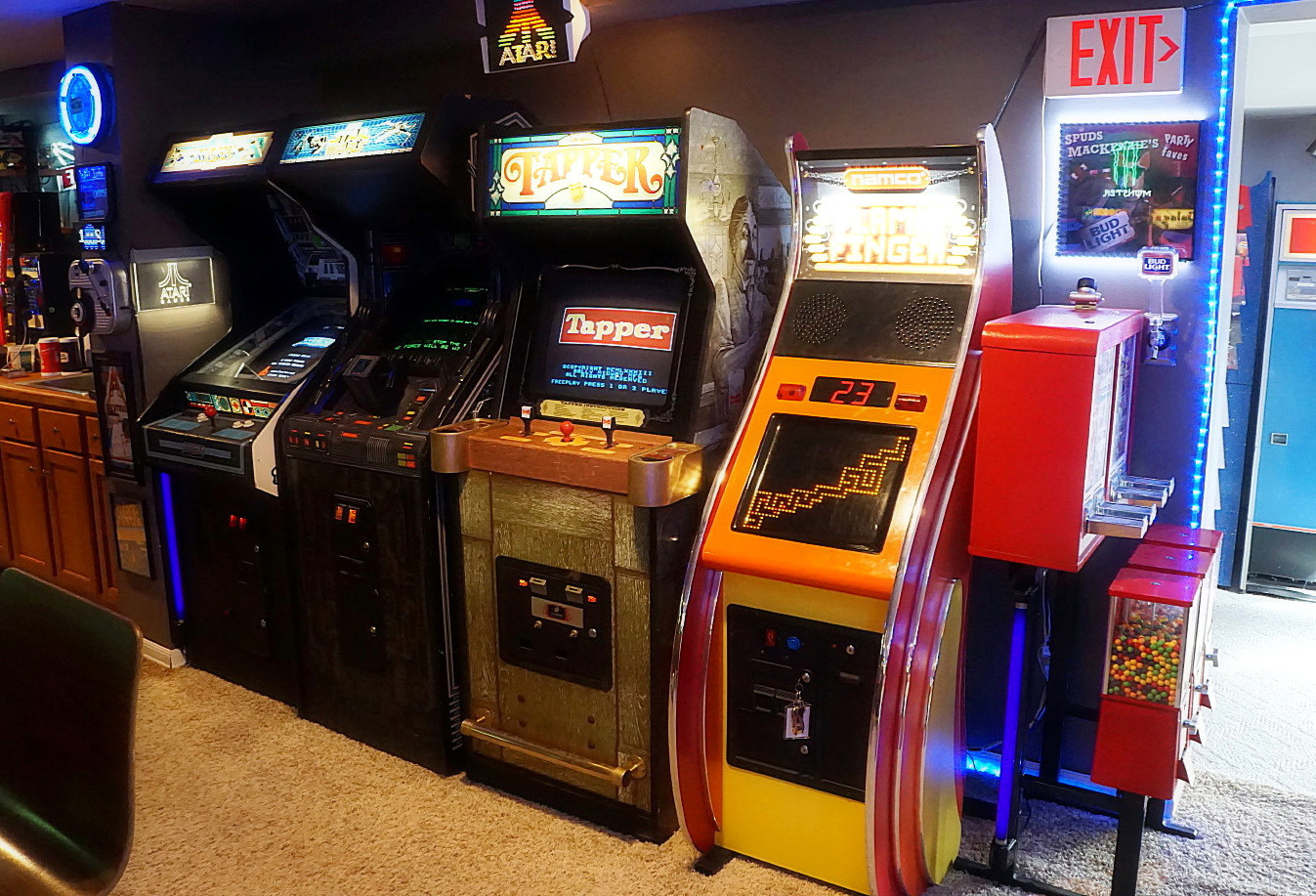 Crystal Castles. It's an Atari trackball game that probably has the best artwork out of any arcade game out there. I've owned the game for 12 years now and thoroughly enjoy it. Sadly, with more than a thousand guests at the Vintage Vault Arcade over the last decade, it received very little play besides myself. It was time to cash in this beauty and replace it with something everyone would enjoy. In comes Flamin Finger. This is a touchscreen maze game from Namco, made in 2003 so it has some vintage to it with 17 years of age. This game has a rockin' soundtrack, and the mazes are timed so its a race to beat the clock. It can be set up for pure fun or for tickets. I have several rolls of tickets which I'll turn on next time we have a large group of kids out here. The Flamin Finger received the royal treatment like all my games. I replaced a seriously faded sign marquee, replaced and fixed the jackpot flashers, replaced the silver t-molding, replaced the power supply, the end caps and added a free play button. This game is a blast. I even moved around a few games to put my Tapper grail next to it. Good times at the Vintage Vault Arcade!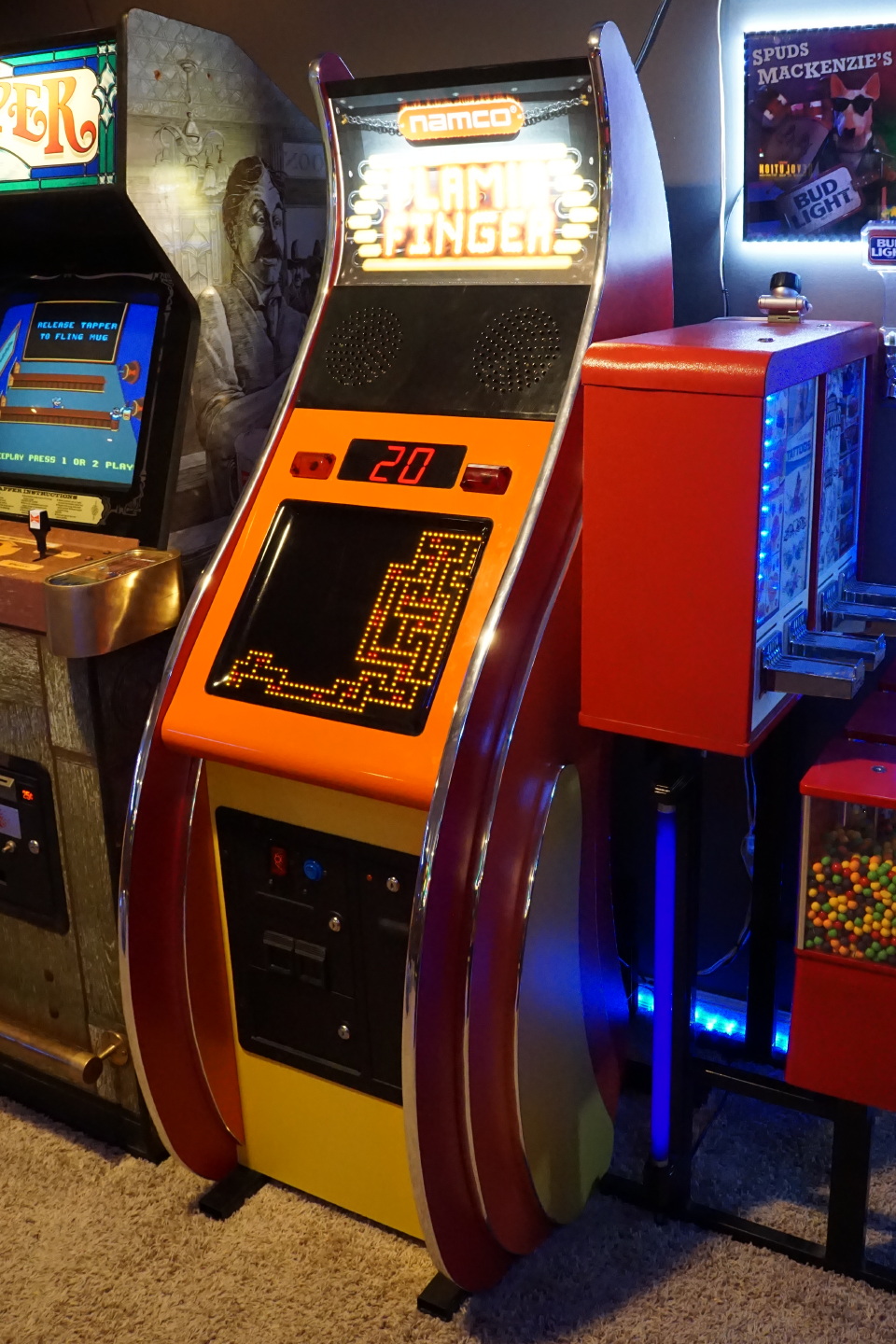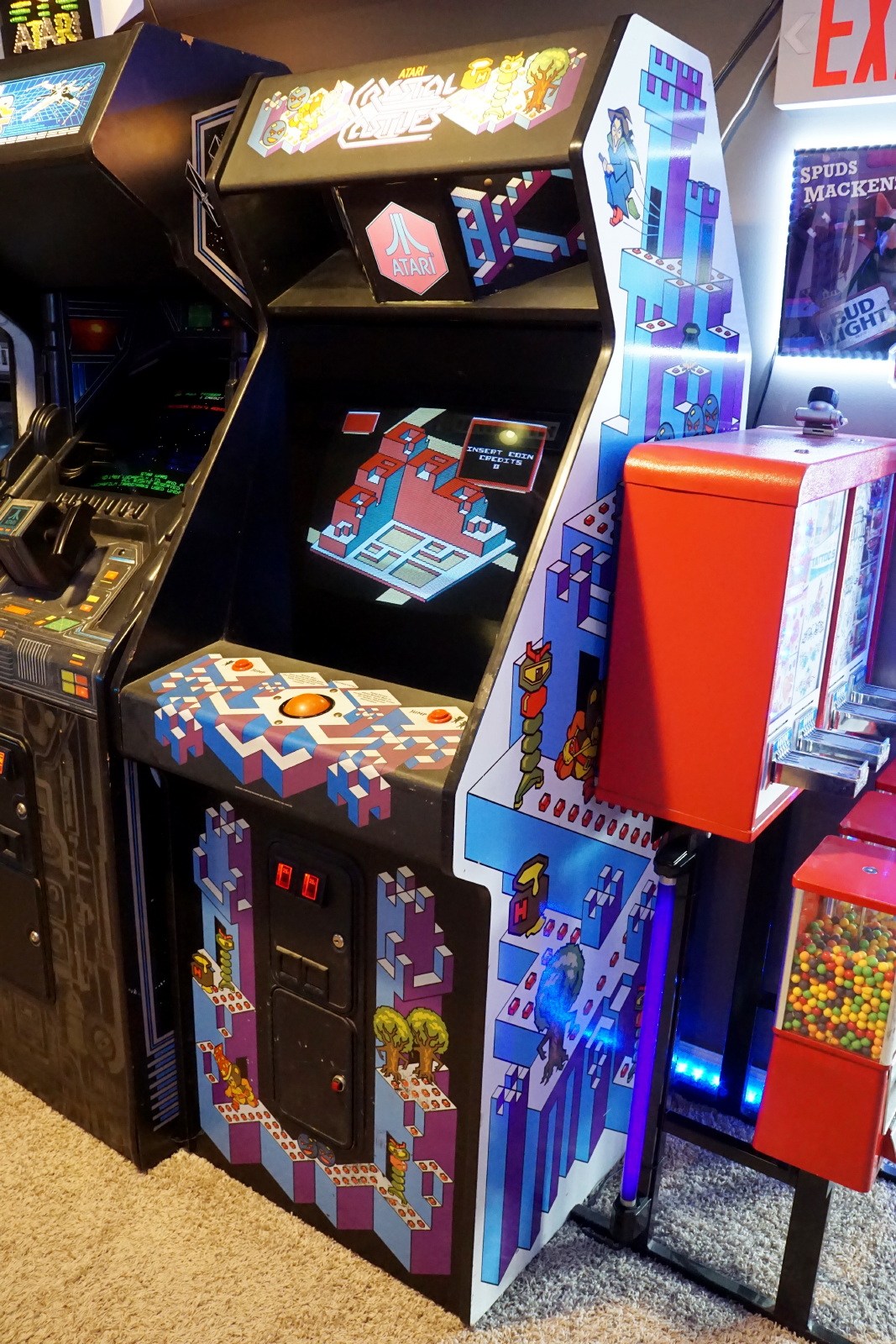 The Vintage Vault Arcade is always a favorite for family gatherings. This year we hosted 2 separate Christmas parties at the arcade for double the fun. Linked driving games, pool, bumper pool, air hockey and pinball were among the favorites. Pretty much most games where people could play against each other for some family friendly competition. Enjoy the photos!
Rock Dad is having problems keeping the arcade powered up.
That's right, its been another year down in the Vintage Vault Arcade which means a whole new photoset. Added a few new pinballs, Space Ace, Tapper, Congo Bongo and JVL Retro touchscreen to name a few. Also added some new lighting, signage and refinished the center bar.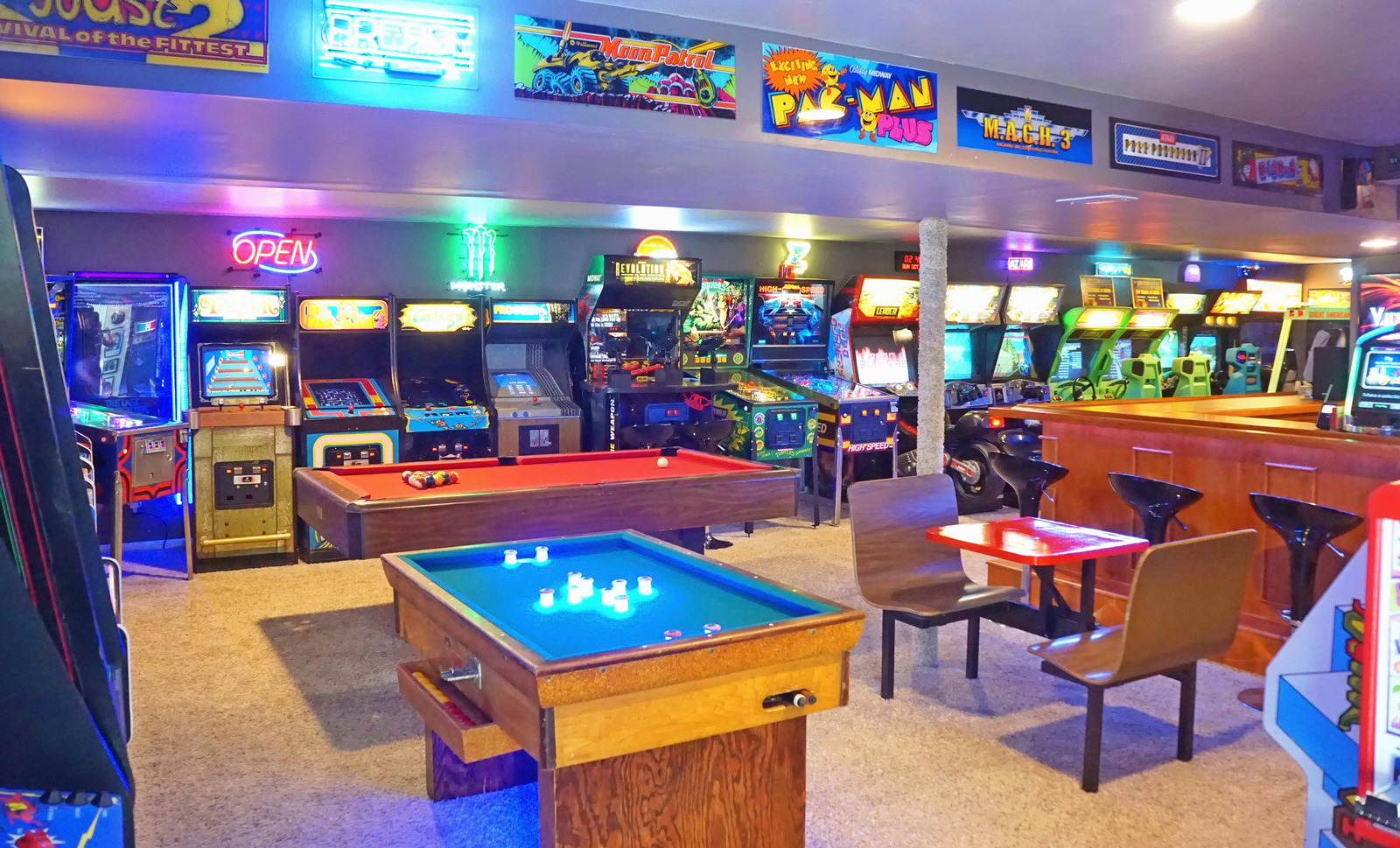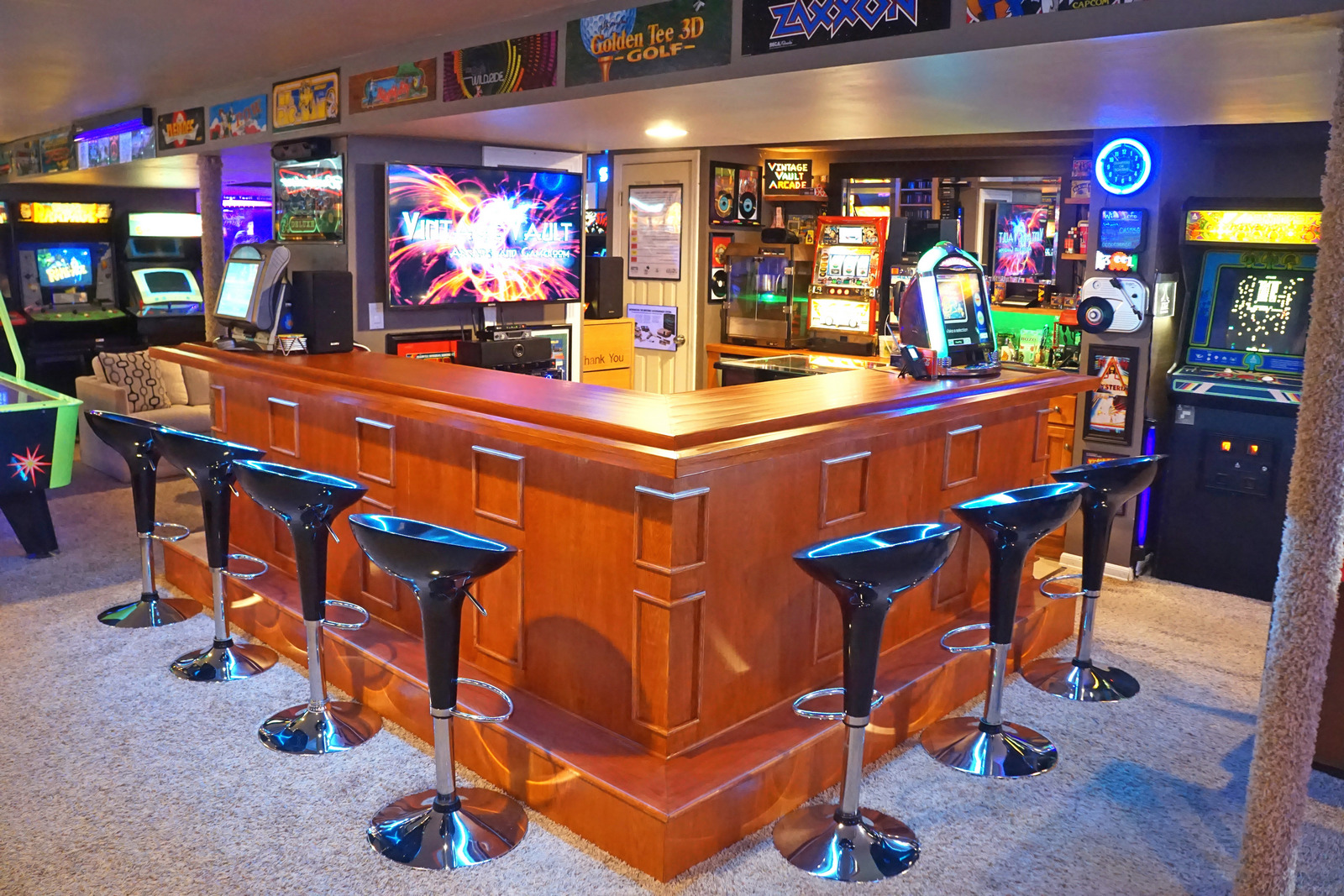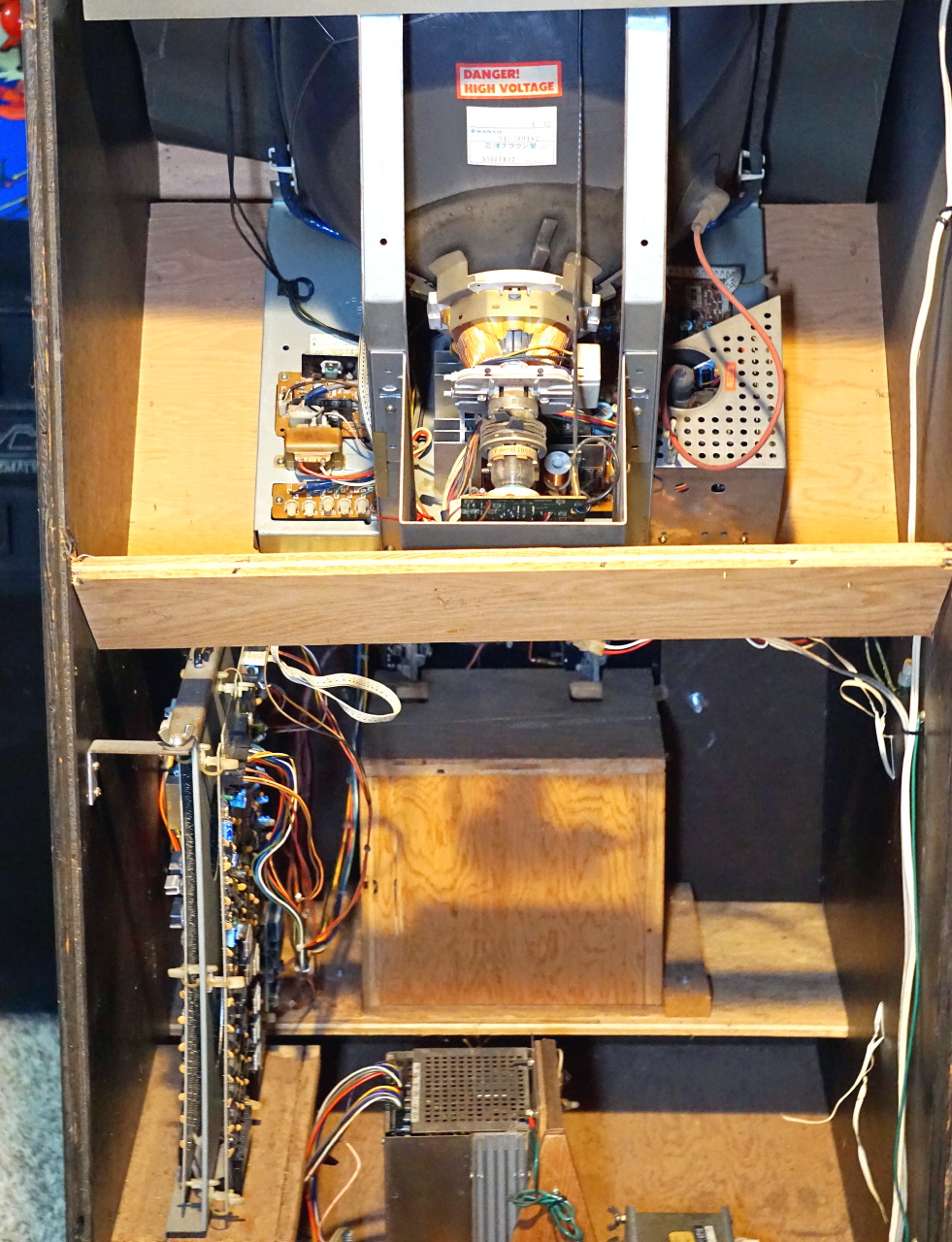 I like to go down in the arcade late at night, turn on the lighting, the video jukebox, pinballs and Nintendo row (which includes Q*bert, Space Ace & Tron) and then watch some 80's hard rock music videos, while basking in the glow of the arcade. That is my sanctuary, my utopia, my playground. Some like to call this a man cave, I call it a childhood dream, the Vintage Vault Arcade.

A few weeks back I was doing this exact same thing, and got to the point of turning on Nintendo row. It was then that I noticed Donkey Kong had gone dark. No game on the screen, but I also noticed that the marquee light wasn't lit so this wasn't a monitor or game PCB issue. I dug out the game, and start to troubleshoot. Fuses are good, 120V AC is making its way to the transformer, and connections are good. However, no AC was coming out of the other side of the transformer. For a Nintendo game, the transformer scales AC down to 100V (Japanese specs) so the power supply, monitor and marquee light all need 100V to run, not the standard 120V. The issue certainly seemed to be in the transformer, although after 23 years of collecting and probably 100 games going in and out of my collection I have never seen a bad transformer. Problem is, they don't make these 100V Nintendo transformers anymore. What to do, what to do. I put out the feelers for this transformer on several collectors groups and forums.

I finally found someone who was selling the entire Nintendo power block assembly. That includes the outlet, power supply, transformer, connectors and fuse block. I only needed the transformer, but for the price quoted it was worth the extra power supply. In the photos below the transformer is on the bottom right with a label Model: PT821B. I swapped in the new power block assembly, turned on Donkey Kong and the game came right back to life, like nothing ever happened. The Vintage Vault Arcade is now back to 100% working games again.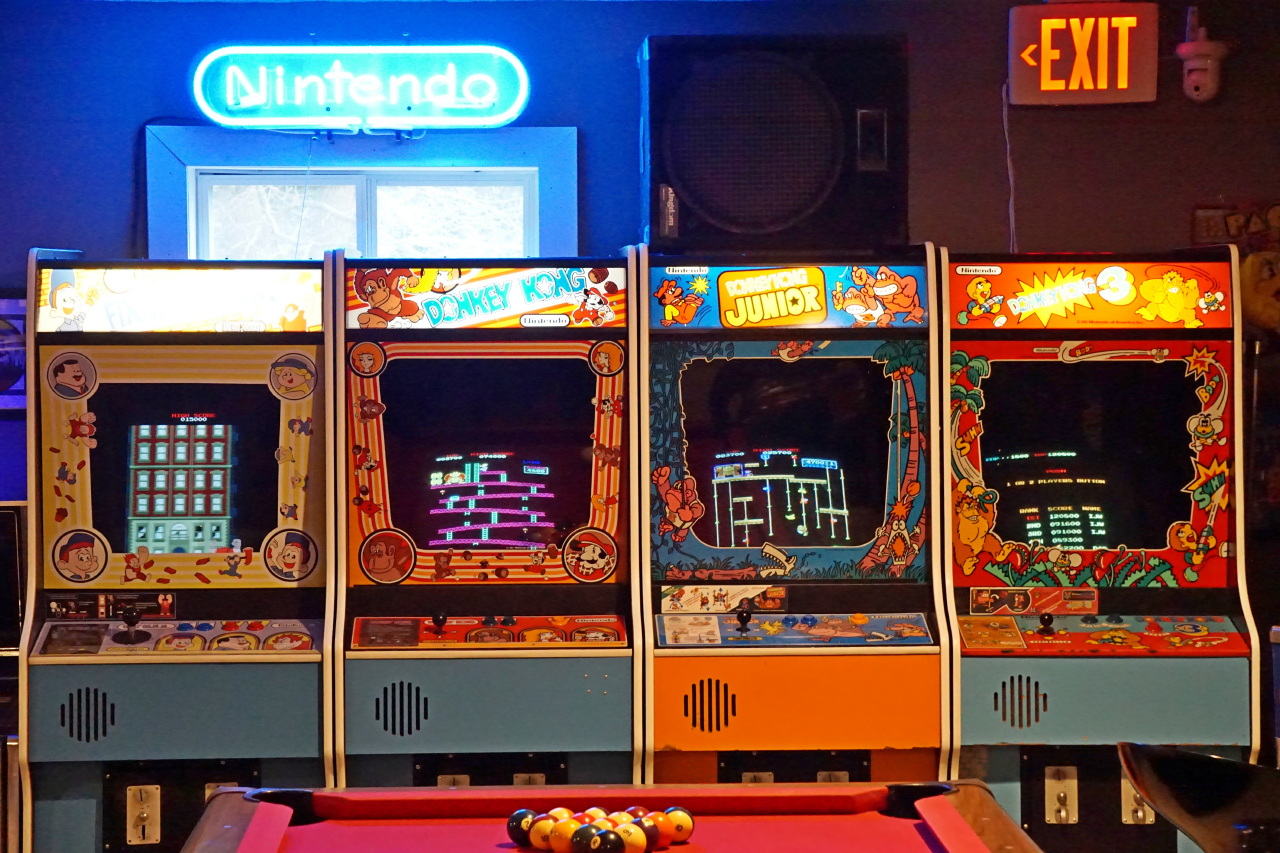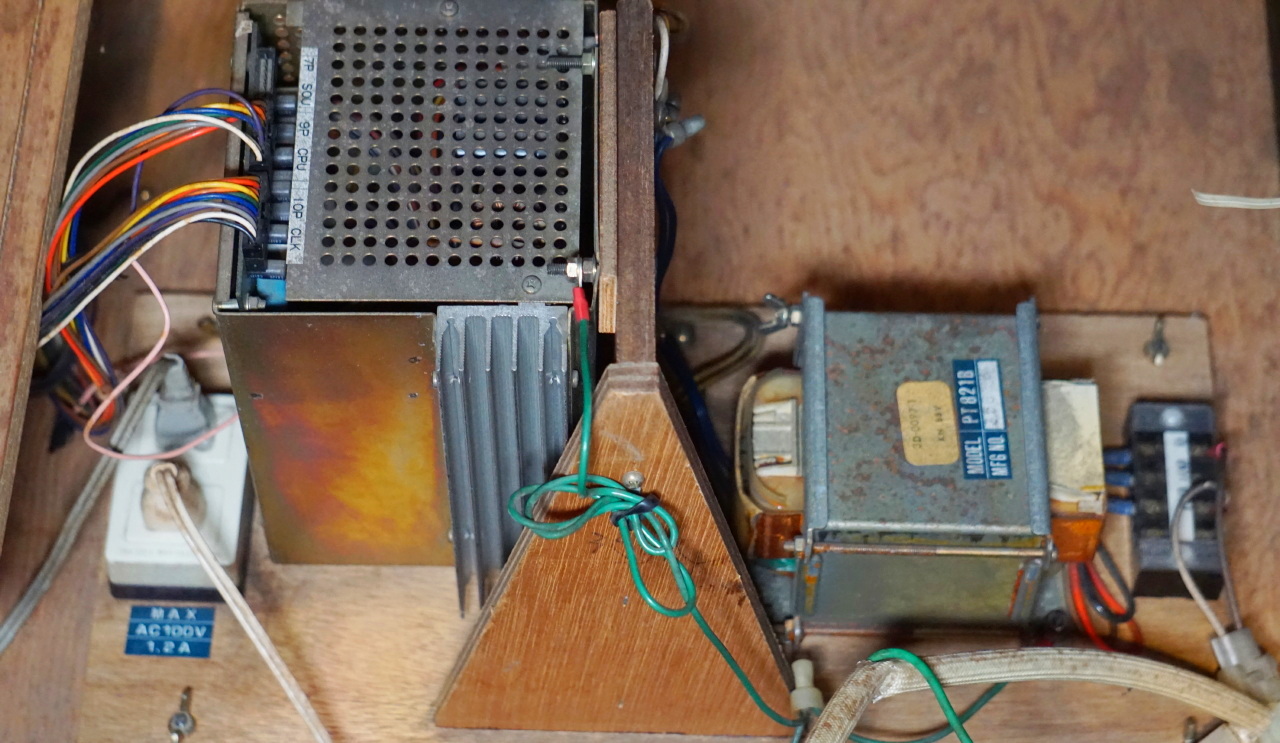 Rock Dad can't wait to enjoy the launch of full dive virtual reality. However, there are some pressing family matters needing his attention. Which one wins out in the end?
One kids birthday party, another family friendly get together, loads of songs on the video jukebox and as much fun as you can pack into a basement arcade. We broke out the wireless mics, had some pinball tournaments, and even fired up the vintage gaming consoles (Nintendo, Sega Genesis, etc). Enjoy the photos, we had a rockin' great time. When the party goes on until 2am (and it did), you're doing it right!