This arcade byte features Dig Dug and the problems encountered with these 35 year old games.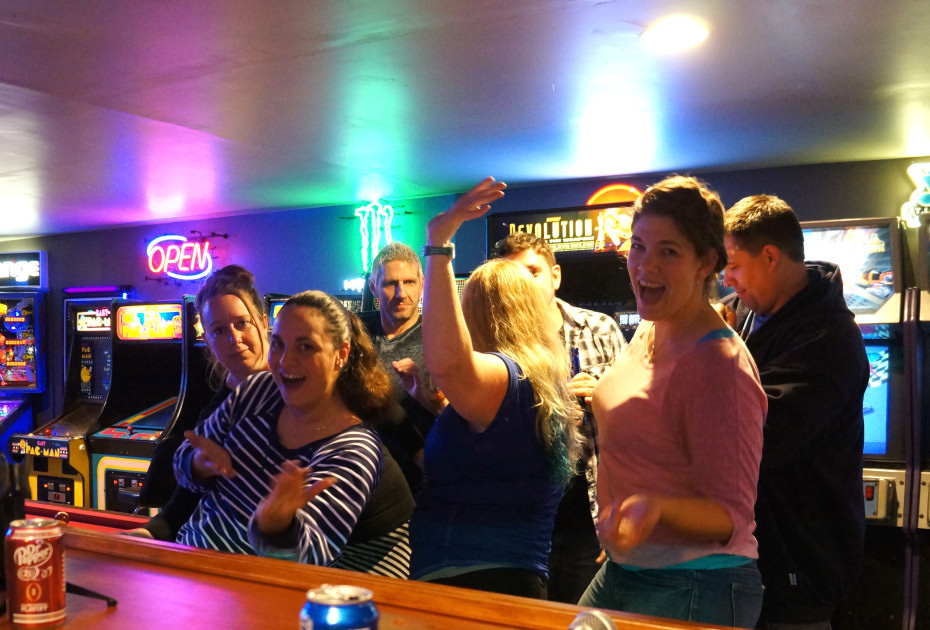 Those of us with kids know that our weekends start to book up pretty fast, especially during the warmer weather. Sports, vacations, family gatherings, etc. So we came up with the brilliant idea to have a kid friendly get together on the fifth saturday of the month. Fifth saturdays don't happen very often, so normally people don't fill up their calendar on those weekends.

This month was the first "fifth saturday" that we planned this. We had BBQ burgers, all the kids loaded up on temp tattoos and candy, and we spent the evening down in the arcade, playing games and karaoke. I added 50 new music videos to the 2000+ video jukebox, passed out 4 mics and the evening took off. Next thing we knew, kids were passed out and it was 4:30AM. Good times down in the Vintage Vault Arcade!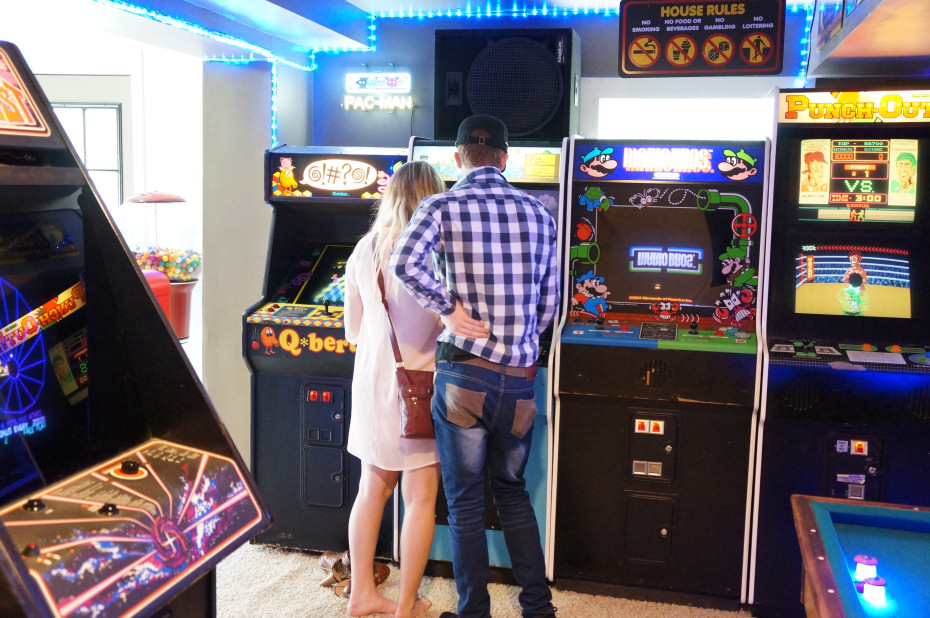 Easter sunday. That means Sunday church services, good eating, egg hunts for the kids (we had 250 candy eggs my house... money ones too) and some arcade time!

Did he say that right? Yes...yes I did. If family is coming over its time to open up the arcade for some rockin' good time between all that chocalate and boiled eggs.

Revolution X and air hockey are always family favorits, but I'm glad Q*bert and Joust got a little love also. All the kiddos also emptied about 100 quarters through the tattoo machine and candy machines. Always a great time at the Vintage Vault Arcade!
There is a mysterious message waiting for Rock Dad. Press Play. This epic adventure takes him 30 years into the future with a little bonus Star Wars action thrown in. Includes bonus outtakes after the credits so make sure you watch it until the end! Playing video games, music, family and robots. It's a Rock Dad life.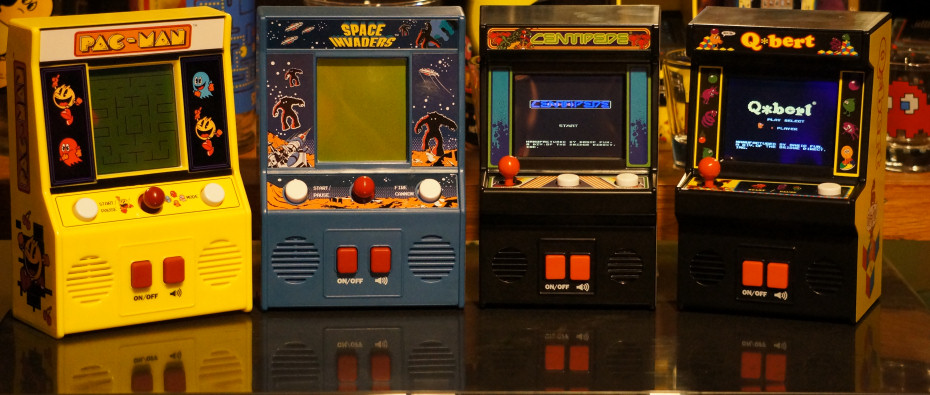 I was given these as gifts recently, working mini arcade collectables just 6 inches tall. Unfortunately, the manufacturers dropped the ball on Pacman and Space Invaderss, as they use monochrome screens and don't mimic the original gameplay at all. Really, they are there for looks and are part of the series. The good is that Centipede and Q*bert both have full color LCD screens, and the gameplay and sounds are as close as they could be to the original arcade games. The last two look great and play great. So much, that I'm now partial to Centipede again. It looks like sometime in the next year I see a full size Centipede making it into the arcade. Rock on!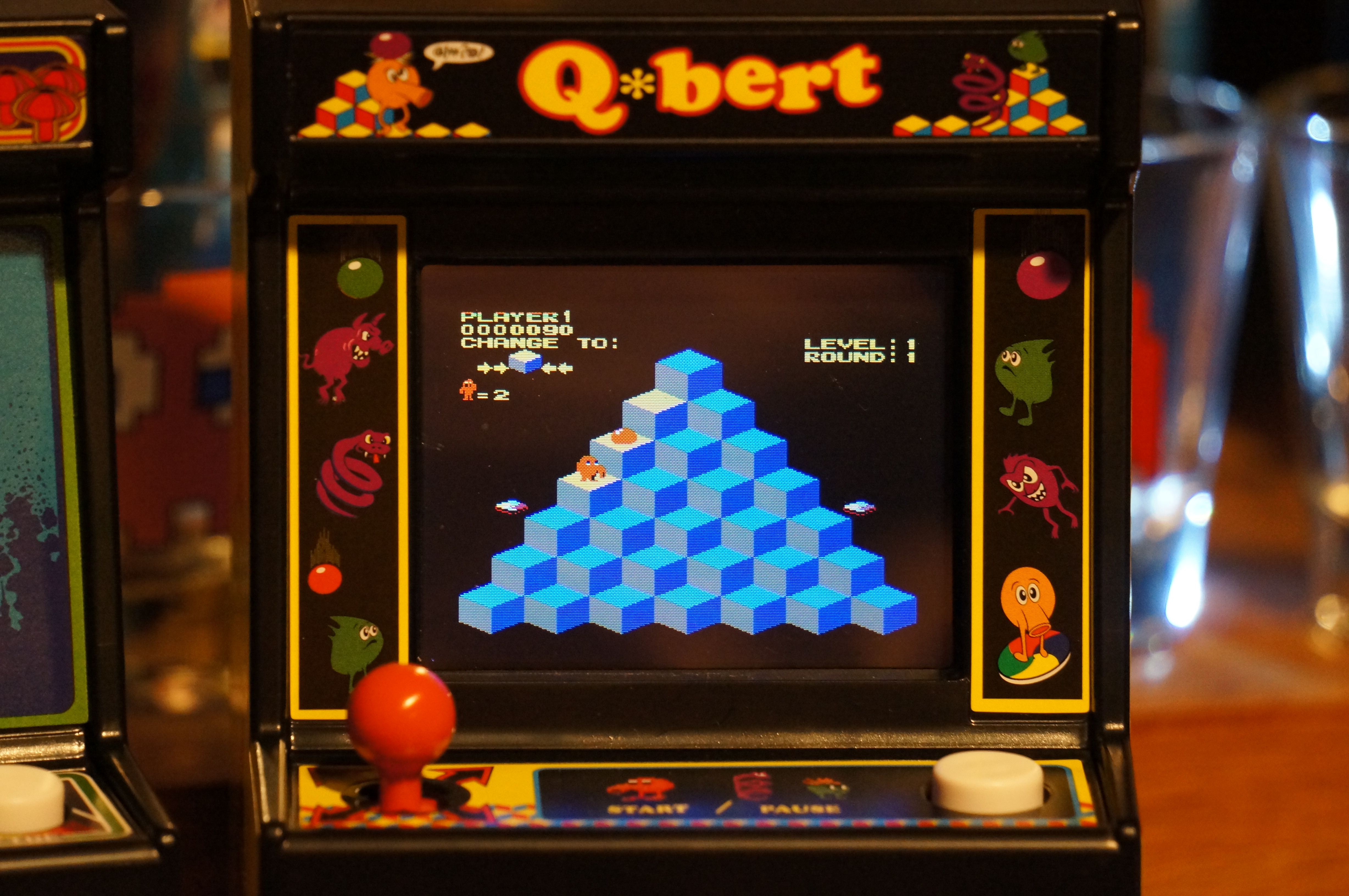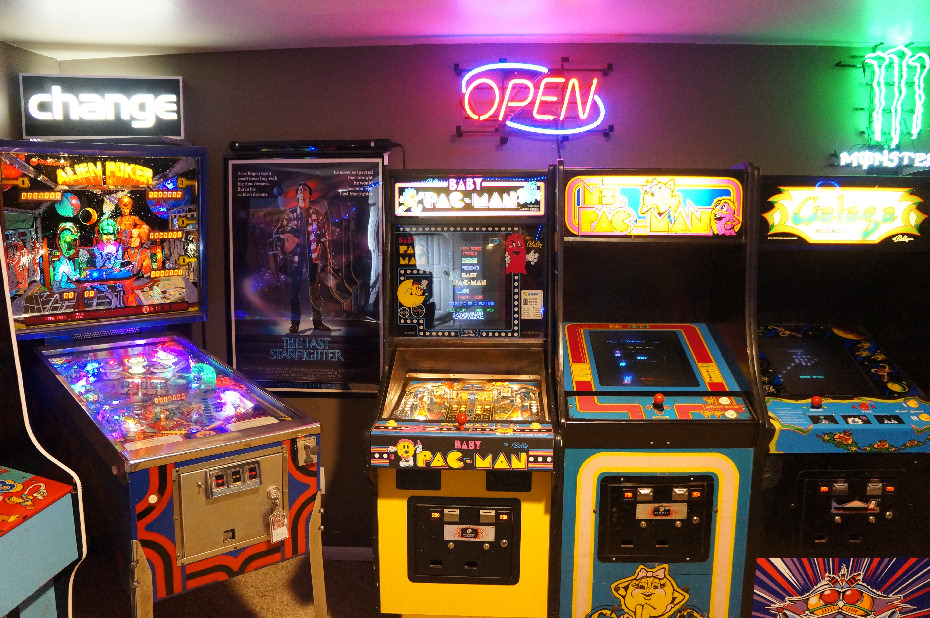 I had a few friends out last weekend, and when they were playing the 3 player Revolution X (which is ALWAYS played at group functions), I noticed the middle gun not being played. I tried to jump in and pressed the Start button, but nothing happened. I rapidly hit start over and over, nothing. So a few days later I opened up the game to get the middle start button repaired. It turns out the large start button wasn't making proper contact with the micro switch, so after some adjustments the game was coining up all guns just fine.

It just so happens Revolution X is on a power switch with a bank of games including Baby Pacman. The monitor was blank. Oh boy, here we go. The changing weather ALWAYS messes with games. Every. Time. I started up Baby Pacman and the game sounds came on, just no picture. The monitor was the culprit. I opened up the game and start checking things out, no neck glow, etc. In the end it turns out I had a cold solder joint on the monitor PCB. The game picture is back, and Baby Pacman is back in service. No one puts Baby in the corner....thats for Alien Poker pinball of course! Rock on, game on!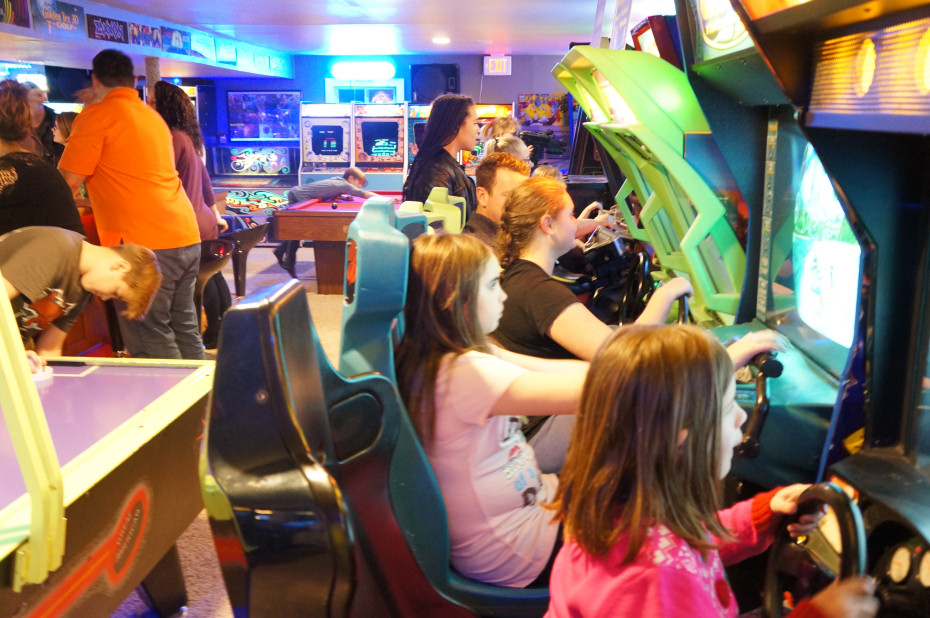 Where else would one spend New Years Eve 2017? Down in the Vintage Vault Arcade of course! This kid friendly affair was the perfect playground for adults and kids. The kids got all hopped up on the candy machines and ran the arcade. They literally ran through it... many times. Parents got to eat, drink, play and sing.

Along with the festivities, parents got to listen to and karaoke to 2100+ music videos stocked in the Video Jukebox. Good times, and no one had to drive home!

*** It was almost as if the arcade watched the kids for us! For us 80's kids, you know EXACTLY what I am talking about. Before the days when Chuck E. Cheese stamped a kids and parents hands, OUR parents would drop us off at the arcade for an hour or two with a pocket full of quarters by ourselves. Good times!

Happy New Year and may the new year bring in all your collecting hopes and dreams.
Rock Dad's mysterious enemy is back! From Jurassic Park, to space travel and back to the arcade, this adventure has it all. Rock dad's family gets to join in the action. Introducing 2 new characters, Rock Kitty and Conker the Squirrel. Includes bonus outtakes after the credits so make sure you watch it until the end!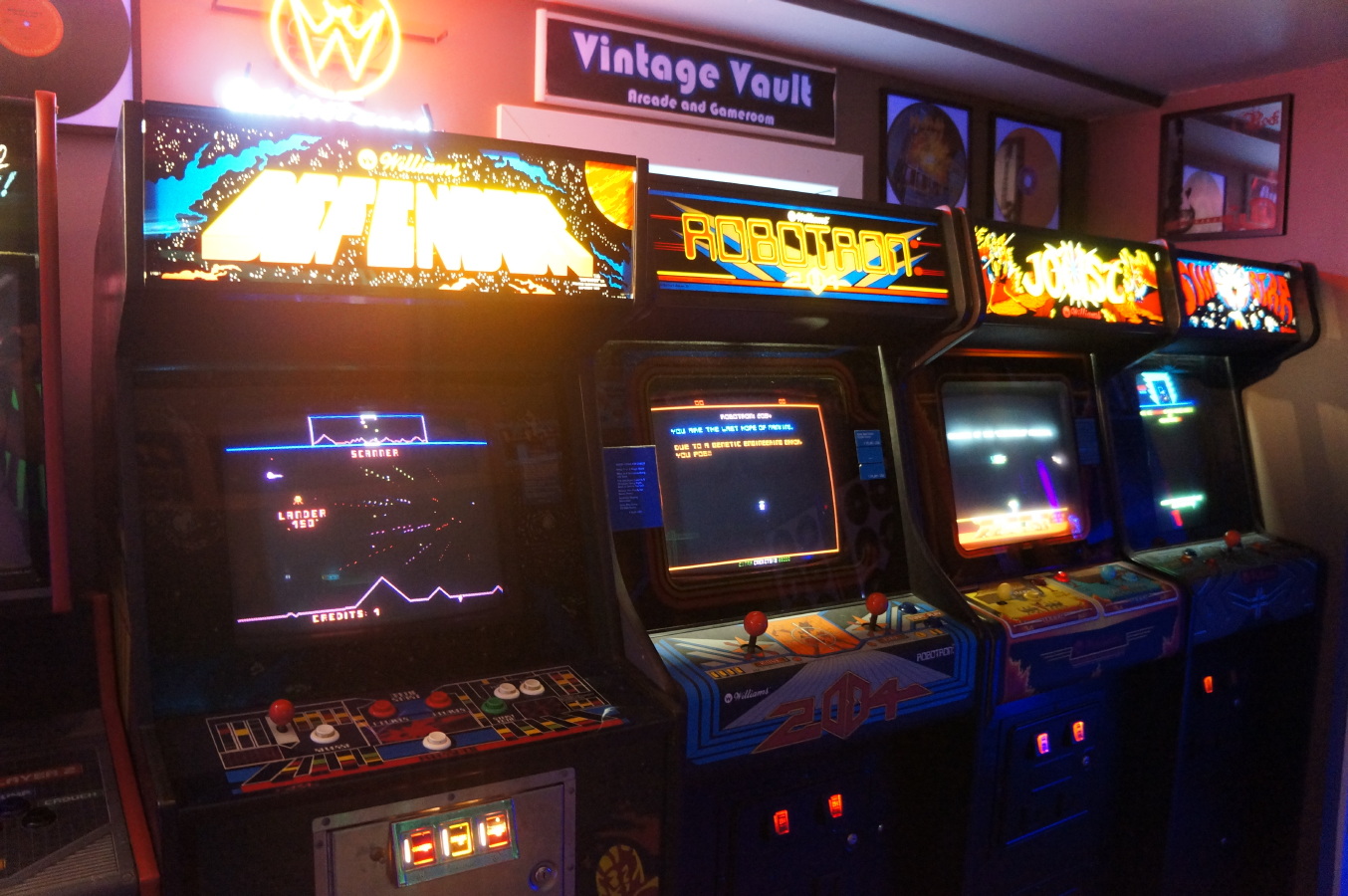 Many years ago I owned a Defender. I was presented an offer I couldn't refuse. Someone wanted to trade a working Tempest and a working DigDug for my single Defender game. I loved Defender, but I could pass up a 1 for 2, with one of those being a color vector. I performed the trade, sold the Digdug (I already own a Digdug cocktail) and the Tempest still graces the gameroom. You can read about my this awesome trade roadtrip here at http://www.thebasementarcade.com/roadtrips9.htm

Since that time, I always knew there would be another Defender in my future. Enter December 2016, and while browsing Craiglist I stumble upon a non-working Defender. I mention to my wife that this Defender would make a great Christmas present. With that little comment, the adventure begins. Read about the Defender Christmas story road trip at http://www.thebasementarcade.com/mygamesdefender2.htm