One of my best child hood friends Danny Smith brought his family of 6 out for a full day visit. I have 6 kids, and Danny has 4 kids. I remember back in the day a group of us 80's kids could play tag and hide and seek in the woods for 4 hours straight. Today? Not so much. Lets face it, nowadays most kids have VERY short attention spans. That means they get bored easily. Enter the free retro arcade (and outdoor playground with trampoline), the perfect excuse to get 2 large families together. We BBQ'd some Kansas City Strip steaks played some songs on the jukebox, caught up on good times and of course plays lots and lots of videogames. The pictures say it all, Good Times!
Summertime is always filled with activities, gamedays and sports for my kids. My 5 year old son Isaac was signed up for a British soccer camp this summer. This is where British soccer coaches come from England and have soccer camps throughout the United States. We happen to have the privelege of hosting two of those British soccer coaches, Luke and Louis. That means they got to live with my family for a week. These guys were fabulous and absolutely a pleasure to have around. As you might imagine, they have never seen such a home arcade set up like the Vintage Vault Arcade. Several nights all the games were turned on for some gaming fun. Luke's favorite was Crazy Taxi, while Louis' favorite was VS. Super Mario Bros. An interesting fact about England is that gun ownership is banned. So besides all the arcade fun, we had to take the guys shooting since that's something they can't do in England. Guns and games, good ol' American fun down at the Vintage Vault Arcade.
The road trip I took to pick up Terminator 2 and Sinistar was a fun and intriguing road trip which netted 2 games on my want list. Sinistar still graces the gameroom on Williams row, and Terminator 2 was a staple in the arcade for the last 3 years. The rat-a-tat-tat of the machine guns were a crowd favorite on gamedays and family gatherings. However, eventually I picked up the 3 gun Revolution X. This was from the same manufacturer so it played the same, with the bonus of having the rock band Aerosmith in it. The 3 gun game took over in popularity and Terminator 2 started to fall by the way side. As some might already know, I don't let games go on ignored in the arcade. Sometimes it is just time for a game to move on. With the bigger brother Revolution X in the picture, it only made sense to sell Terminator 2. Good knews was that Slackers (a retro video game store) found my ad on Craigslist and purchased the game for their Fairview Heights, Illinois store. This will ensure that the general public will get a chance to play the game again before some loving family scoops him up for their gameroom. The photo below looks like the Terminator is looking at me saying "Dad, why are you selling me to Slackers? Dad, don't you like me anymore?" Don't worry Terminator, its for you own good. You will be played again, I guarantee it.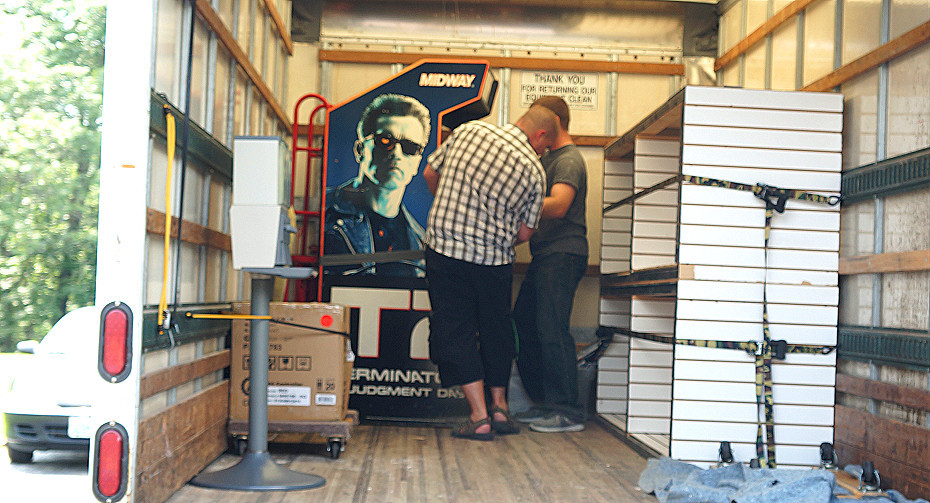 Having my own arcade in the basement can be pretty cool. However, one can be assurred that when you own 30 year old games that repairs will need to be made. I have had my hands inside every single game down in the arcade at one point in time or another, so repairing them is nothing new. Some repairs are not fatal, as in the game will power up and run but a repair is needed nonetheless. Over several months time I had a few of these which I took care of at the same time. The right turns on the Paperboy game were acting flaky and not always turning. After taking off the control panel I found that a set screw on a gear connected to a potentiometer had loosened up. After tightening that up Paperboy was making right turns in no time. The Narc game lost its gunshot sound. A shooting game with no gunshot is no fun at all. After researching it appears the gunshot was produced by an AD sound chip at location U20 on the sound board. I replaced that chip and Narc was mowing down drug dealers with full blast sounds again. The Sinistar kept losing its freeplay settings. Since all games are on freeplay in my arcade, this posed a problem. Older games retain their settings and high scores from a battery. It turns on that the battery holder on Williams boardsets are notorious for corrosion and flaking out. I replaced the old metal battery holder with a newer plastic one on the boardset. Freeplay settings have been restored and Sinistar is now playing again with reckless abandon. Down in the Vintage Vault Arcade...time to play on!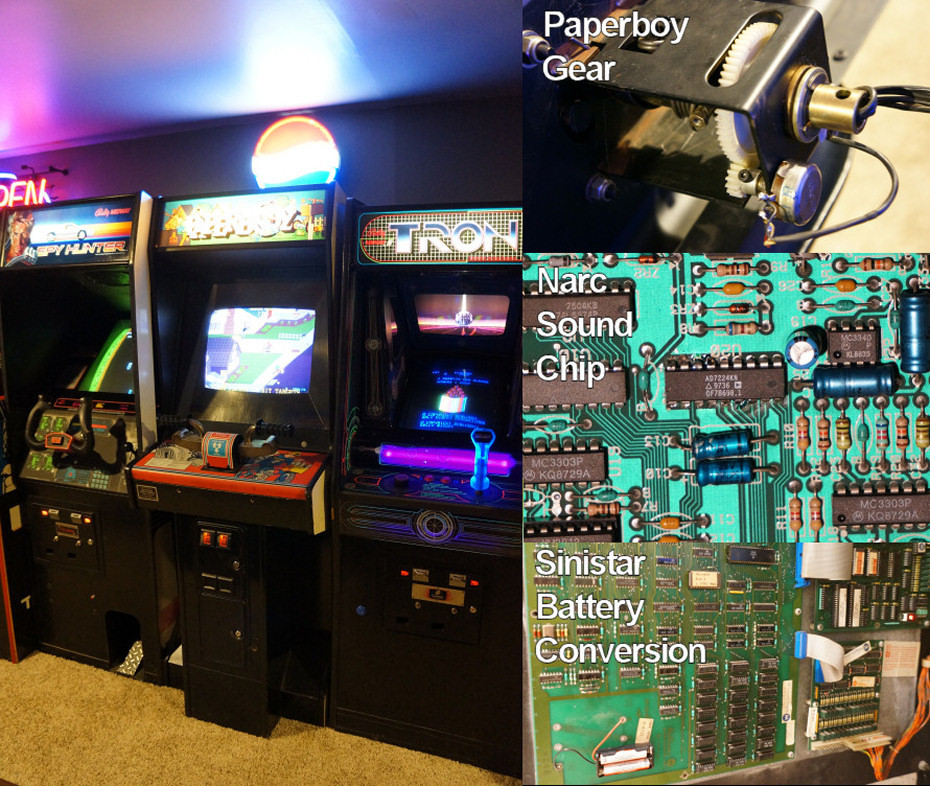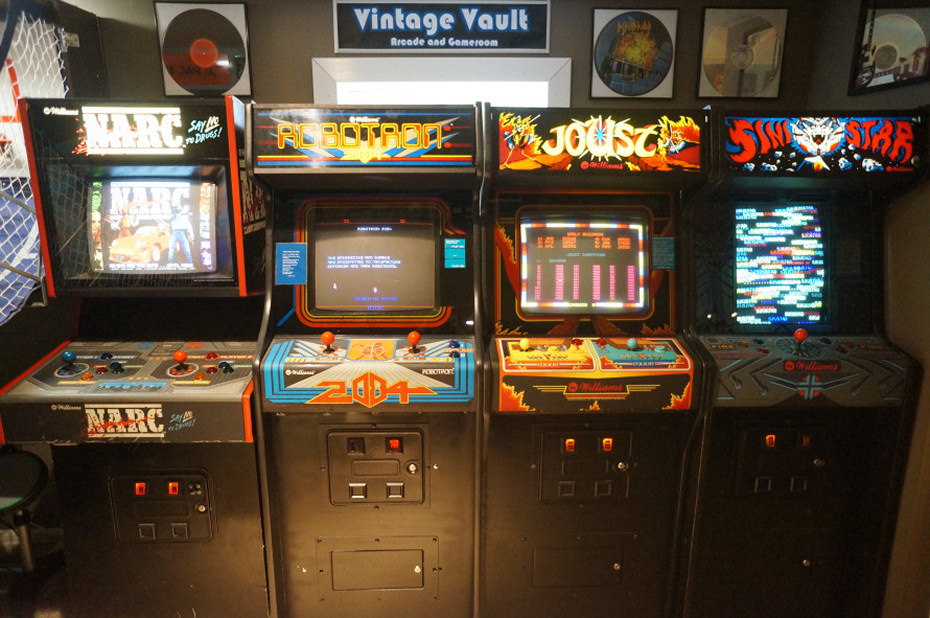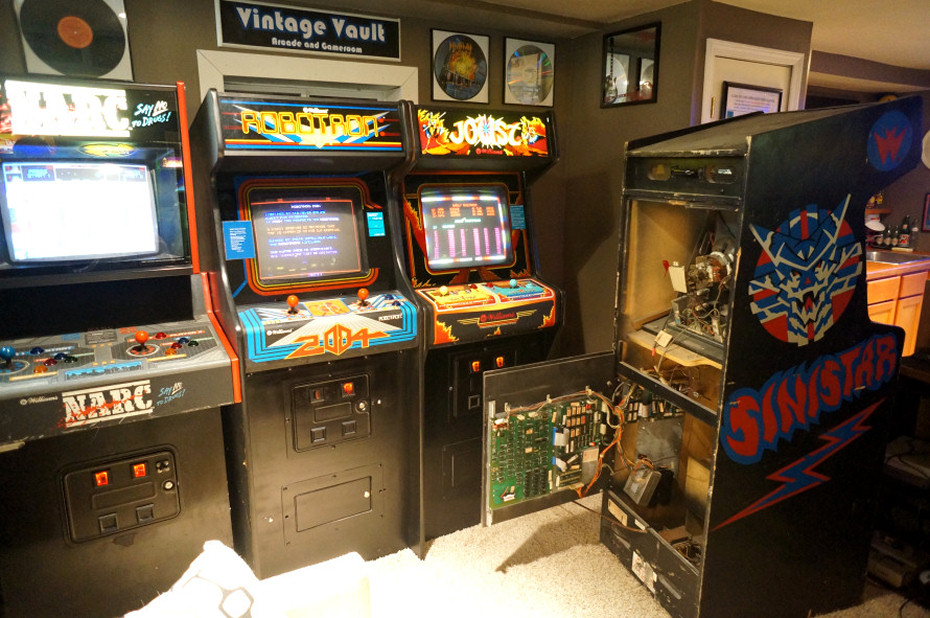 I built this arcade from the ground up. It was a childhood dream and a labor of love. I have been collecting and fixing vintage arcade games since 1997, and playing them since 1980. Most of the actual arcade games I spent years finding each one, then fixing and/or restoring them. I finally built the arcade of my youth when I moved into a new home 4.5 years ago. This is not the result of contractors, the labor was the result of myself, my wife, brother and father-in-law. I am a blessed man and father of 6, but I am not a millionaire. There is a media jukebox that I programmed which plays over 2000 music videos (many 80s and retro) on the bars LCD. This takes the place of an actual jukebox because lets face it, if you grew up in the 80s you were an MTV kid and music videos were our thing. All games have been set to freeplay. This basement arcade is located outside of St. Louis, MO and I welcome visitors.