It's an awesome thing when one of your friends from 7th grade all through high school comes out to visit and brings his kids. I love to share with the next generation the sights, sounds, look and feel of an old school arcade. Of course my kids always get to join in the fun when we have visitors over. My friend Danny and I caught up on old times, as well as getting in some vintage gaming and pool. Yes, it's fun to have the arcade packed out on various occassions. However, it can be just as fun to have just a few people over and have the complete run of the place without bumping into people or waiting turns. Certainly you remember as a kid wishing you had the arcade to yourself and walking up to any game you wanted free of charge. We have all had that dream which for me has become a reality. I've said it before and I'll say it again. Visitors are welcome anytime if you want to be a kid again or just check things out.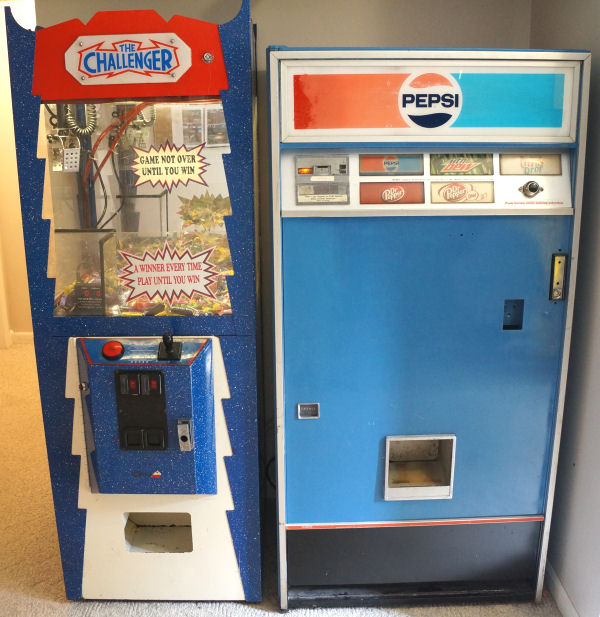 Claw and crane machines. These electronic machines are just as much of a staple in the gaming industry as the actual arcade games. Almost every dedicated arcade I have seen has a claw or crane machine. Why? They take the same quarters, and people old and young just can't walk past one without giving it a try. The problem with claw machines are that they are typically huge in size. However, the first time I saw one of these smaller candy cranes, I knew I had to have one. They are 24 inches wide, roughly the width of a Donkey Kong machine. Perfect for a home gameroom.

Kids love this crane so much, that on game days I have them waiting in line and purging the machine for 2 hours straight before I shut it down temporarily. Even my wife can't avoid giving it a try to get a candy fix.

Much to my dismay, the belt that drives the X axis of the crane broke recently, presumeably from overuse. Of course I had to get this machine operational as quickly as possible. I couldn't find a source for the belts so I was left to repair the broken one. All it took was some plastic connectors used for pipe tubing, some super glue for a good bond, and it was good as new. Candy Crane times are here again, ready to dish out all the tasty treats anyone could want.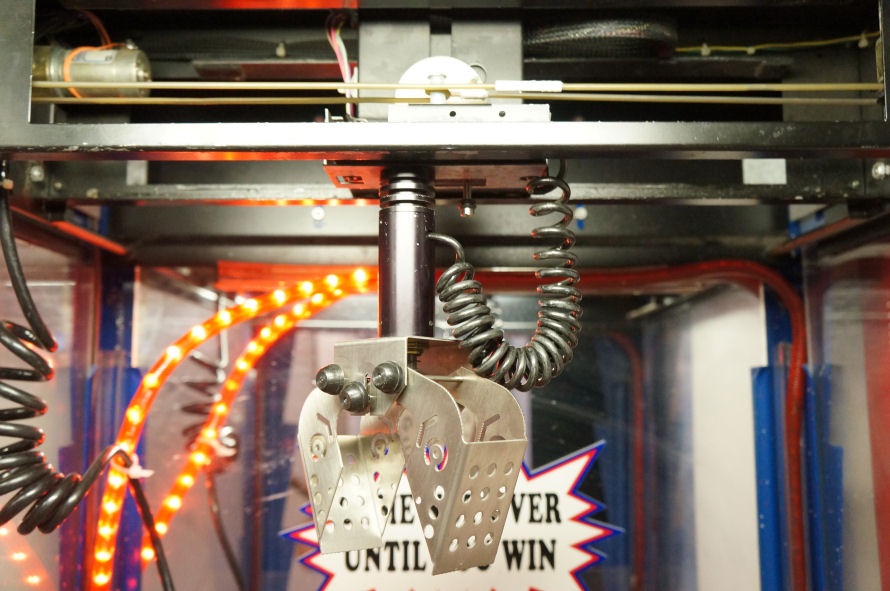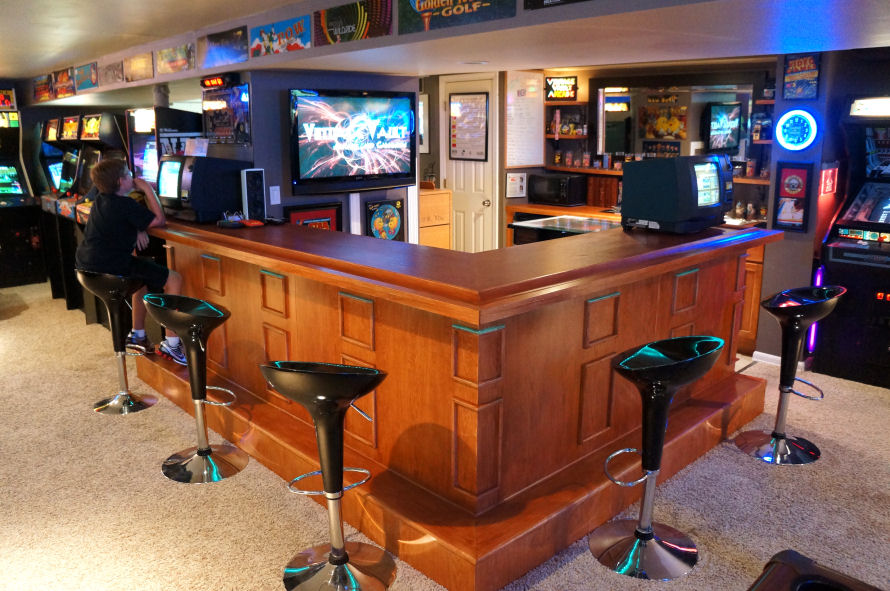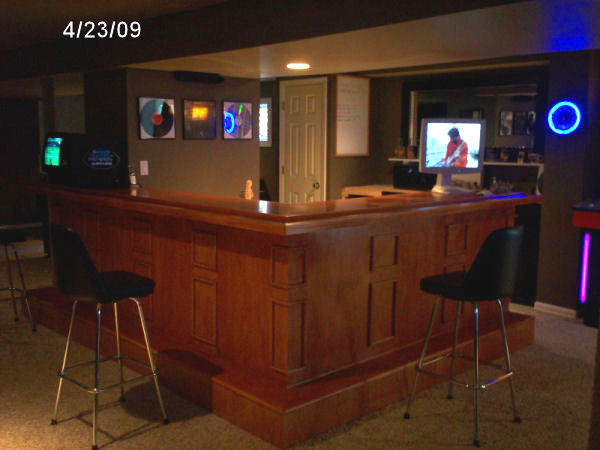 It's hard to believe I built my dream arcade and gameroom 3.5 years ago. Games have come and gone, and the bar has withstood years of pizza, BBQ, sticky candy, spilled soda and chips. It was time to get out the old stain brush and give this oak bar a fresh coat of stain and polyurethane finish. This was to freshen up the color and to preserve this beautiful investment.

Over the years I have added more games, artwork, signs and a 42 inch LCD. The LCD not only gets satelite TV, it doubles as a media center by playing several thousand music videos and over 100 vintage Starcade shows.

For a comparision of the state of the gameroom, I have added a photo to the left just after the bar was finished 3.5 years ago. Above and below are pictures of the bar and gameroom at the present time.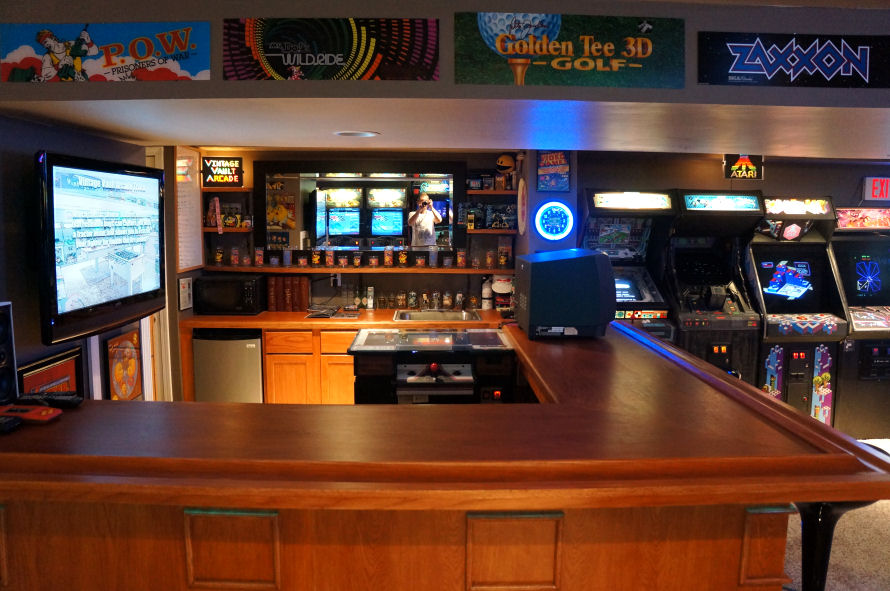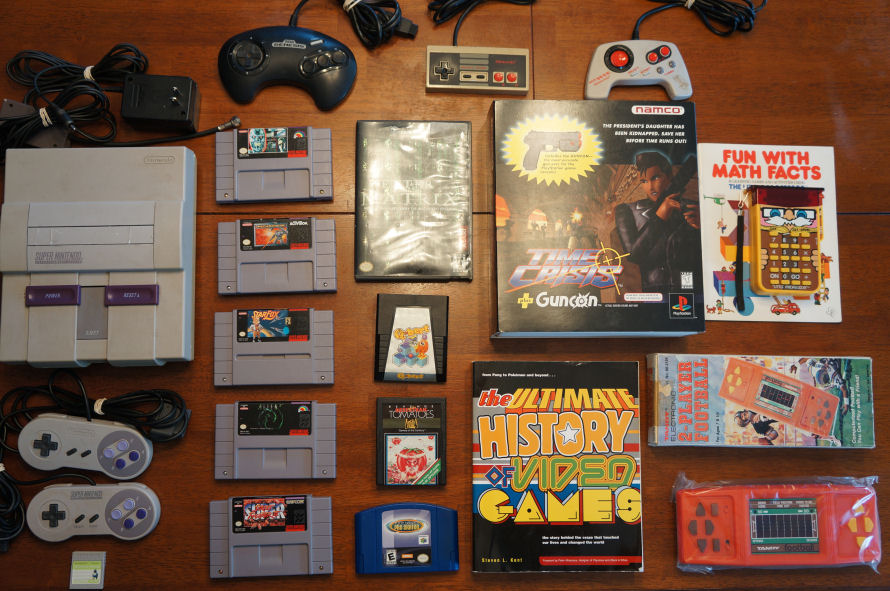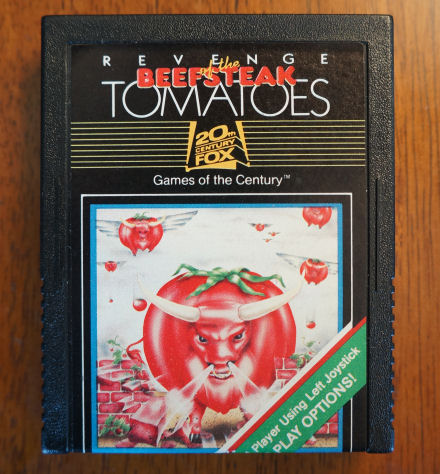 Recently, I hit the garage sale motherload. My town was having a city wide garage sale, and I started at 7AM that morning. I scored more vintage gaming items at one time than I ever have before. Most of these items were 50 cents, 1 dollar or 2 dollars. I'm not kidding you.

Among the items was a rare Atari 2600 cartridge Revenge of the Beefsteak Tomatoes and a still sealed in the plastic Tandy LED football. The yellowed tape on the box was never broken. Works perfect after putting in some batteries and turning it on for the first time in 30 years.

The haul included the following: Super Nintendo system, 5 Super Nintendo carts, 2 Atari 2600 carts, 1 N64 cart, 1 Gamecube disc, sealed Playstation Time Crisis lightgun and game, sealed Tandy LED football, mint Little Professor calculator and manual, extra controllers and 1 book The Ultimate History of Videogames.

Although gaming consoles aren't as visible as the large standup arcade games, I still have them down in the Vintage Vault Arcade and Gameroom. I also higly recommend reading The Ultimate History of Videogames. It has been an interesting read. Now if you can excuse me, I have some vintage gaming to do.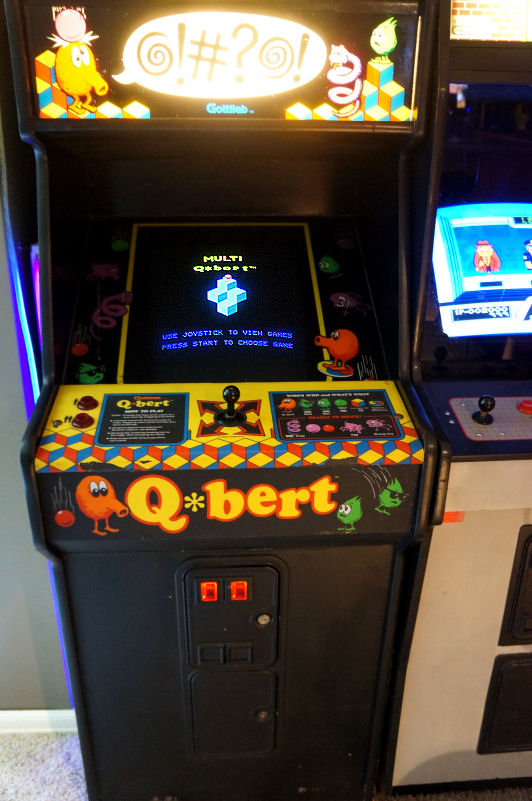 If you grew up in the 80's, if you frequented any arcades back in the day, you have played Q*Bert. You know what I'm talking about, don't pretend you didn't. That orange fuzzy football hopping around pyramids was a new sensation in 3D gaming. Plus, this game used a speech synthesizer to give Q*Bert and all the game characters their unique speech. PLUS... when Q*Bert fell off the pyramid, you can hear a physical *knock on wood* of him hitting the bottom of the cabinet. (After becoming a Q*Bert owner as an adult, I finally learned that a pinball type solenoid plunger strikes the cabinet and makes that sound). Let's face it, Q*Bert was unique and fun. I could not pass a single Q*Bert back in the day without putting a quarter in it. Finally, some years ago I managed to get my hands on a working Q*Bert. This bad boy will never leave the arcade.

Shortly after Q*Bert entered my arcade, I installed a multi-kit. This is a series of plug-in boards which uses the original hardware to run multiple games in the Q*Bert cabinet. Mike Doyle is the genius programmer who created the code and add on boards that make this multi-kit possible. The multi-kit was upgraded recently with more games and a new menu, and I was able to complete the upgrade with a new set of 10 in 1 ROMS to swap in. My Q*Bert cabinet now plays the following games: Q*Bert, Q*Bert Qubes, FHMC Q*Bert, Insector, Curve Ball, Mello Yello Q*Bert, 7-11 Q*Bert, Tylz, Hacked Q*Bert, Japan Q*Bert, and Mylstar Test Version Q*Bert. Several of these were Gottlieb's unreleased prototypes such as FHMC Q*Bert, which stands for Faster, Harder, More Challenging Q*Bert. The color combinations are harder, as well as the discs constantly move on you making it harder to escape Coily. Trust me, you got to try it.

If you are a Q*Bert owner, give your machine the respect and love it deserves and complete it with this multi-kit. You won't regret it. If you don't own a Q*Bert, well... just come on down to the Vintage Vault Arcade and play a few rounds of Faster, Harder, More Challenging Q*Bert with me.

I hosted a surprise 60th birthday party for my mom. Of course all the nieces, nephews, cousins and grandkids made it down to the gameroom for a little electronic entertainment. I even had a few aunts and uncles joining in the fun. The new Crisis Zone arcade game got its first major workout and the still fairly new Revolution X had constant play. Thanks to fellow collector Keith a few months back the linked Rush the Rocks have quickly become a gameroom favorite. Who wouldn't enjoy racing and ramming your friend on the same track?

I love hosting parties and gatherings and opening up the home arcade. Quite frankly, this used to be my playground. I have just managed to piecemeal it back together 1 arcade game at a time. What's the best part about going to the playground? Having someone to play with, friends and family. Check out the photo spread below from the birthday party.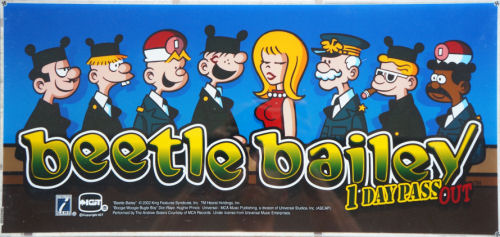 Yes, I hit up garage sales. Someday I dream of seeing a $50 arcade machine sitting there all lonely at some garage sale, with all the passersby not realizing the gem sitting there in the driveway waiting to be snagged up.

A few weeks ago, I ran into a lite brite which I used to create an Atari sign. This time, I saw a genuine glass marquee sitting on a for sale table. This marquee was Beetle Bailey in perfect condition. Apparently it belonged to a Beetle Bailey slot machine which has a bonus round game featuring Beetle Bailey. The woman said her boyfriend or husband services these games and brought a couple of the left over marquees home. Now, it was for sale and now it belongs to me.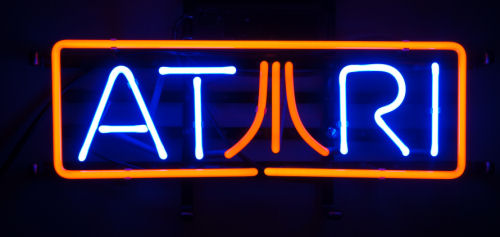 The second sign is a custom made Atari neon from some guy named Gu in Hong Kong. The movie Bladerunner contains the only known Atari neon ever made, so if you want an Atari neon it has to be custom made. While the Atari Lite Brite hangs over the Atari classics row, the Atari neon was mounted above the late 90's Atari driving games.

Signage people. Signage and lots of it. Neons, marquees and more. Get them, hang them, let them decorate and light up your gameroom. Neons are like arcade candy.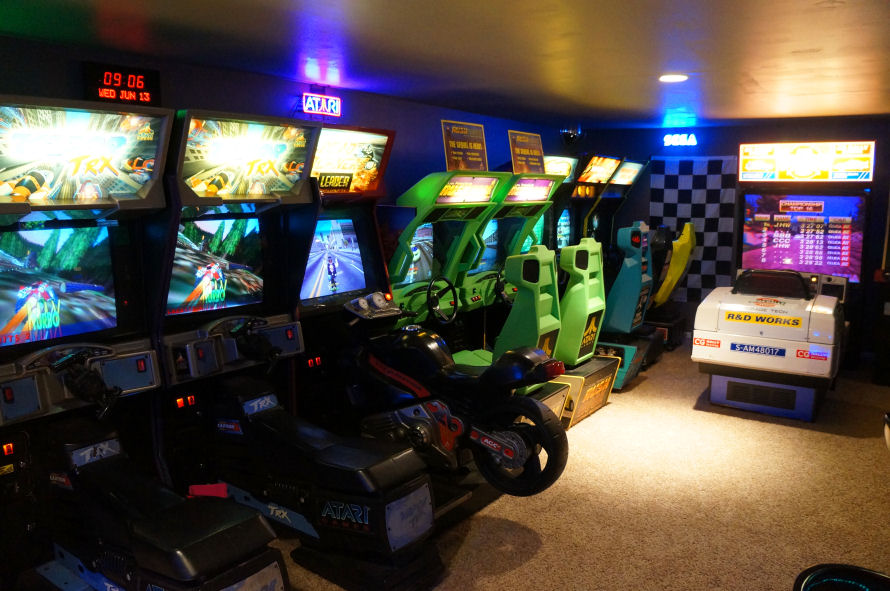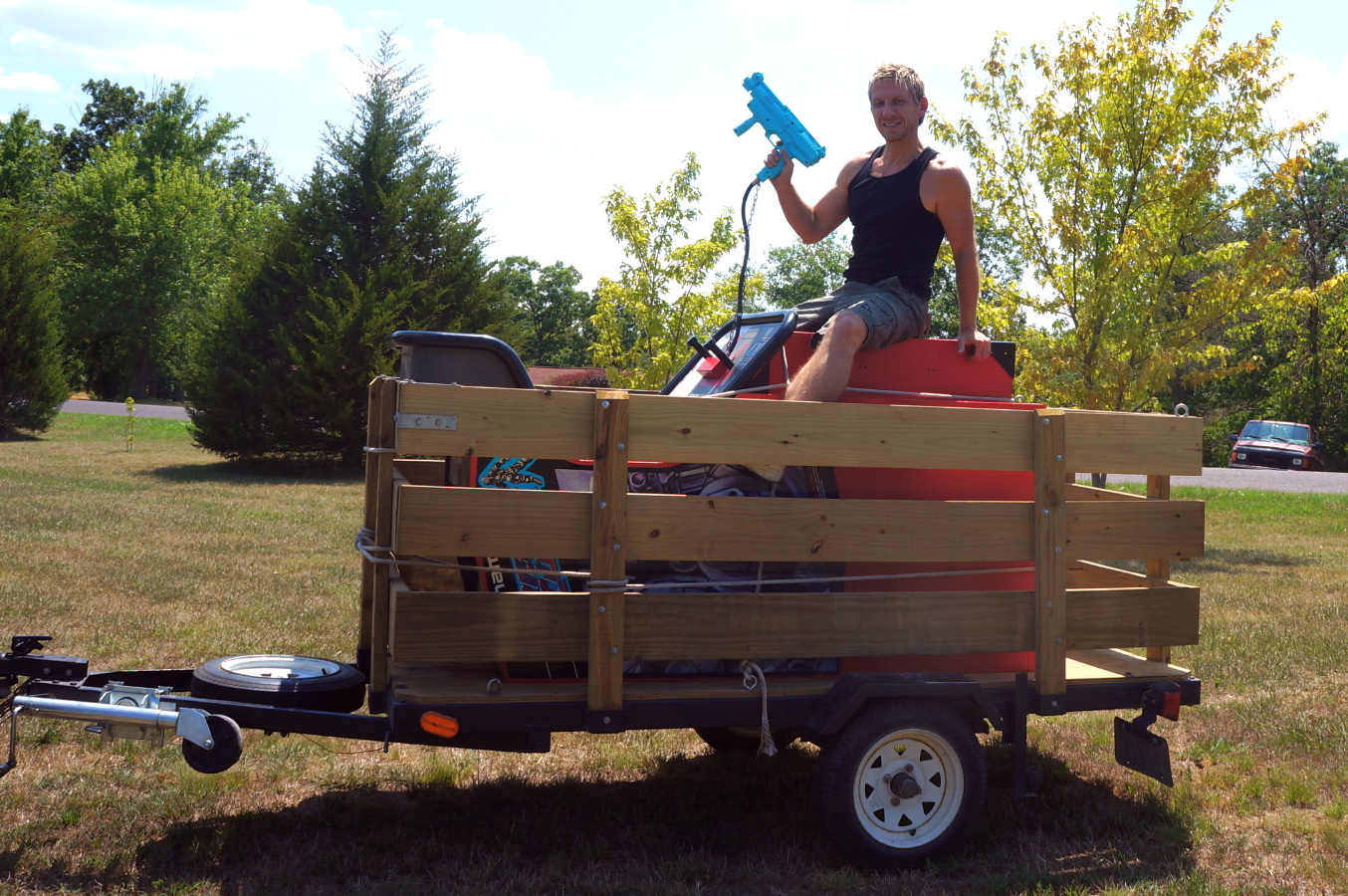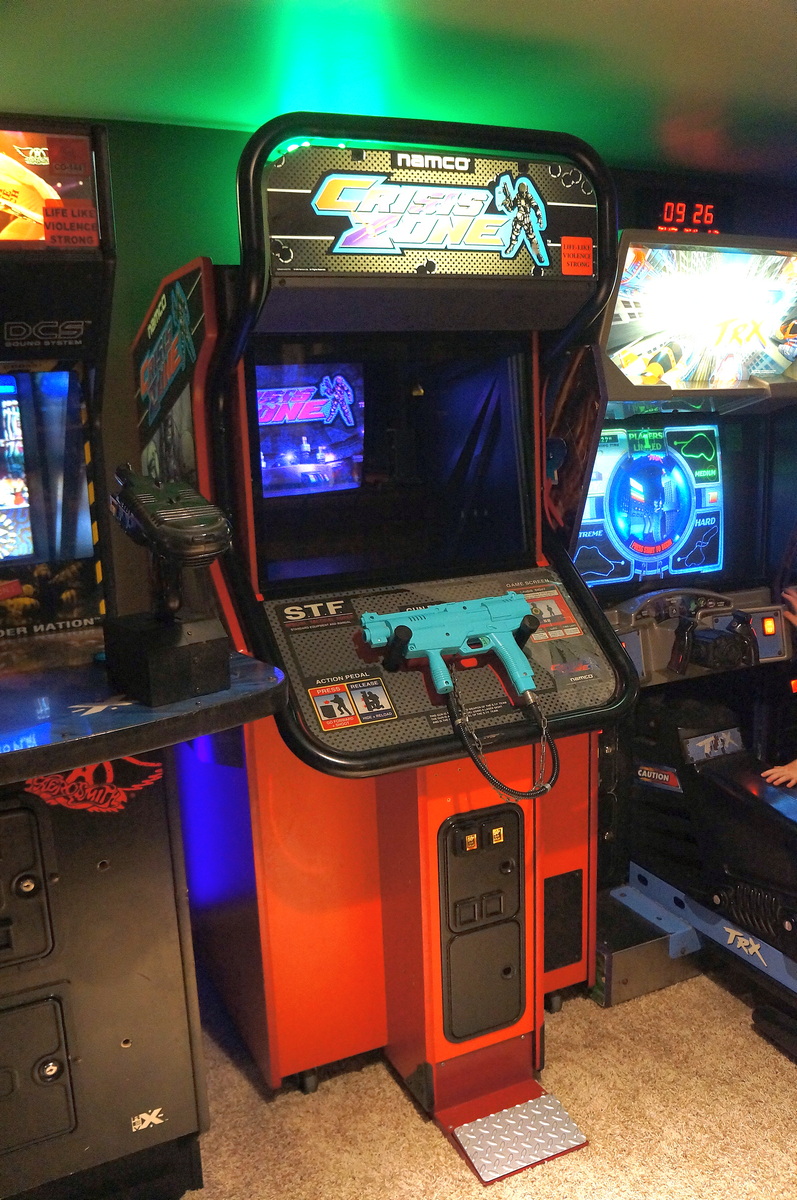 Would you believe me if I told you that I road shotgun on this game in the trailer for the entire one hour road trip home? I didn't think so.

I have several shooters in the arcade. There is a VS Hogans Alley, a Terminator 2 and a Revolution X. VS Hogans Alley is a classic shooter with all its charm. It places a white rectangular box around each target so a photo sensor can pick up the shoot. Its fun, addictive and definitely old school technology. Terminator 2 is a rail shooter and has dual player action. A rail shooter means the gun is fixed to the game and pivots around a base. Tilting the gun rotates 2 potentiometers which determines position. This allows greater pinpoint accuracy for a more immersive type of play. The gun also has mechanical rat-a-tatting. This technology was the next level of shooters on the market. Revolution X was also a rail shooter in the same genre, but has the added bonus of featuring the rock band Aerosmith and up to 3 players on its monster sized cabinet.

Besides these games, I was wanting some type of up to date free form gun game, similar to VS Hogans Alley but with todays accuracy. Swinging the gun around allows the players to have a more complete experience. I was aiming to get a Sammy Shooter cabinet, and pick up the cartridge Ranger Mission to play in the cabinet. Plans fell through and I was still on the hunt.

Then I happen to stumble across a Crisis Zone on Craigslist. Now Crisis Zone is a very differnt type of shooter from Deer Hunter or the Time Crisis series. You have a sub machine gun in which you can spray the bad guys in a hailstorm of bullets with the satisfying recoil of the gun the whole time. I had bid on a few of these at auctions, and missed out on another one on Craigslist a year ago. But here we are, another one up for sale and the timing was just right. I was on vacation from work, and I was able to contact the seller for a pickup. The rest is now one for the basement arcade history books. Click here to read about the Crisis Zone road trip.
You saw the pictures, now its time for the video! This was from my niece Bree's Graduation party at the Vintage Vault Arcade (my basement arcade) on 6/16/12. You can see the 3 player Revolution X in action as well as the streamlined drivers row with the dual Rush the Rock's. Here is the video proof that kids still love a good arcade. It was definitely a fun day.