My basement arcade has been featured in a music video! This is from an Electro Rock band out of Italy called NODe. This single and music video is from their new album Rcade. Great song and great video! The arcade is featured in the opening, with a few clips of my kids and I after the 3 minute mark.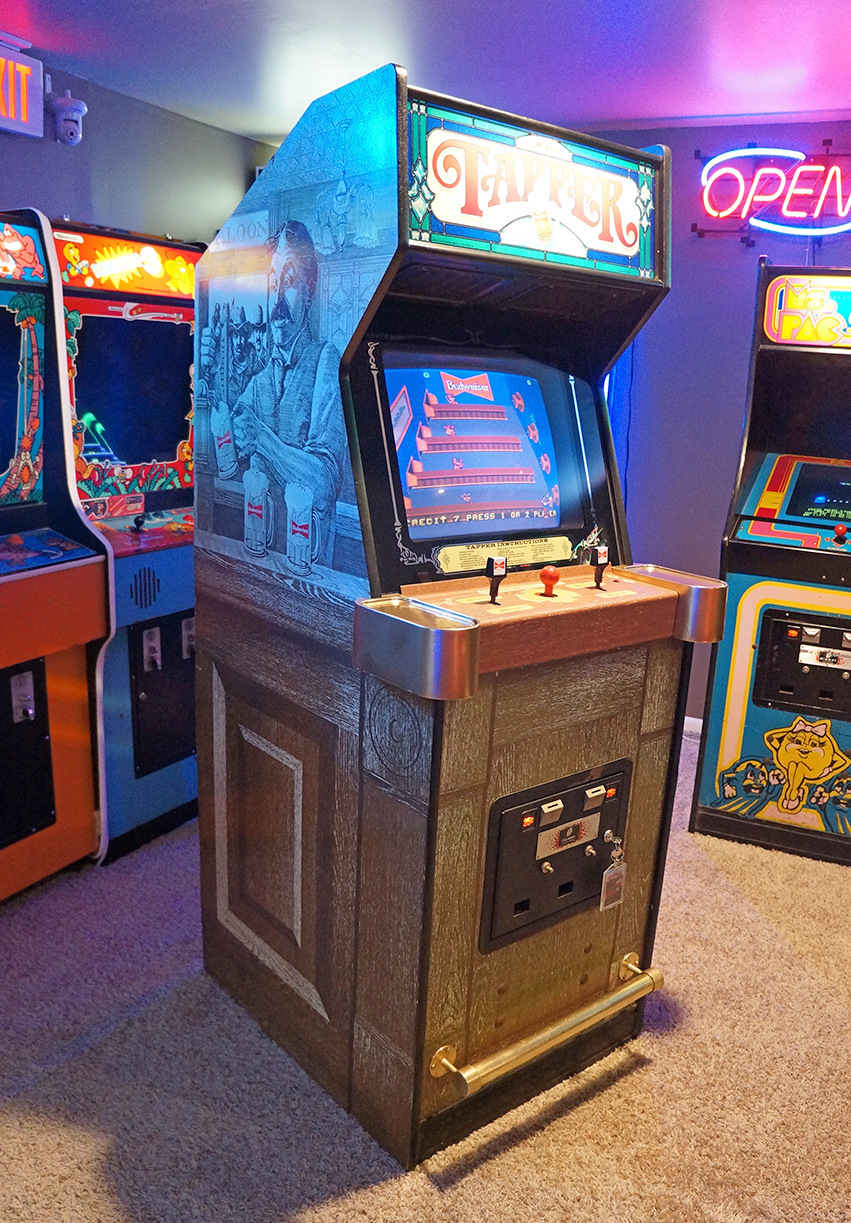 This has been the most excellent summer vacation. Three new games entered the arcade, a Tapper, High Speed pinball and an newer Megatouch 2012 Elite Edge. With 3 games in, that means 3 games out. The arcade is full!

I sold off a Baby Pac-man, Harley Davidson and LA Riders, and a Megatouch 2008 Force. The Baby Pac-man was highly collectable, but it was just....boring. Its the most boring pacman game out there, and the half pinball field is also boring. Prices are high on the collectable market so it was sold. Next was Harley Davidson and the LA Riders. Everyone played Roadburners and ignored this game, plus it came from a trade deal gone bad. So really, I did not like this game anymore. Sold. Finally, I sold off a Megatouch 2008 in order to upgrade to a newer Megatouch 2012.

So onto the new games, Tapper. Probably one of the top 5 most desirable arcade games out there. Its an Anheuser-Busch sponsored arcade game from 1983 where your job, is to serve Budweiser to bar patrons in a fast and furious manner, using the custom bar tap controls. As a middle school kid I used to walk with friends to an ice cream shop and I would play this game. I've loved it ever since and have been wanting one of these for a good 17 years now. After purchasing, I performed a minor restoration on it with new CPO, new monitor, new t-molding, sanded and repainted cup holders, new lights, cleaned up the brass foot bar, gave it a thorough cleaning and installed a freeplay ROM. This thing looks great!

That same evening, I picked up a High Speed pinball. My uncle just retired along with his co-worker. His co-worker just sold his house and was moving. He needed a quick sale and this pinball was in pristine condition. I got the police light topper working, and performed a colorful LED bulb upgrade on it. This pinball has a police light that goes off, plenty of ramps, police banter speech, and 3 ball multiball. This pinball is fun! Second pinball in the house!

Finally, the very next day I drove in to Kansas City to purchase an upgraded Megatouch. Newer Megatouch means better games, and a bright colorful LCD. Arcade classics need their CRT's, but Megatouch games really benefit from flat LCD's with their higher resolution games. This Megatouch also has a built-in joystick option. Nice! All 3 games are a superb addition to the arcade. Gamedays here we come!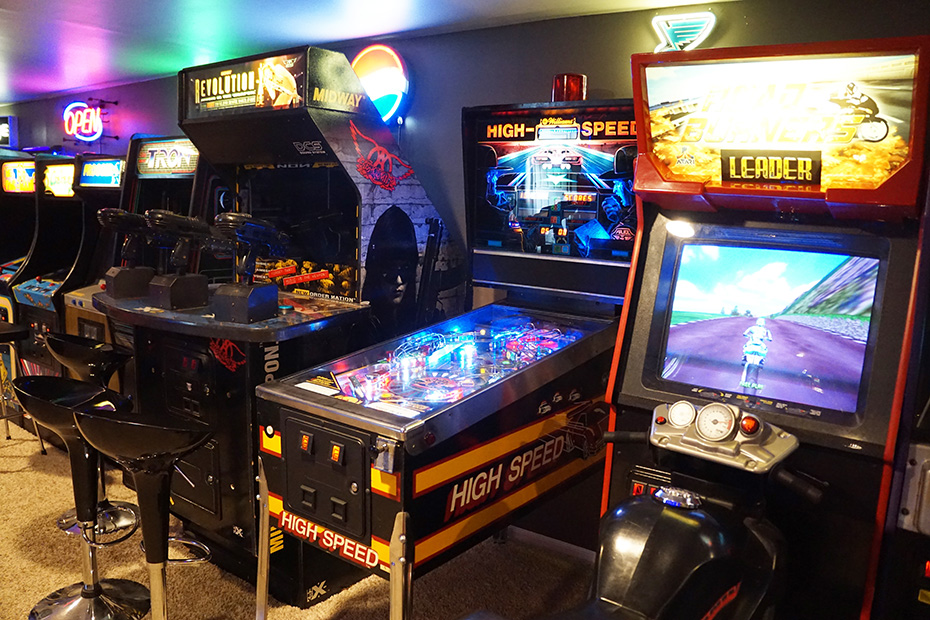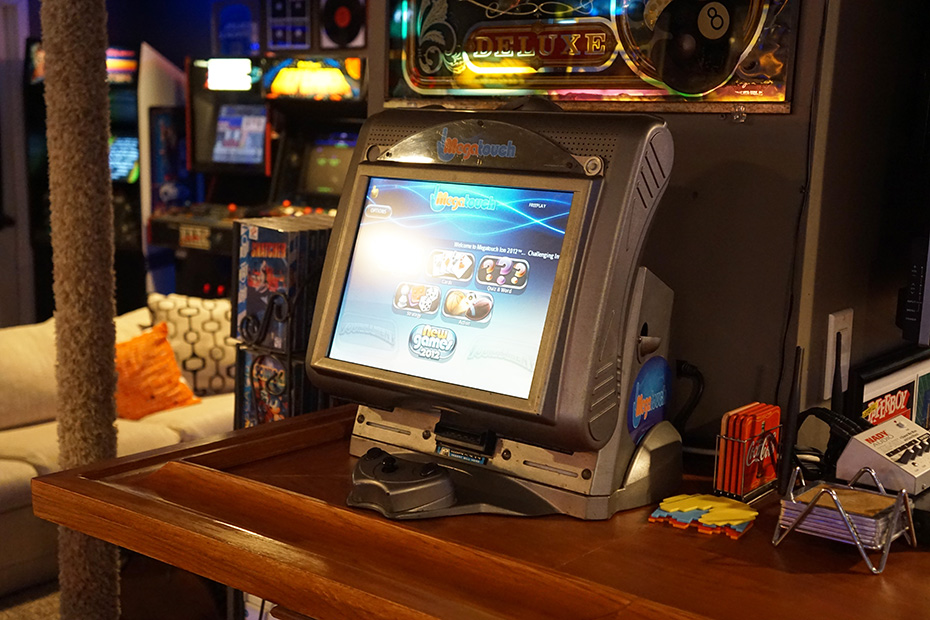 Four years ago I blindly picked up my first bumper pool table, sight unseen. Little did I know at the time I was going to pick up a 1956 coin up bumper pool table with lighted posts. The coin op mechanism accepts 2 dimes, and doing a little research the electrically wired bumper pools only ran for about 4 years. I did an LED conversion to neon blue at some point, and this game is the source of much mystery and competitive fun when guests are over. Now my brother has always admired my bumper pool, but said if he ever got one he would want a lit up one like mine. I told him the odds of finding another electrical one from the 50s is slim to none, or so I thought. I recently came across a for sale ad for a "you guessed it", and light up bumper pool! There are some obvious differences between the two, as mine was made by Bally and the second bumper pool is made by Chicago Coin Co. Here is the photo of the two, side by side, before I send the new one of to its new home. Success! To read more about the pickup of my first bumper pool table, go click here: http://www.thebasementarcade.com/index0414.htm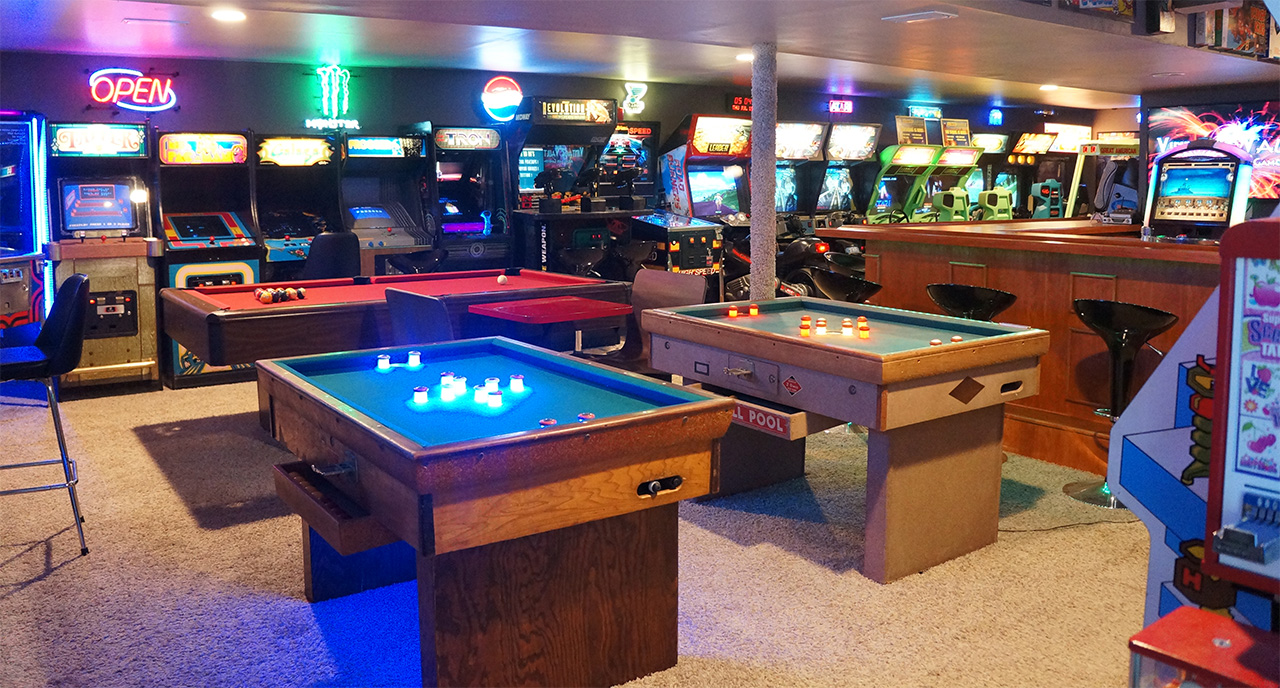 The Final Frontier of computing, virtual reality is starting to come of age. What if full immersion virtual reality was availabe now? What would happen if you became stuck in that game? This new mini series explores Rock Dad's adventures through VR space with Bob the Bot (and Dave, who's Dave?). VW bus anyone?
I get a request this last weekend from LADbible to edit a few of my Youtube videos to do a feature on their site. It is Facebook only, but if you have Facebook the link is at:
So far there is 1.185 Million views in just under a day and counting, along with 12 thousand likes and 5.7 thousand shares. I guess that means my home arcade went viral. If you have Facebook, enjoy! Thanks LADbible!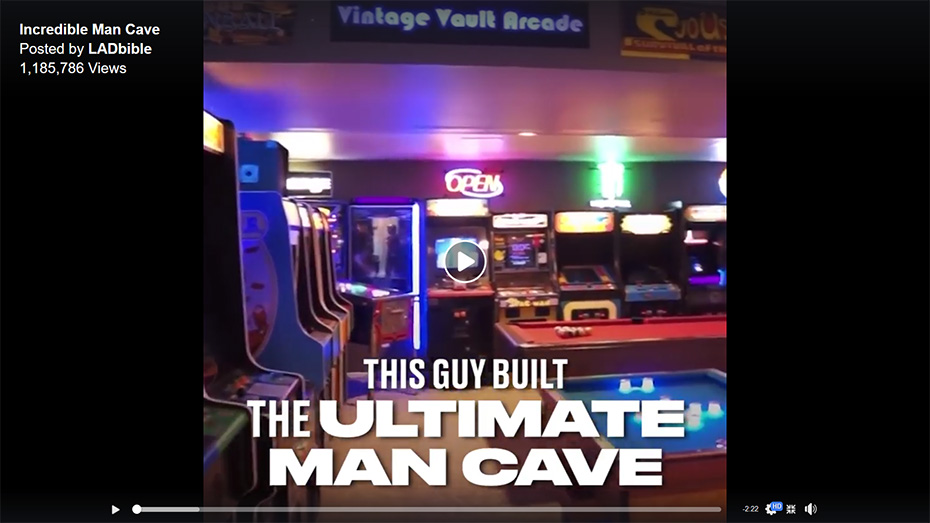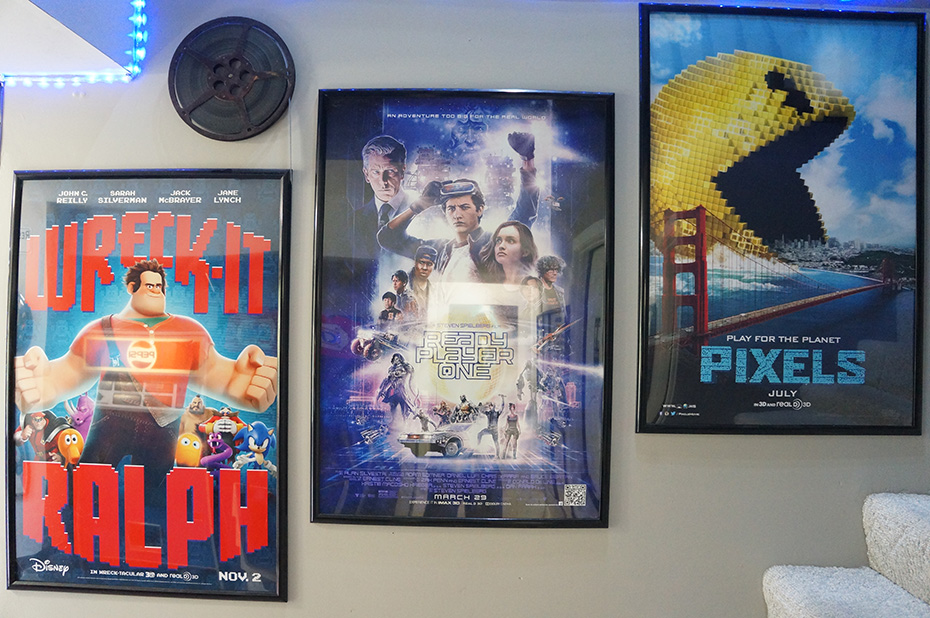 One of the things people like about the Vintage Vault Arcade is all the swag that decorates the place, which is the culmination of years of searching for the right pieces. This includes vintage items, records, neons, posters and the like. I'm blessed in that my son not only works at Imo's pizza (which he got me an Imo's pizza poster a few years back) but he now works at the local movie theater. Over the weekend he took me to see Deadpool 2 and I happened across a movie poster bin, which is past posters that once hung in the theater. I dug through them and found a Ready Player One movie poster. He spoke with his manager and I ended up taking home this poster for free. It now graces the stairway into the arcade. Nice! If virtual reality and/or Ready Player One excites you then check out episode 1 below of my new mini series, Level Up!
I will just preface this with saying, I've been playing virtual reality games since the 90's, way before Ready Player One was even written. Yes, virtual reality was around in the arcades back then and eventually faded away for a time due to the expensive nature of the technology BITD. Now for the last many years, we are seeing a strong resurgence of VR, and its about time. This new mini series explores Rock Dad's adventures through VR space with Bob the Bot (and Dave, who's Dave?). VW bus anyone?