Baby Who? Baby Pacman of course. The corner of the arcade which used to have dual basketball hoops now has a lone baby pacman. The basketball hoops have been removed, see the last picture for the game in action. That corner will eventually be pinball corner. Yes, I will get a full sized pinball someday. However, I had to make space for a new game which will be finished shortly. That my friends, is Fix It Felix Jr. Yes, I have a near completed Fix It Felix Jr ready to invade the arcade so something had to go and something had to get moved. The dual basketball hoops had a good run for the last 8 years that I have owned it. The game will live on as I have donated it to my Childrens Church. Baby goes in the corner... stay tuned for Fix It Felix Jr!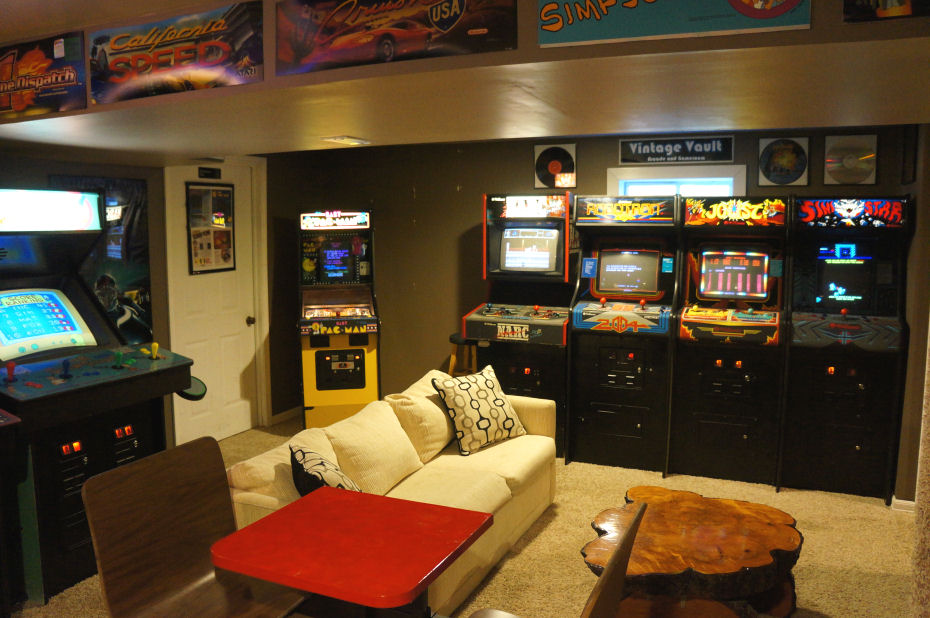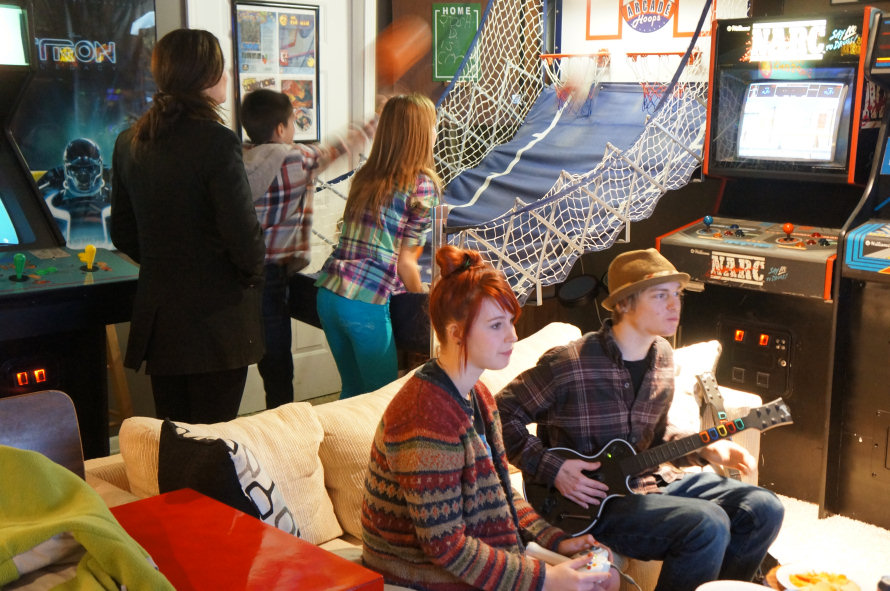 Old school game tables. Pool Table, Foozball, Air Hockey, Table Tennis. Before video arcades began to multiply in the 80's, most of us played on these as a kid. My grandma herself had a Pool Table and Table Tennis in her basement. The game table I was most fond of though, was air hockey. Yep, air hockey was an old school game table on crack. It was the Williams of game tables, with fast and furious action that rivaled the others. For nearly 5 years now a pool table and foozball have been a staple in my arcade. As time went on I kept craving the action of an air hockey table down in the arcade, but space dictated something had to go if I wanted to make that a reality. I finally decided to take the plunge and picked up a nice air hockey table. The foozball table lives on as I have donated it to my children's church where the youth will enjoy it for years to come. I can't wait for the next large gathering or gameday down in the arcade. Air hockey tournament action is going to rock!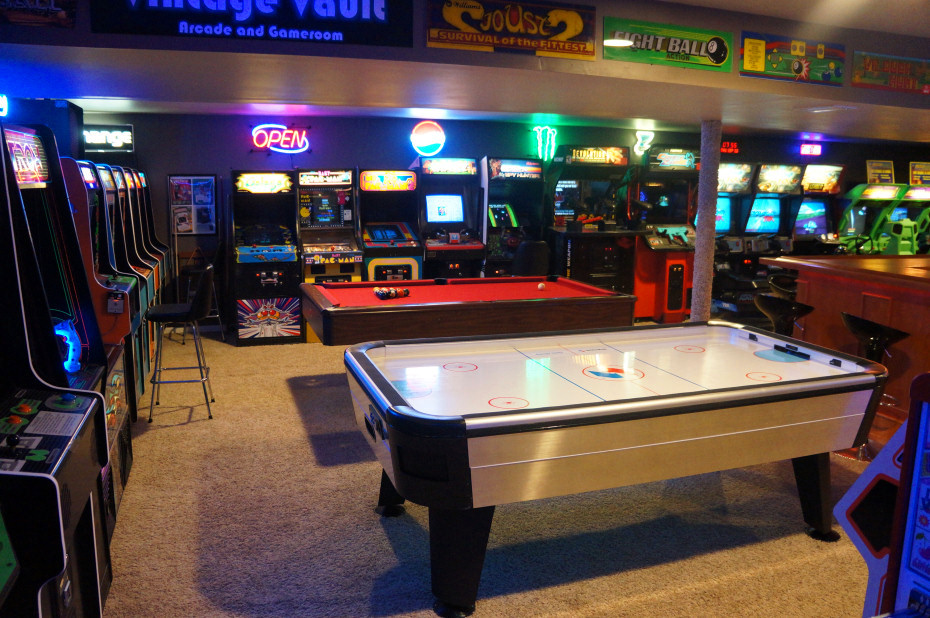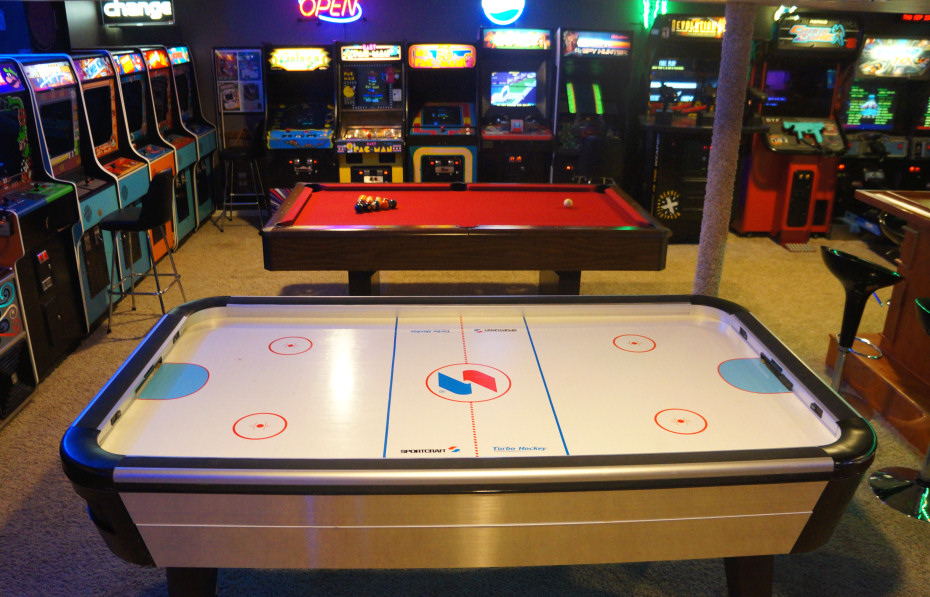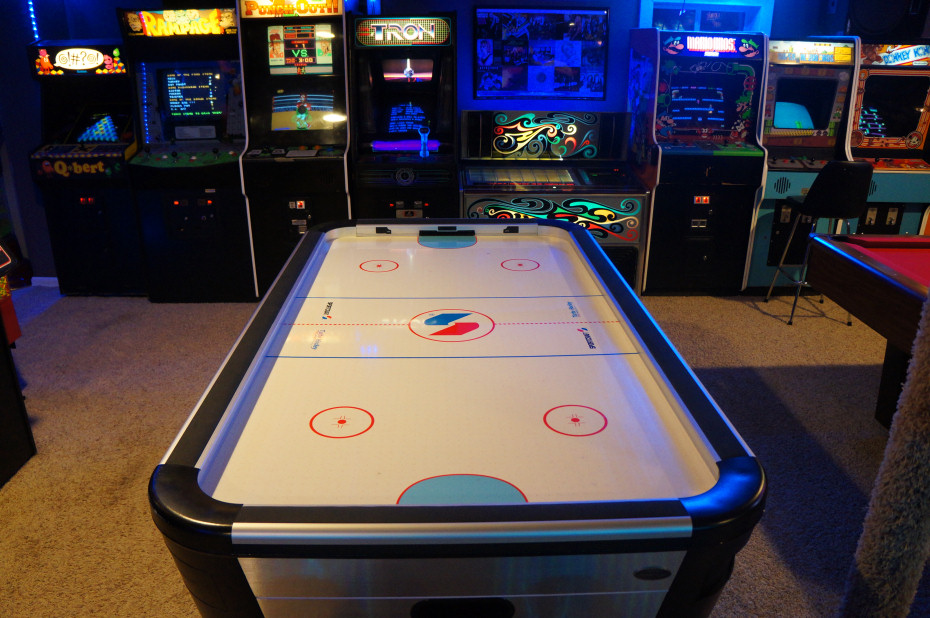 My cousin Angie and her husband Dallas were driving their church kids to St. Louis for a youth missions trip. She asked if they kids can stop by for some fun in the arcade and to BBQ some dinner. My sisters family also stopped on by for a fun filled friday evening. The kids had lots of fun, and I BBQ'd some burgers and dogs. It was a great way to start off the weekend and give the kids a boost before heading on to God's work. I love opening up the arcade especially to the church community. As always, the pictures tell the story.
I have to admit, I have really been enjoying my new Rockola jukebox a lot. Not only does it sound good, not only does it take me back to the 80's much like all my vintage arcade games, but it has opened up a new avenue of collecting. With your MP3 player or Ipod, finding a song you like is as quick and easy as a trip to the Itunes store or a search on the internet. It's almost like vaporware, there is nothing tangible to it. You're Ipod crashes and if your songs aren't backed up or you don't have an Itunes license, they are gone. Nada. Like I said, vaporware. Easy come, easy go. Not so with these vinyl gems. Finding a 30 year vinyl record, in good condition, with a song that you really like is challenging. That's were the fun comes in, collecting these pieces of history that you can touch, feel, hold in your hands, and play. Sound familiar? Maybe like finding that Donkey Kong or Ms. Pacman that you played 30 years ago and want to cherish that moment again? Exactly. Curious what the inside of one of these vintage items look like? Look no further, and enjoy the video.
Recently I hosted an arcade party and I noticed that while someone's son was playing Q*Bert, that the Q*Bert character was uttering non-stop gibberish like he had tourettes syndrome. Then I realized that although sounds were being triggered in the game, they were the wrong sound. I turned the game off and on again but it was the same thing. I surmised that the sound and speech chips had to be OK or else you wouldn't hear anything. This meant that more than likely there was a flaky pin or connector for the data address lines. This would cause the wrong sound to be triggered on the sound board. I opened up the Q*Bert cabinet, pulled all the connectors and then reconnected them again. Firing up a trial game of Q*bert showed me that Q*Bert was back to his normal self again. With these 30 year old games sometimes the chips and connectors can get poor connectivity with time. Luckily this was the case and my Q*Bert game is back in the herd again working 100%.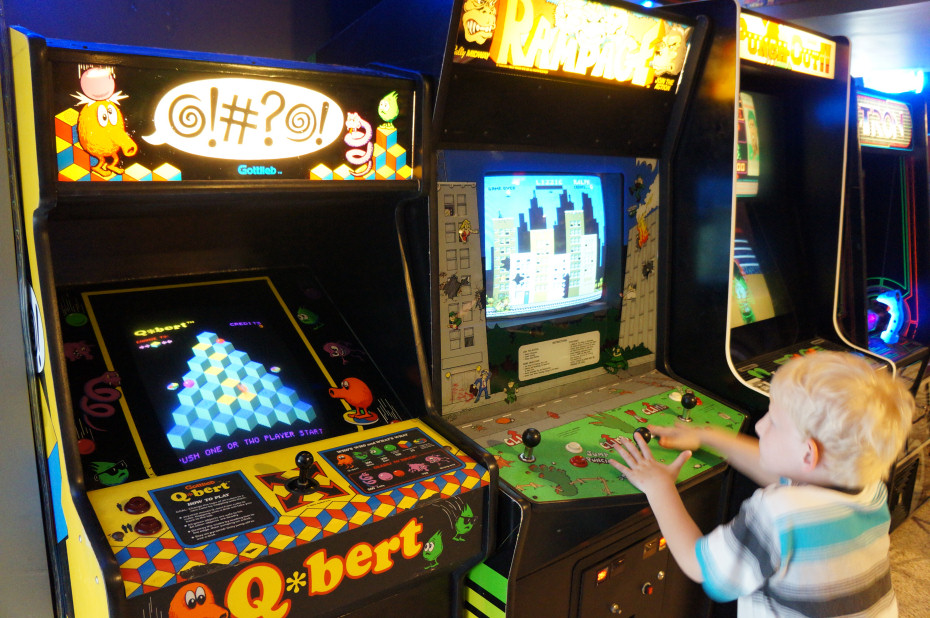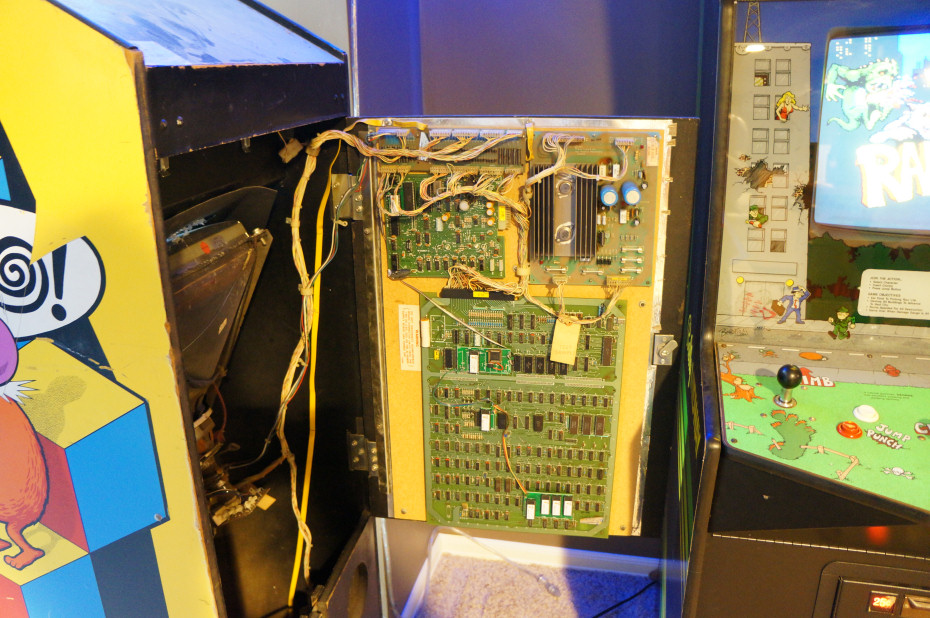 Nothing screams vintage and retro more than 80's music on vintage vinyl. If you are 30+ years of age, you have used, played with or owned a record player. This era is pre-MP3, pre-CD and pre-cassettes. A vinyl record has recorded songs in all analog (as opposed to digital) which makes the sound richer, deeper and lossless. Yes, your MP3's and CD's have some sound and quality loss from the original recording whether you like it or not. Being a record lover I have collected a bit of vintage vinyl as wall art to put down in the Vintage Vault Arcade over the years. However, I really didn't have anything to play them on. I happened to come across the most gorgeous (and completely broken) 45 jukebox I have ever seen. For those who don't know, a 45 jukebox plays the smaller records, 2 songs, 1 frontside and 1 backside, at a speed of 45 RPM. Basically my Terminator 2 arcade game was swapped out to get this 45 jukebox. The exact model is a Rockola 470 juke.
Click here to read about the Rockola 470 Jukebox road trip.