We opened up the homestead for a big family Christmas with parents, brothers, sisters, nieces, nephews, boyfriends and girlfriends. Along with presents and a gratuitous amount of food, everyone had a blast down in the arcade. On to the photos!
Lonnie McDonald is on a quest to post 9,999,999 scores on every classic Joust video arcade game in America. Williams (the maker of Joust) declared him the Joust world record holder in 1982 and he is the current Joust Doubles marathon record holder with Steve Sanders. On Dec. 26 Lonnie came to the Vintage Vault Arcade and rolled the machine over at 10,000,000 points in 5 hours. Several arcade collectors and friends came by to join in the fun!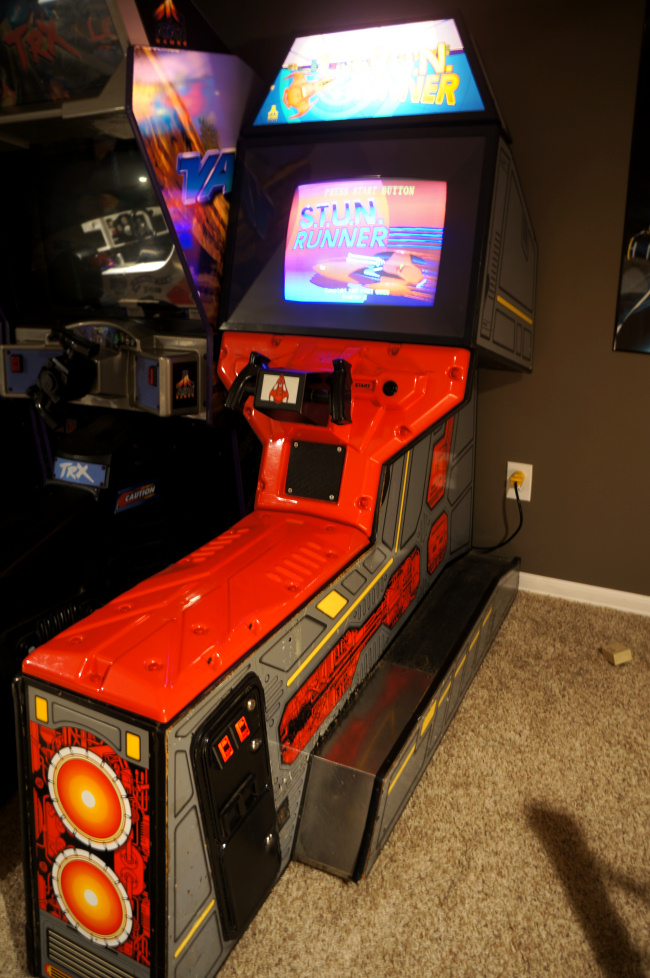 This Stun Runner was the SECOND arcade game I picked up when I got back into collecting. The first game was a Megatouch Maxx Sapphire for my wife which is a bartop game, and not an arcade game in the truest sense. So technically when I got bit by the collecting bug, it was this game, STUN Runner. I won it off ebay and my friend Todd helped me pick this up several hours away in Cape Girardeau.

This game was the only sitdown game I had for years before I started to buy different driving games. This game has also treated me well in that it never broken down, until now. Last year I got some faint jailbars on the monitor screen so a simple cap kit fixed it up. Technically, the game wasn't broken. Recently though after a game day the G07 monitor blew its flyback in a stinky, smelly, smoky mess. Yes. Another G07. What is up with these guys? Thankfully, the monitor in a STUN Runner is easy to remove from the front and within 60 minutes I had a new flyback and HOT replaced in the monitor chassis. I put the monitor back in, turned it on, and the screen looks better than ever.

I first saw this game at Ronnies movie theater arcade. I was mesmerized by the cool 3D graphics and this was the first game I ever played other than Dragons Lair and Space Ace that cost 50 cents. Maybe it cost so much to play because this game cost $3995 back in 1989. Yes, I now own $4000 of vintage atari hardware, and its now free for me to play all day and night.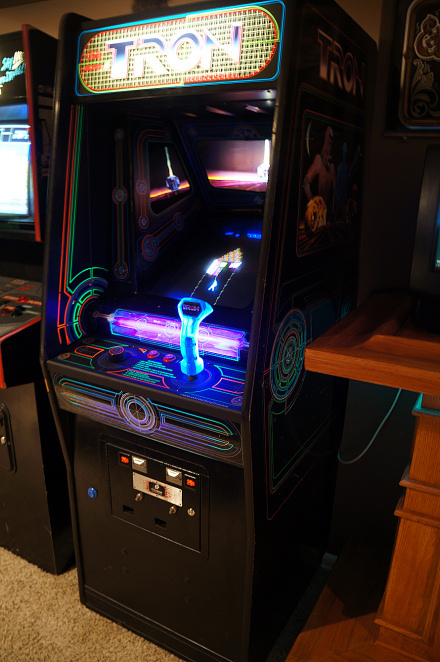 A few months back I picked up one of my grails, a minty Tron. Tron the game, from Tron the movie. Yes, that's the one. This Tron was Home Use Only for 20 years of its life, with only 10 years on location. This Tron was beautiful, and one of the only complaints was a little bit of wear on the control panel, especially around the rounded edge. For most collectors, and really for most of my games, this was completely acceptable. Really trashed control panels have cigarette burns, cracking all over the place, extreme color fading, or large portions of the artwork ripped off of it. This Tron was nothing like that.

BUT... this Tron is so beautiful and so highly collectible, that it deserved the royal treatment. It needed even it's minor imperfections, it's above average CPO (control panel overlay) replaced. I bought a reproduction overlay from Phoenix Arcade. Their artwork has been matched to new old stock artwork so it is perfect. Even the inks used in the silk screening process are fluorescent inks to give Tron that nice glow.

Listed below are the steps I used to install my new overlay.

Step 1: Remove all buttons, joysticks and spinners from original metal panel.
Step 2: Flatten out the reproduction artwork.
Step 3: Preheat oven to 500 degrees. Put panel in for 2 to 3 minutes. Peel off the original artwork. Then use cleaner like goo gone to remove glue reside. Sandpaper metal clean.
Step 4: Line up new artwork and apply. Install all parts back on.

I then put my newly restored control panel back into my machine, fired it up and took a step back. That is just beautiful. That blacklight has the inks all glowing nicely. Now I have one more reason to never let this game go. Time to fire up some light cycle races and destroy the MCP!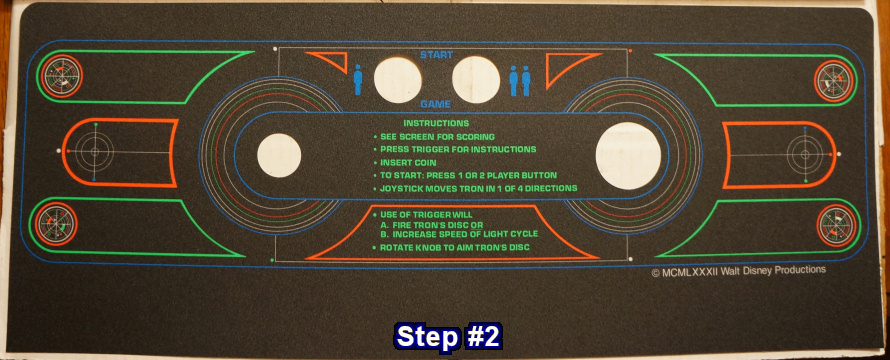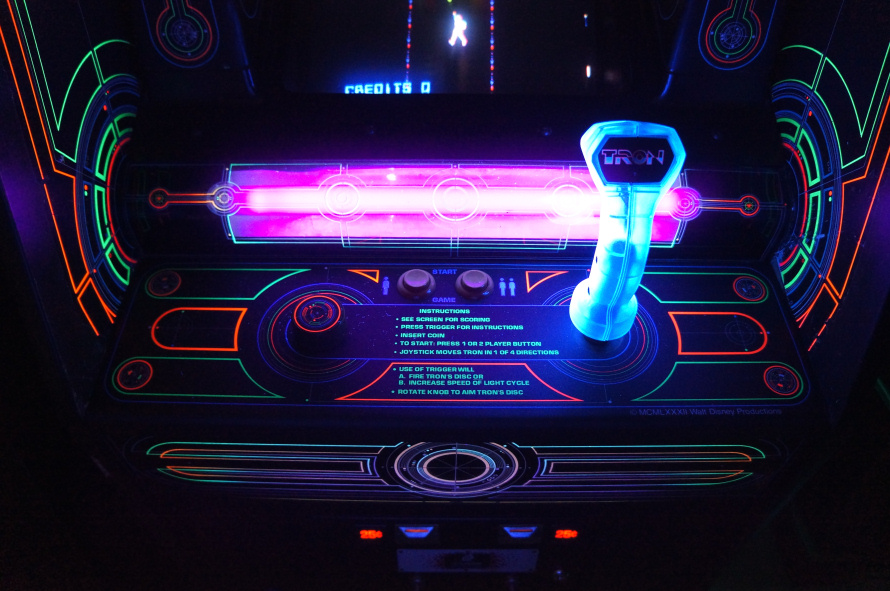 This is an official video walkthru of the arcade. A picture is worth a thousand words, but a video is worth a thousand pictures.