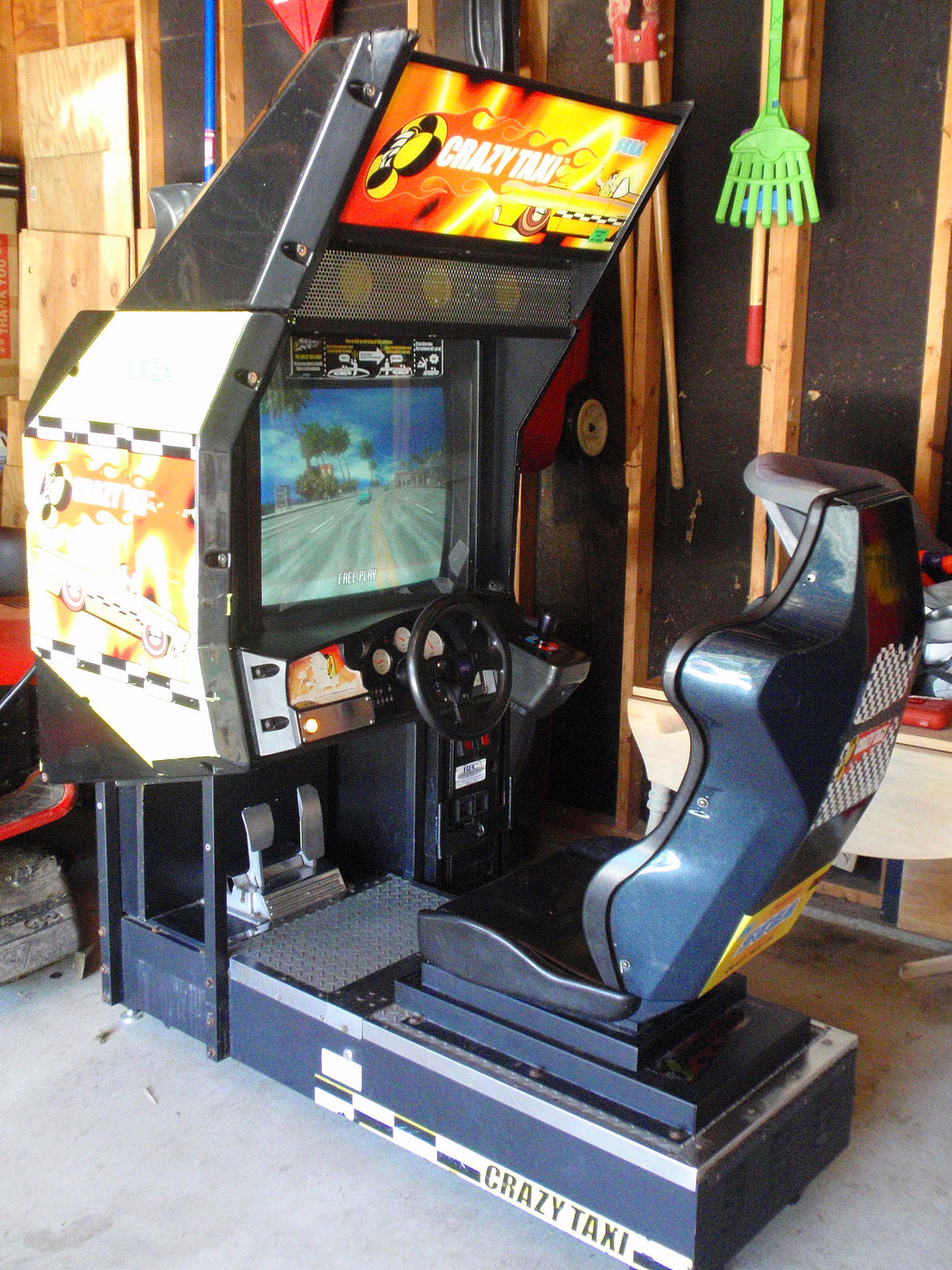 Pick Date: 8/31/10 How did you come into my life? This game completely skipped me when it made its debut in the arcades back in 1999. I was oblivious to its instant popularity, and its many ports to home gamimg systems such as the Sega Dreamcast and Playstation. Thankfully, earlier this year I was with a fellow collector, Pat, as he went on a service call to fix a couple of arcade games on location. One of those games, you guessed it, was a Crazy Taxi. Pat got the game fixed up real good then he coined up a bunch of credits on the game. He told me to go ahead and play a few so we knew the game was in good working condition. I have to tell you, it was love at first site. I was amazed how you can drive your taxi anywhere around the city, instead of a pre-planned race course. I was thrilled by the Rock tune soundtrack pumping out through the whole game. And the gameplay, it was just, well, it was addictive. You pick up someone needing a Taxi ride, they point you in the right direction and your timer starts to count down. You have to speed through the city while smashing into stuff to get them to their destination on time. Its good stuff. At that moment the search was on, I wanted a Crazy Taxi.

For half a year I had been searching for this game but it was just financially out of my reach when one would come up. This is where the Super Auctions arcade auction comes in. Every arcade auction I have been to is an all day event on a Saturday. People are off work, it becomes a social event, and you have plenty of time to move a couple of hundred large arcade games out the door once the event is over. However, somehow in someone's logical mind, they scheduled an arcde auction on a Tuesday night, a work night, starting at 7PM and ending at midnight. Seems like a recipe for a very small auction with a very low turnout. Well the second part is true. It was a low turnout. However, it was one huge auction, and they only had 5 hours to blast through several hundred items. Best of all, when I got there I spied on "driver row", a Crazy Taxi. Yes, that elusive game was up for auction. Could it be true? Could it be mine? The more popular driver games sometimes got auctioned between $500 to $1000. That was too much. Would it be my luck tonight? Well the auction ended up being one crazy roller coaster of a ride. I met lots of local collectors, lots of items were being bought up, but the auctioneer was not going back to driver row.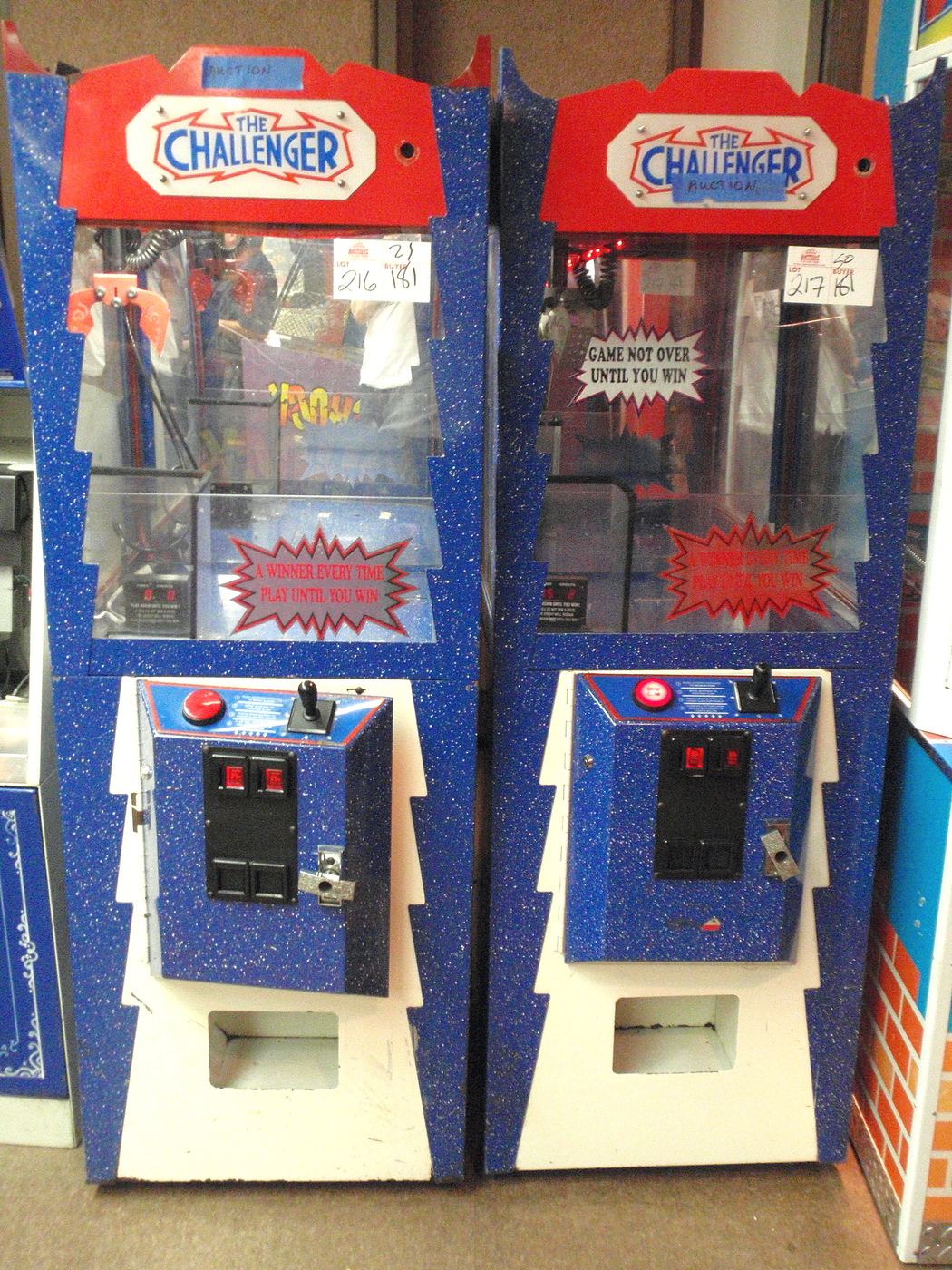 Now besides this Crazy Taxi, I had my eye on a candy crane. This happened to also be in the back by drivers row. A candy crane is one of those crane type games that you use the claw to pick up stuffed animals. However, a candy crane is smaller, and instead of stuffed animals grabs handfuls of candy. Anyways it was fast approaching midnight and the auctioneer was finally getting to the items I wanted to bid on. They would be some of the last stuff of the night. Personally, I wasn't thrilled about waiting all night but by this time there were only a handful of people left to bid against. Furthermore, most of the bidders pocketbooks were a little lighter. This was working in my favor.

First they make it to the candy cranes. I won the first one, for an amazingly low price. The guy then asked me if I wanted the second one, and I told him no thanks I only wanted one. Then he asked me if I wanted the second candy crane for half price of the already low price I already won the first one for. Well, how can you say no to that? I have now won and bought 2 candy cranes.

Next was driver row. Right out of the gate 2 machines go for $500 and $900. I was a little nervous. However they make it to the Crazy Taxi and I ended up bidding against only one other guy. Thankfully, this guy was tired and wasn't putting up a fight. I won it, yes, I won it for a very decent price. The problem I had was I had no way to get 2 candy cranes and a huge sitdown driver home. Glenn, a local collector who lives close to me and brought his truck, told me he would help haul my stash home. Many, many, many thanks to this guy for helping me out. Other fellow collectors bought a House of the Dead, and my good friend Todd bought an NFL Blitz and a huge 2 player sitdown Speed Racer. It was painful loading up everything and unloading, and I did not get home until 2AM. However, I must say it was worth it. This was one fun, eventful night. Thank you Super Auctions, and my gameroom thanks you for my Crazy Taxi. Search over.
Click on images below to view image gallery