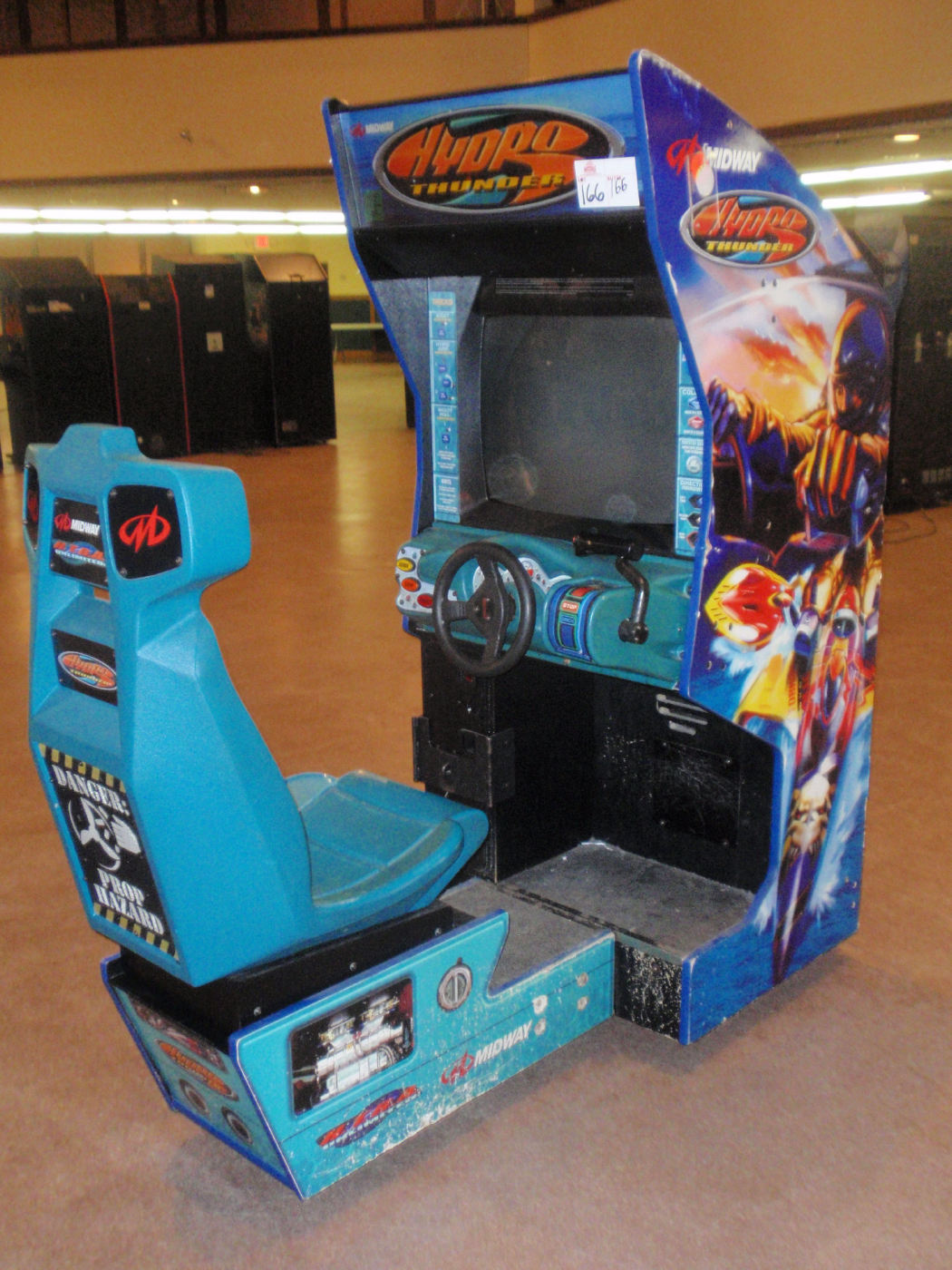 Pick Date: 7/13/11 MY FIRST BOAT RACING GAME.
That's almost a weird thing to say, as there really isn't that many boat racing games out there. That's what makes this game unique.

What makes this day so special? Super Auctions was back! This was the only arcade auction that would come to the local St. Louis area, and last fall they had folded up due to a lot of financial woes. Basically, with new employees and financial backing they were back in business. Now for some reason they scheduled a mid-week Tuesday night auction. That could be good and bad. Bad, as in everyone usually has work that day, but good as in it might turn away a lot of potential buyers.

Fellow collector Keith showed up early evening and connected up my trailer to his truck. We were going to ride in together. I had my wish list, he had his wish list, and our hopes were high. We get there and there wasn't much in the way of classics. Also, the amount of games being sold was kind of low. However, we talked over a few items that we would still be bidding on. Well, our hopes were dashed pretty quickly. For some reason on a Tuesday night, there was a LOT of people there. A whole lot. That meant a lot of newbie bidders. That also meant prices were going to be high, because these people have no idea as to their actual value in technically a bad market.

I sized up what I wanted, then ran to get some quick Taco Bell for dinner. After the auction started, one of the first items to hit a ridiculous price was a mini Neo Geo. That hit an outrageous $450. Oh dear, this is not going to be good. One of the first games I wanted to bid on was a Star Wars Trilogy. The monitor was all scrambled, but you could hear the game playing. I figured this game would go for $250 tops since it might have some major monitor issues. Well, again I was wrong. These silly newbs bid that non-working game up to $450 also. Oh dear, this was going to be a long night. As the auction progressed it landed on a Gumball machine. I figured I would pay $100 tops. Well that one went too high also. So now we are making it towards the end of the auction. What was left was drivers row, jukeboxes and then pinballs.

Now I had my eye on a Hydro Thunder. There were two up for auction, but one of them had a nicer monitor. The worse monitor game was being bid on first so I figured I would let the buyers blow their cash on the first one, leaving me with the last one with a better monitor. So far I was empty handed, so i figured I could pour all my cash into this one game. I had seen many Hydro Thunders still on location, at movie theaters, Red Robin restaurants and Walmart game centers. I seen them go on Craigslist and ebay for $1000. I figured this game might be out of my reach, but I was going to go for it. Maybe I might get lucky. The first Hydro Thunder sold for $400. I figured certainly the second one would sell for less. The auctioneer started the bidding, and the bids kept going up. The last bidder finally pushed the bid to $400. That was my "mental" fence, and someone else was sitting on it. The auctioneer looked back at me and said "Would you go $425?". My heart was pounding, my pulse was racing, and I really wanted this game. I looked at the auctioneer and relented. I raised my hand and shook my head yes at $425. The auctioneer looked at the other bidder and the guy was crushed. He finally backed down. The auctioneer yelled "$425 going once, going twice, sold!".

I paid more than I normally do for a game, but it was kind of worth it for a $1000 game still making money. The broken pinball games were auctioned off last and went for laughably high sums. My friendly collector Keith went home empty handed, but he did help me load up and unload my game back at my house. Thanks Keith, and thanks for the ride. My game was moved down into the basement arcade within a couple of days. I had to replace a marquee bulb, ad FS-2 in the marquee light, and a broken spring in the seat. She cleaned up real nice, and was ready for a huge graduation party with open gameroom that weekend. The game was a huge success at that party, and reminded me why I wanted it so bad for my arcade. It would get lots and lots of play. Period.

Hydro Thunder now makes 8 racing games in the Vintage Vault Arcade and Gameroom. I have got a really slick drivers row going on. I don't know which game is more intense, Hydro Thunder or Road Burners. Boat racing versus motorcycle racing! It's going to be fun finding out!
Click on images below to view image gallery