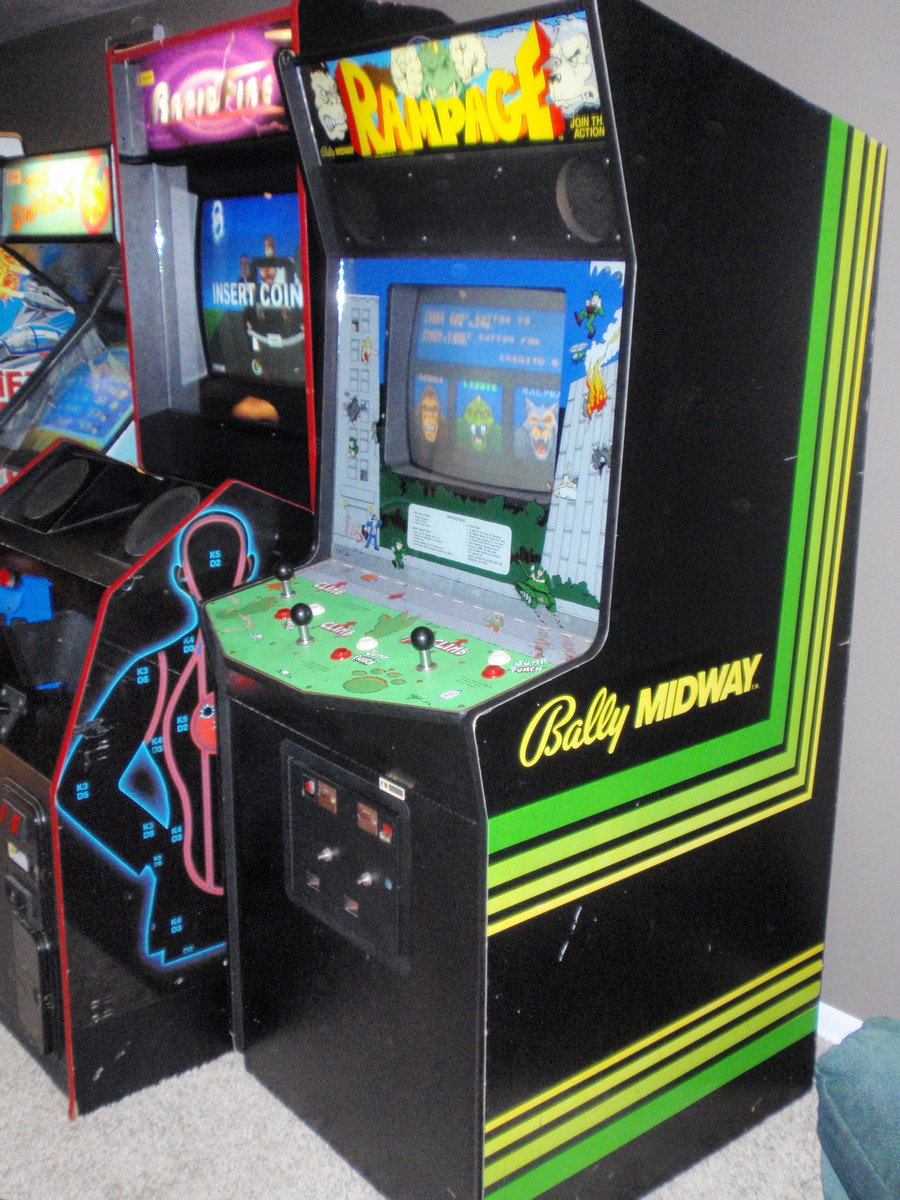 Pick Date: 8/07/10 That was the day a bit more of my youth was reclaimed. This day I brought home an original Rampage arcade game. Rampage is an awesome 3 player classic arcade game where you get to tear down buildings in the same fashion as Godzilla or King Kong.

How do I remember this game? Let's see, before I started driving (pre-16 years old) my parents used to drop off myself and best friend Todd at Six Flags for the day. We would get in using our season's pass. What does Six Flags have to do with Rampage? Well Six Flags, like many other venues, had a full size arcade on the premises. This arcade... yep you guessed it... had a multi-player Rampage. This Rampage was played multiple times, EVERY time we went to Six Flags. The day would go like this. Ride some rides, cool off in the arcade and play some games, walk down to Taco Bell or McDonalds for a $2.99 value meal, catch a $2 matinee, walk back to Six Flags, ride some more rides, play some more games.

After years of waiting, this game is finally mine. I emailed some guy my phone number on Craigslist about this game and never heard back from him. I thought the game was gone. He calls me 3 days later and tells me the buyer never came to get the game, it was mine if I wanted it. Well, you didn't have to tell me twice, I was on my way quicker than you can spell R-A-M-P-A-G-E. This game was 100% working and in amazing condition. The guy told me he had bought it a few years back from a Tilt arcade at Mid Rivers mall. He was in the process of moving and was downsizing, which is why the game was getting sold. I was the lucky recipient of that downsizing. Yay me!

The same day I got the Rampage I also picked up a free restaurant booth which I have refurbished to like new condition in a beautiful candy apple red. It was a good haul day for the Vintage Vault Arcade.

Maybe I will always have this game in my collection, maybe not. Until then I will play a few games and remember the simpler times, before a job, before girls, going to Six Flags and playing some arcade games with friends.
Click on images below to view image gallery