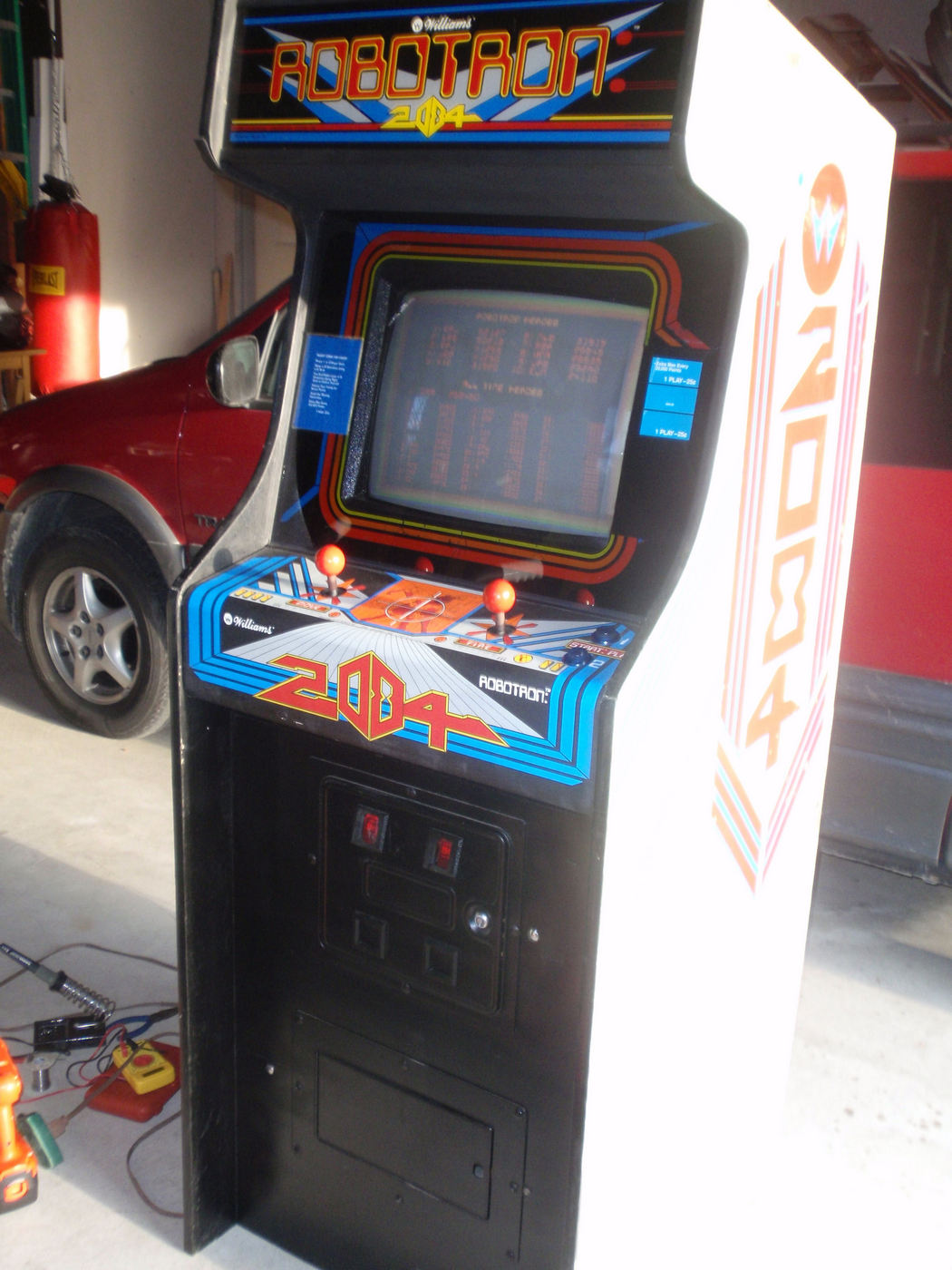 Pick Date: 4/03/10 Robotron, probably the best game Williams ever created and is coveted by collectors everywhere. Because of the demand, prices on this game remain steady between $500 to $800. Yes, I've always wanted one. I had 2 Williams games previously, a Defender and a Joust. I responded to a Craiglist ad to trade my Defender for a Tempest and a DigDug, and well, I mean it was a Tempest. I couldn't say no. So since then my only Williams game has been a lone Defender... until now.

April 3, early Saturday morning. This was Super Auction saturday. Twice a year an Arcade auction comes to the area, and this was the day. I met up with fellow collector Todd and headed over to the auction. I had a few games I was looking for, a sitdown driver, a Robotron, or a Funhouse pinball. Well that day was my lucky day. Out of the thousands of possibilities that could show up at the auction, there were a few sitdown drivers and a sole Robotron game. Myself and another collector were both wanting sitdown drivers, so we came up with a system to not bid against each other. We picked our favorites, set our limits and waited. The sitdown drivers came and the ones I wanted were bid upwards of $850 or more. I decided to pass. Keith, the other collector wanted a California Speed and got it for $400. Todd managed to pick up another shooting game.

Finally the auctioneer started to go down the row with the Robotron. The sound wasn't working and I knew this, but the game seemed good and had a nice monitor. It came down to me and another bidder fighting it out. I thought I lost the game and started to walk away. The auctioneer got my attention and asked my last bid. Apparently he got confused and I was the high bidder. He asked the other guy if he wanted to go any higher than my last bid. The guy gave up. I won, I thought I lost, but I won. The Robotron was now mine.

I wish this was a quick happy ending for me but it wasn't. I'll get to that in a moment. My day was going good for the moment but apparently someone else was about to have a really bad day. While I was outside loading up the game, one of the auction workers was loading a Royal Rumble pinball into some buyers truck using a forklift. Apparently he had the forks too close together along with a bumpy and rocky parking lot. The pinball game started to teeter totter, then it did a backflip off of the forklift. It landed upside down in the gravel parking lot. Ouch. That was a shocker and a sight to see, the forklift driver and the owner of the pinball game both had an instantaneous bad day.

So I get this game home and start to go over everything. It turned out the volume pot wasn't the sound problem on the Robotron. However, a test button on the board produced sound, so sound ROMS and the amplifier were all working. I pull the sound board, do some research and hit all the connectors and pins of a PIA chip with a soldering iron. I install it back in and all is well, I have full sound again. This high point was about to be trumped. I left the game running for an evening to make sure the sound was going to keep working. Much to my dismay when I came out to check on the game it was dead. Nothing. I do some more research and apparently Joust and Robotron use the same CPU main board. I have a Joust, so I swap out the CPU main board. The game fires back up again and starts to work. Ah, so moments after getting it home the CPU board goes bad. Not good, but at least I know what the problem is. I try to repair it but don't get anywhere. At this point I order a new CPU board. It shows up in a few days, I install it and I have Robotron working again. I would like to say that was it, but apparently it wasn't to be. Later that evening the beautiful picture on the monitor loses the color "blue". All adjustments to the monitor and wiring does not bring it back. I have no blue. I spend an evening crawling over all the "blue" traces in the monitor and find an incorrect resistor, a bad pot, and a failing cap. I replace all those and the picture is rock solid again with all colors and now better than ever.

At this point all is well. Given the price a collectible Robotron fetches, I'm still coming out ahead. It kind of bites that these problems weren't occuring at the auction, as I could have gotten it cheaper and was able to fix everything anyways. All in all, I'm glad I have a Robotron. I have now personally gone over and worked on every inch of this machine, so I know it'll be steady for years to come. In the end, it's great to have a Williams "row" again, even if its only two games, Robotron and Joust. I will say one last time, Robotron is a SWEET, SWEET GAME! It rocks! I highly recommend trying it out, or better yet stop by the Vintage Vault Arcade and play mine!
Click on images below to view image gallery