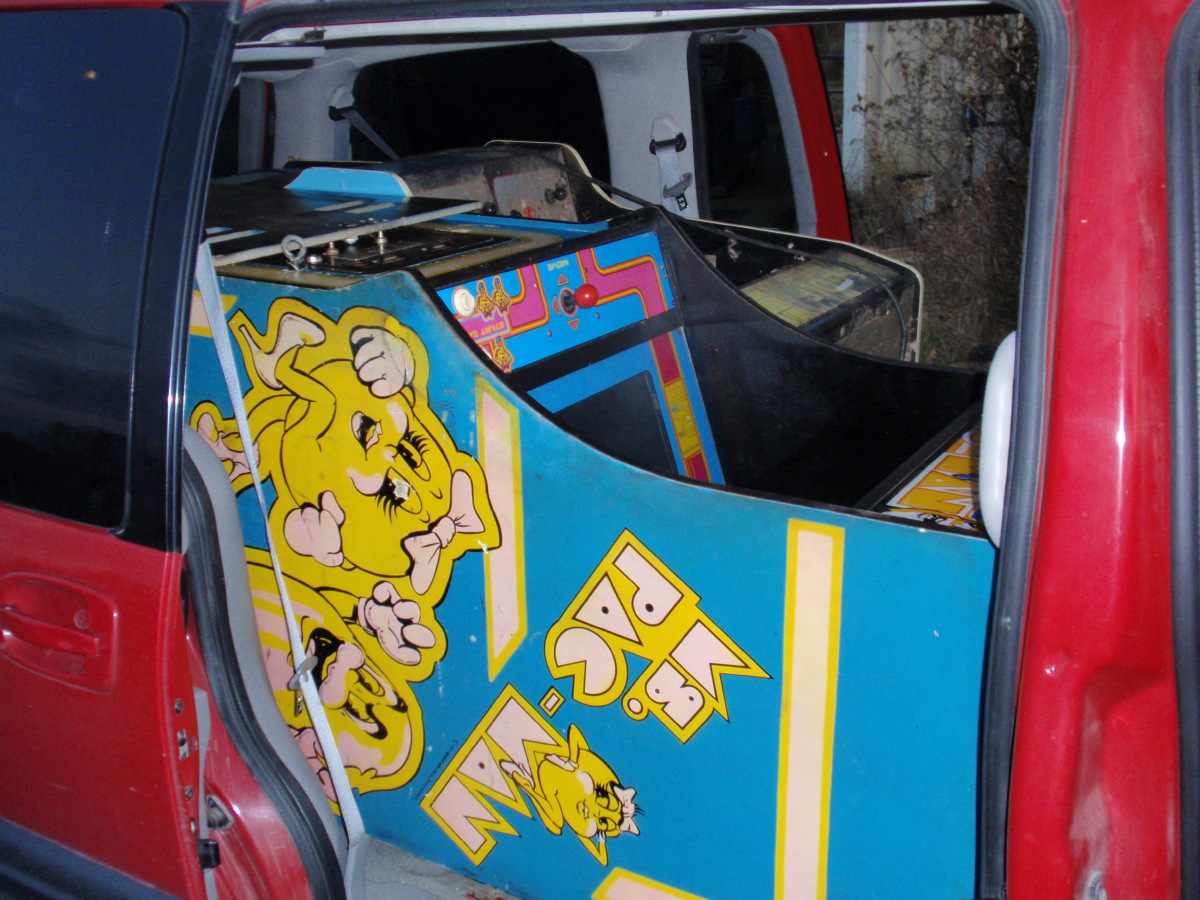 Pick Date: 10/20/09 So my friend Pat has been working on an old arcade operator for some time now to let us inside his warehouse. After ages of time had passed, the operator finally relented to let us plunder his goods. We set a day and time to meet up with the guys son at the location. Where would this be located at? 1 hour south of our location, at an old neglected drive-in called the Starlight Drive-In. The games were housed in a warehouse which used to double as a snack bar and general hangout area. Now it is what it is, a dusty old warehouse packed with arcade games.

We head down Highway 21 which is also known as Blood Alley, due to its winding road and its ability to kill as many people as possible during its lifetime. After an hour we arive at the location which was run-down, rife with overgrown grass and the pavement torn up and full of potholes. We were the first ones to arrive, and it was a bit creepy. I swear I heard the banjos playing from the movie Deliverance. About 15 minutes later the operators son shows up. He notified us that there was no electricity on site, so we were racing against time, mainly after daylight was gone, we were done. He had a generator on site which he would fire up long enough to test a game and thats it. So we enter the warehouse and it was a site to behold, packed to the gills with dusty old games.

There was a lot of broken pinballs, which littered the place in various states of disassembly. Unfortunately a lot of them were missing the backglass also, which makes it less desirable as the cost of finding one is astonomical. We did see to Mr. and Mrs. Pac-man pinballs, so disassembled and run-down it wasn't worth it and also an Eight Ball Deluxe in the same state. We did find a non-working Qbert's Quest pinball, which is a rare classic. There were also a ton of loaded jukeboxes around the place. Personally there were a few toy claws and candy crane machines I wanted but it just wouldn't fit in my van. After digging through some boxes I found a motherload of old boards and offer the guy a set amount for all lose boards, as well as any Pole Position boards he can pull out of cabinets. Finally with my limited space I settle on a working Ms. Pacman, a VS Golf in a Donkey Kong cabinet, 2 Unisystem control panels and about 50 loose boards. I did find a flaking Eight Ball Deluxe backglass that he threw in for free. My friend Todd took a non-working Ms. Pacman with several extra boards, a HeroIn The Castle Of Doom converted Donkey Kong cabinet and the Qbert's Quest pinball.

We ended up leaving right as it started getting dark. First Todd helped me load up. I must say I didn't think the games were going to fit. We pushed and shoved on the games for 10 minutes before we barely managed to squeeze them in my van. It was a REALLY REALLY tight fit. After that I helped Todd load up the pinball and his 2 games. I made it back with my stash around 9PM and unloaded. I managed to sell the Ms Pacman for a profit 20 hours after getting it home, as I already own a Ms Pacman. All in all, it was an exciting, creepy and all around good day for a warehouse raid. Starlight Drive-In, we might be back!
Click on images below to view image gallery