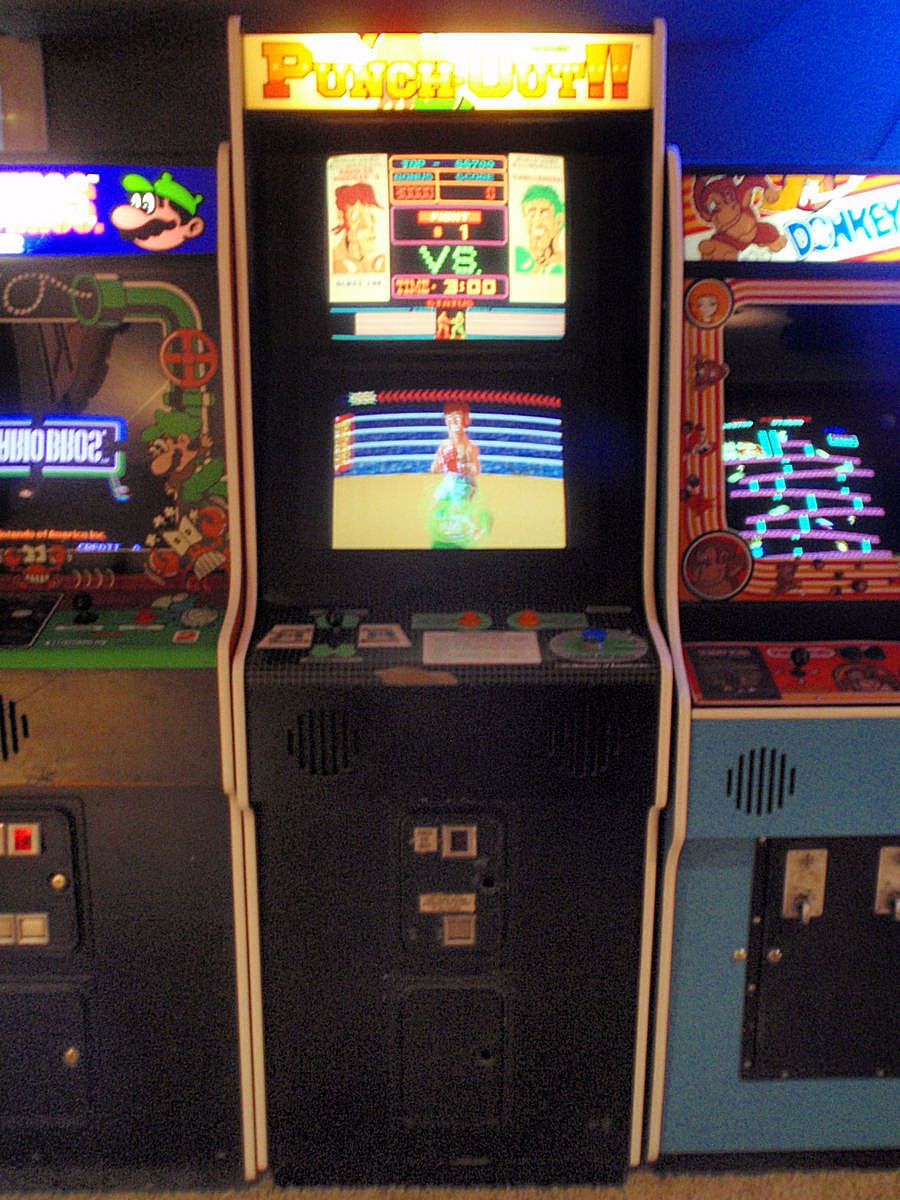 Pick Date: 2/14/10 Valentines day. I had posted on Craigslist that I was looking for a Punch-Out arcade game. This was one of the very few games that ever used a dual monitor setup, and was also another Nintendo game. Punch-Out was one of those that I was never very good at, but it was a star attraction at the local 7-Eleven when I was a kid. The 7-Eleven only had 2 or 3 games, so the choices were limited. We would walk up there with some change on a hot summer day, get a slurpee, hang-out and play a few arcade games until our money was gone. Good times. So Punch-Out was one of those games, and one of those that I had always wanted but seemed to carry a bigger price tag due to its notoriety.

So after posting a wanted ad on craigslist, to my surprise I had an answer a few days later. He said the game had some black lines in the screen of which didn't bother me, I can fix these things. We emailed back and forth a few times and agreed on a price. The only thing to agree on now was a pickup time. The guy said he might be available on a Sunday, which was Valentines day. I was really wanting this game and wanted to snatch it before someone else did. I told the guy I would call him after I went to church and see if we could still meet that day. So I left that morning to go to church, swung by the ATM and picked up some cash, and went to church service. After church I called him and got no answer. The wife and I decided to go to Target and shopped for a new baby stroller. It was at this time I received a phone call from the seller. He said he was available if I could come within the next few hours. At that, the wife and I cut short our Valentines day lunch plans, cashed out at Target and programmed the GPS to head to the sellers house. Due to time constraints we thought it best to pick up lunch on the go, so we swung by a Burger King drive thru.

An hour and a half later, we arrive at the sellers house and I see the game for the first time. As soon as I saw it I knew I didn't have a monitor problem. I can fix monitor problems fairly easy. This game had a board problem. That's not the best situation, however at this point I didn't care. I wanted this game really bad, I had driven this far, and I had confidence that I can fix anything. I paid the guy and loaded up. He was an honest guy, and said after we had agreed on a price he checked ebay and wishes he had asked for more money. Good thing he kept good on the original price he gave me.

At this point we started to head home... and it started to rain, a lot. On the way home we were going to pass an arcade operator friend's house. He had my extra Vapor TRX hard drive because he was making a backup copy of it. I called and he was home so we swung on by. This guy has over 150 games and redemption equipment on location. So I picked up my hard drive and continued on home. At this time it started to snow, and snow, and snow some more. It started to snow really fast. Shortly before I reached my hometown I ended up in a traffic jam because of a car accident. I was lucky, in that I was close to the exit ramp. Soon enough I get off the exit ramp and start the last 5 minute drive home.

The snow had come so fast that snow plows hadn't made it out yet. I live in a lake subdivision, and the entrance to the subdivision is a long drive up a hill. This was covered in unplowed snow and ice. Being only minutes from home, we floor the gas pedal on the van to try and make it up the hill. The van spins out, and starts to slide backwards down the hill. That was not good, in fact it was really scary. Luckily enough we regain control of the van and manage to park it at the bottom of the hill. We were going to have to abandon the van and the Punch-out arcade game in the back of it and walk home. Some nice neighbor in a 4 wheel drive truck gives us a lift home. I wait it out about an hour and walk back to the hill, checking to see if a snow plow had made it through yet. I was lucky again, and the road had been salted and plowed. I get in the van, and finally finish the trek home.

The game was unloaded and me and the baby squeezed out a few games. A week later I managed to make the final repairs on the game so it is now visually at 100%. I'm very happy with this one, and gladly accept it into Nintendo row. An arcade game is one of the best Valentine's Day presents I can get. This was definitely a day to remember, and another road trip is now in the books. Awesome!
Click on images below to view image gallery