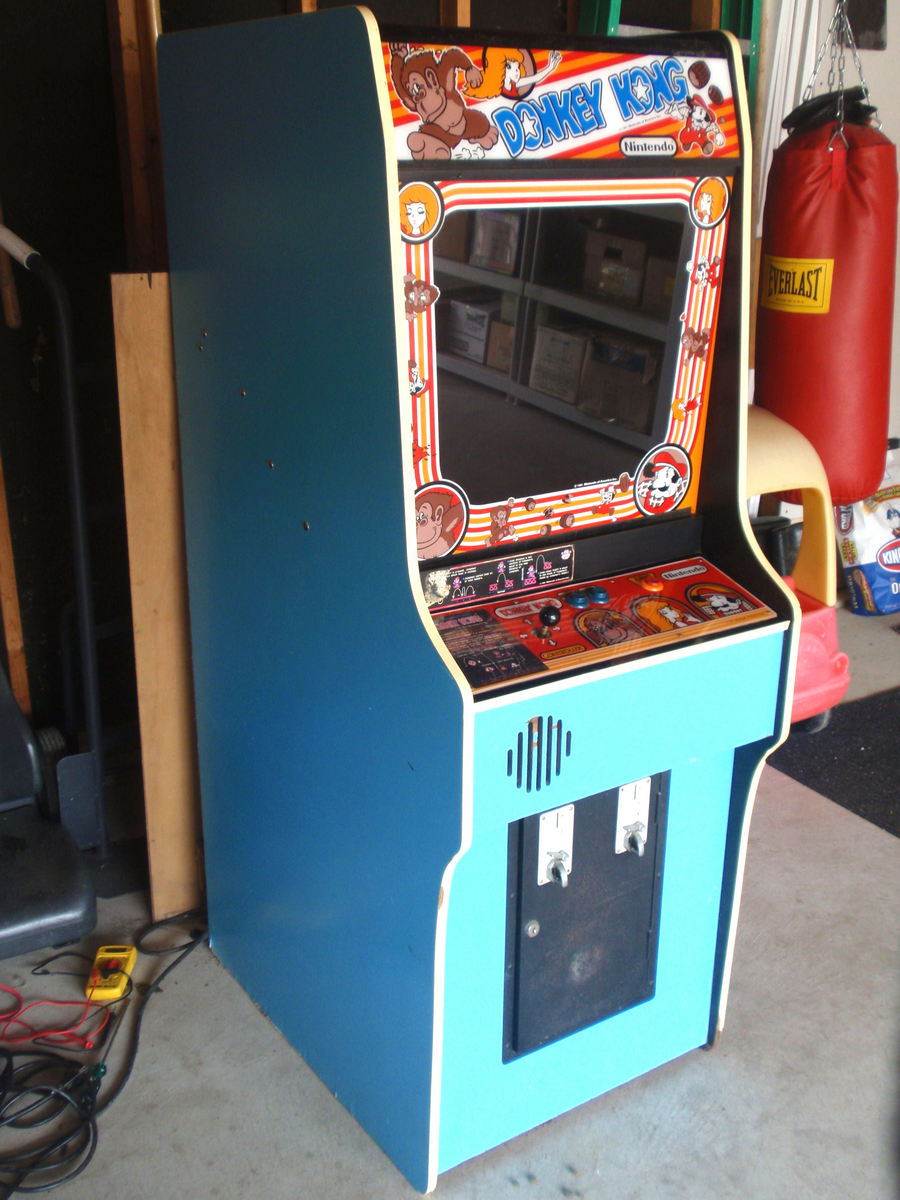 Pick Date: 6/06/10 That is the day I picked up my third Donkey Kong. By the strangest of the most bizarre circumstances it was exactly 2 years ago to the date that I picked up my second Donkey Kong on a road trip to Oklahoma. The date on that road trip was 6/06/08. It must be some strange Donkey Kong cosmos thing going on. Just weird.

You can read about the Donkey Kong road trip
from 6/06/08 by clicking here.

So back to the road trip. This was a sunday, and as usual I went to church that morning. After church I drove straight to my grandma's house for a little BBQ and swimming in her inground pool. It was a long day, it was a sunday, and monday morning was back to work. So I come home that evening and as usual check Craigslist. What did my little eye spy but a Donkey Kong playing blind, at a price I couldn't refuse. I call the guy and it was still available. He said someone from Illinois called but never got directions and didn't call back. I told him I am getting in my vehicle right now and will be there in 1.5 hours. You have to jump on the deals, you really do.

So I was already tired, and needed a little company. I asked my 16 year daughter to come along and to grab her license. I figure I have to break her in some time with these road trips. She'll inherit these games someday, so she needs to appreciate what I go through to get them. We jump in the van, program the GPS and off we go.

The last 5 mintutes of the trip to the guys house there was a cop tailing us down some back roads. I'm sure he ran my plates and could tell I was not from the area. Personally I was hoping he would tail me to the guys house so he could see my "prize" but right as I turned into the subdivision the cop just kept going. When I pulled up to the house the Donkey Kong was sitting there in the garage with the door open just taunting me to buy it. Of course the price was right so I couldn't refuse. I loaded up and my daughter drove me and the game home. Interestingly enough each passenger in the vehicle was separated in age by close to a decade. My daughter is 16 years old, the Donkey Kong is 29 years old, and me... well I'm 30 something, that's all I'm gonna say.

By the time we got home it was 10:30PM at night. I'm glad its summertime as she would have had school the next day. So she got to sleep in the next morning and I had to go to work, sounds fair, right? Before I left for work monday morning I peaked in the garage at my prize, still looking good and taunting me to get it fixed up. Yes, that was a good monday morning indeed.
Click on images below to view image gallery