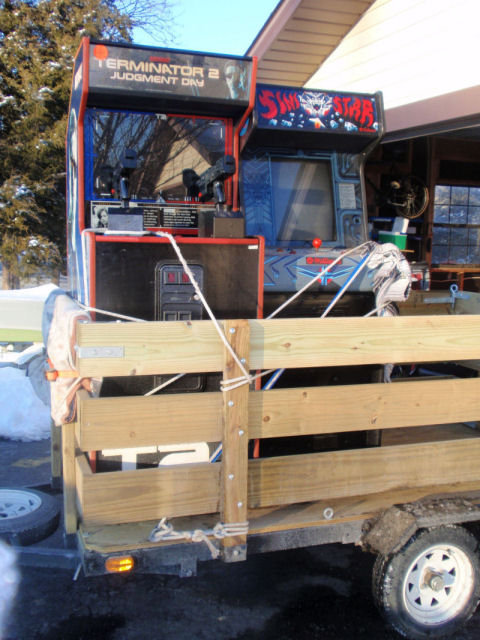 Pick Date: 2/03/10 I LOVE WILLIAMS GAMES. There. I said it. Joust, Robotron, Defender and Sinistar. Some of the fastest most action-packed games made during the golden age of video games. Yes, Donkey Kong and Ms. Pac-man are icons, but fast paced and heart thumping they are not. I think Williams programmers were wired night and day on coffee and Pepsi, with WWII movies playing in the background using a loop. These are some of the best. I always wanted a trifecta, and I owned Joust and Defender a while back. I traded the Defender away for a Tempest and a Digdug, a deal I couldn't pass up. Then I picked up a Robotron. That left me just one away from a trilogy. Today, that day has come. I found a Sinistar, and as a bonus I picked up a Terminator 2: Judgement Day from the same seller. Sinistar seems to be the hardest one to come by, so that gave it extra credit in my book.

This story starts with a snow storm. I mean a BIG snow storm. Ten inches of snow to be exact. Schools shut down, the post office didn't run for 2 days, and my work told everyone to work from home for 2 days. This was big. The next day I spent several hours digging out my driveway to get to the store, as I had run out of caffeine. My love of soda and all that labor was not in vain. Later that evening 2 games came up for sale on Craigslist, a Sinistar and a Terminator 2. Both were from the same seller. Believe it or not, I have been wanting both games for some time. There was an email link in the ad and a phone number. I figured the quickest way to get an answer was to call the guy. I called him up and asked him the condition of them. He told me they had come into his possession recently and he just wanted them out of the garage. He said he have never turned them on and didn't know what to look for. I told him these things were like TV sets, there is a plug and after you turn it on you should see something happen on the monitor. I told him to call me back if he figures out if they at least come on.

I didn't have much faith in that conversation and went back to my evening. Shockingly, I received a call back 30 minutes later. The guy told me that he plugged them in and the Terminator game came on and played, but one of the guns wasn't working right. He said the Sinistar turned on but then just had a bunch of rubbish on the screen. Now I am no stranger to fixing games, and these things were in the right price range. The games would power up which is half the battle. When you buy games that are nothing but paper weights you are asking for some expensive repairs to be had. It's almost never "Just a fuse".

Since the repairs seemed minor I decided to make arrangements with the guy to pick these games up the next day and I get his address. He told me to just call when I am on my way. The next day I call the guy when I was getting ready to leave. He told me that he has had tons of emails and phone calls and that there has been a lot of interest with these games. However, he told me that I was the first to call so he was honoring that and going to sell them to me. That was really, really cool of him. He told me people were wanting to come over to his house late at night to snipe me out of these games and also another person argued with the seller about that he didn't think I was the first caller. Goodness, the nerve of some people.

The next day now rolls around. Luckily the day before I had shoveled out my driveway. However the roads were still snow covered. I put the Dodge Durango Hemi into 4 wheel drive and began my trek.I make it to the seller house without much fanfare. He also had two claw machines for sale that I was not interested in. He plugged in the games to show me what they did and with that I handed over the cash. He brought one of his employees with him to help us load up the games. This was the first time that I was going to be hauling games with this new trailer, and certainly the first time hauling 2 games at once. I did some overkill with strapping everything down, padding the games with blankets, and wrapping 100 feet of rope around everything. After I was happy with my package, I hit the road. I did stop at a commuter parking lot to tighten everthing down as a coin door was open and banging around. After that I headed home. I have to give kudos to my wife as she helped me get the games off the trailer after I got home.

My 3 year old boy is obsessed with guns and immediately gravitated to the Terminator 2 game. He believes that I brought the games home just for him, but really these are daddy's toys. I plugged in the Terminator game and let him squeeze off a few games using the working gun. It is going to take a little work to get these games up to 100% working to be brought down into the basement arcade, but I am still happy with today's haul. Plus, that "Arcade wanted" checklist just got 2 games smaller today. You can't beat that!

I did manage to get the Sinistar working with about 60 minutes of troubleshooting after I got it home. It had a bad 4116 RAM chip, and someone never hooked up ground to the coin door which lets the game advance through diagnostics. Sinistar...Is....The.....Bomb. And no, I am not talking about sinibombs, I am talking about that digitized speech and bass thumping explosions. Sinistar yells "Run Coward", "I Hunger" and "Rawrrrrrrrrr!!!!!" during the gameplay. Two more thoughts. Hauling games in the snow is not fun at all. Also, Williams games rule. That is all.
Click on images below to view image gallery