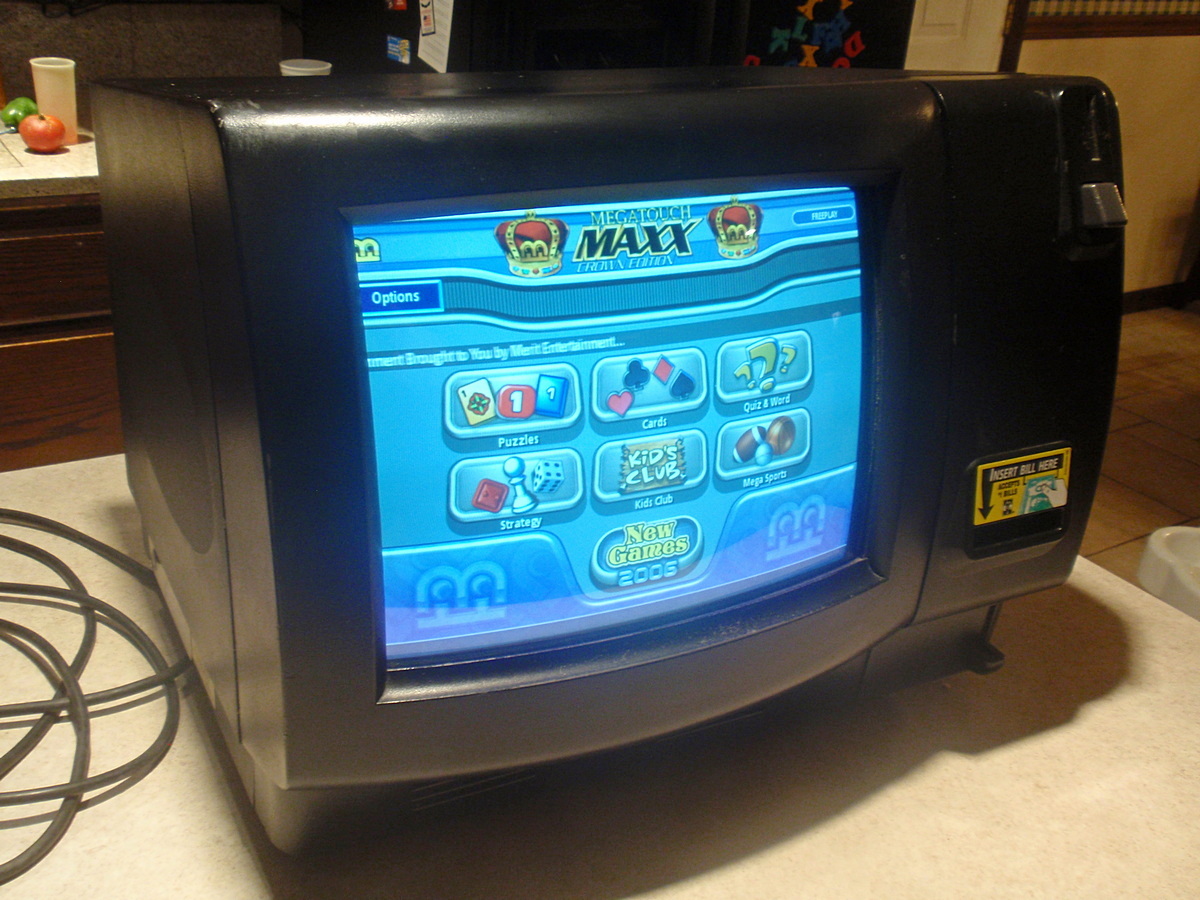 Pick Date: 7/13/11 I finally got it. The Maxx Crown. The 3rd game I ever bought was a Megatouch Maxx Sapphire, and I told myself back then that I would someday have a Crown.

The Crown is the final upgrade in the Maxx series, and one that has commanded the absolute top dollar. The Crown software upgrade came out in 2006 and marked an end to the tube era. Yes, Megatouch released later games in slim LCD cabinets, but according to operators they are problematic, hard to keep running and expensive to maintain. They have sworn on the Maxx series as the best workhorses in the business.

Last year I upgraded the Sapphire game to a Jade, which was one step closer to a Crown. Still, they were rare and expensive. I happened to be on a 2 week vacation when I saw a Megatouch Crown up for sale on ebay. This was perfect timing, and I managed to win the entire game for much less than what the upgrade kit alone would command. To put the icing on the cake, I won this from a familiar vendor. Palmentere coin operated games in Kansas City. With a vacation in hand, it was the perfect timing for a road trip.

I'll be honest with you. It was the most uneventful, boring road trip I ever had. I road alone, drove 3 hours straight there, picked up in 15 minutes, and drove 3 hours straight home. I left at 11AM and got home shortly after 6PM.

The real icing on the cake is the game. First of all, its a maxx crown. This game came in a green cabinet. I was rather fond of my black metal cabinet so when I it them home I swapped the Crown and Jade hard drives and security keys into the opposite case. I also did a memory upgrade on the game. Since the Jade software is green, it looked really nice in the green cabinet. So my plan was to sell the Jade to cover the costs of the Crown game. I put the game in the gameroom and took some pictures to put on Craigslist. That weekend, we happened to have a crowd of 40 people over at the house for a birthday party. Much to my surprise, both Megatouch games had constant play all day. Yes, it took 2 Megatouches to appease the crowd that day. As the day came to a close, my wife told me something I thought I would never hear. She said "I think we should keep both games and not sell the Jade". Well, who am i to argue? For now, the Crown and Jade touchscreen games grace the bar counter of the Vintage Vault Arcade. Finally, I can say that I have the Crown!
Click on images below to view image gallery