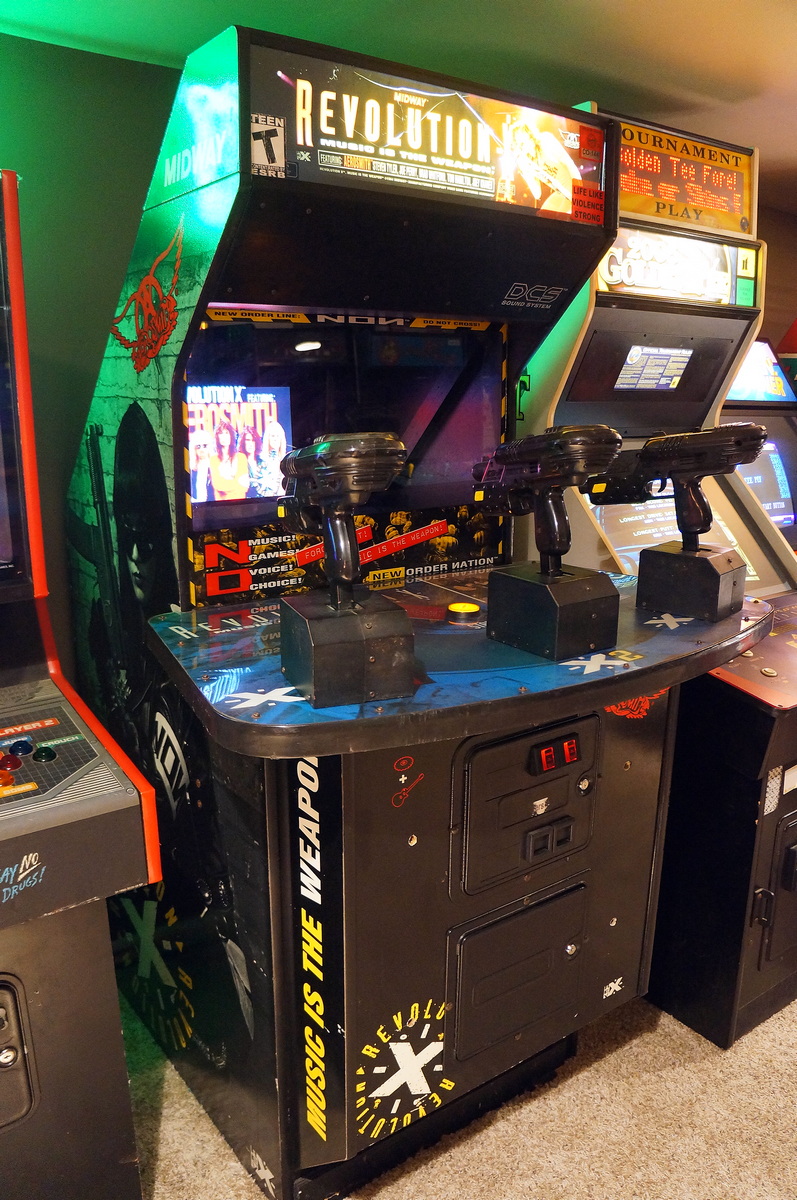 Pick Date: 2/04/12 Road Trip. Revolution X. Gotta love some Aerosmith. I have been wanting one of these to compliment my Terminator 2 arcade game, and well...its Aerosmith. This was for sale on Craigslist as a non-working game. The seller said he was open to trades. I emailed the guy an offer.

The Trade: Little bit of cash, an N64 system and 3 marquees

The seller accepted the offer. Then it began to rain. Uggh. Always nasty weather during pickups. ALWAYS! It hasn't rained in months, but NOW it was going to rain. I don't have a van anymore, just an open trailer. Rain means I can't pick up the game, and possibly miss out on a sale if it is sold out from under me. I let the guy know that I couldn't pick up on Friday due to the rain. I watched the weather the next day it said there was only supposed to be a 10% chance of precipitation. I called the guy on a saturday, and asked him if I could come pick it up. He told me he was available. I loaded up the trailer and threw in some tarps and ropes just in case. I soon found out the 10% chance of precipitation was a joke. This was not true at all as it turned out there was 100% chance of a falling mist THE ENTIRE RIDE there.

I was on the road and I wasn't turning back. I was just going to have to be smart with the tarps. I put on some Sirius Satelite radio and picked up some Burger King to make the trip go by a little quicker. Apparently there was a promotion going on to get a free order of onion rings with every Burger King value meal. Lucky Me! After crossing over into Illinois, I finally get there and the guy shows me a bunch of other cabinets he was converting over to mulitcades. This monster of a game, Revolution X, was not multicade material which is why he was selling it. I was pleasantly pleased with the game. Yes it was non-working, and had a cracked marquee and a few scrapes and scratches. But the cab itself was in gorgeous condition. I was unaware what a monster it was. I looked up the specs and thought it was a 25" monitor at 400 pounds. I was wrong. That is the 2 gun version. This 3 gun version has a 33" monitor at 700 pounds. For people with little arcades, that would scare them away. However, with the Vintage Vault arcade, this massive size to me was impressive. It just screamed for attention if you were to come into the arcade. I loaded up the game, wrapped it up with a tarp and started to drive home. On the way home the falling mist started to become a little heavier. I pulled over on the highway and wrapped the game up with a second much larger tarp. After being convinced the game was well protected, I was on my way.

After I get home I start to pull the game off the trailer. I pulled it halfway off to where it was at a 45 degree angle, with the bottom on the garage floor and part of the game leaning up on the trailer still. The 700 pounds was just too much for me to handle. I ran over and got my neighbor to help me unload the game off my trailer, it just weighed too much.

So I bought the game non-working, hence the awesome trade price. After digging into the game, the 33" inch monitor doesn't power up, there is no sound, and only one gun worked. The good news is the voltages seemed fine, the mainboard was powering up and getting lights, and it would coin up and 1 gun would click/work as if it was in a game. I found broken wiring and a bad fuse which fixed up the other guns, so now all 3 click away. The monitor is a Hantarex Polo 33", a flowchart for this model said if you get a faint monitor clicking noise over and over then that was high voltage shutdown so you had a bad HOT and/or flyback which I will be replacing. Lastly, the mainboard seems to work but no sound. Good connections to the sound board and speaker amp seems to make the speakers pop. It appears the sound boards on these go bad often with no good repair advice and good ones hard to come by. So that might be my last thing to get working/replaced with time. It's a shame, because this game plays Aerosmith sound tracks.

In finally tracked down a working sound board and had the monitor fixed. Everything is now fully functional on this game and guests love it. This game has earned a solid spot down in the Vault... the Vintage Vault Arcade that is!

From wikipedia:
The soundtrack consists of several Aerosmith songs continuously looped, including "Eat The Rich", "Sweet Emotion", "Toys in the Attic" and "Walk This Way". A Muzak version of "Love in an Elevator" plays in the elevator part of the Amazon Jungle level.
Click on images below to view image gallery