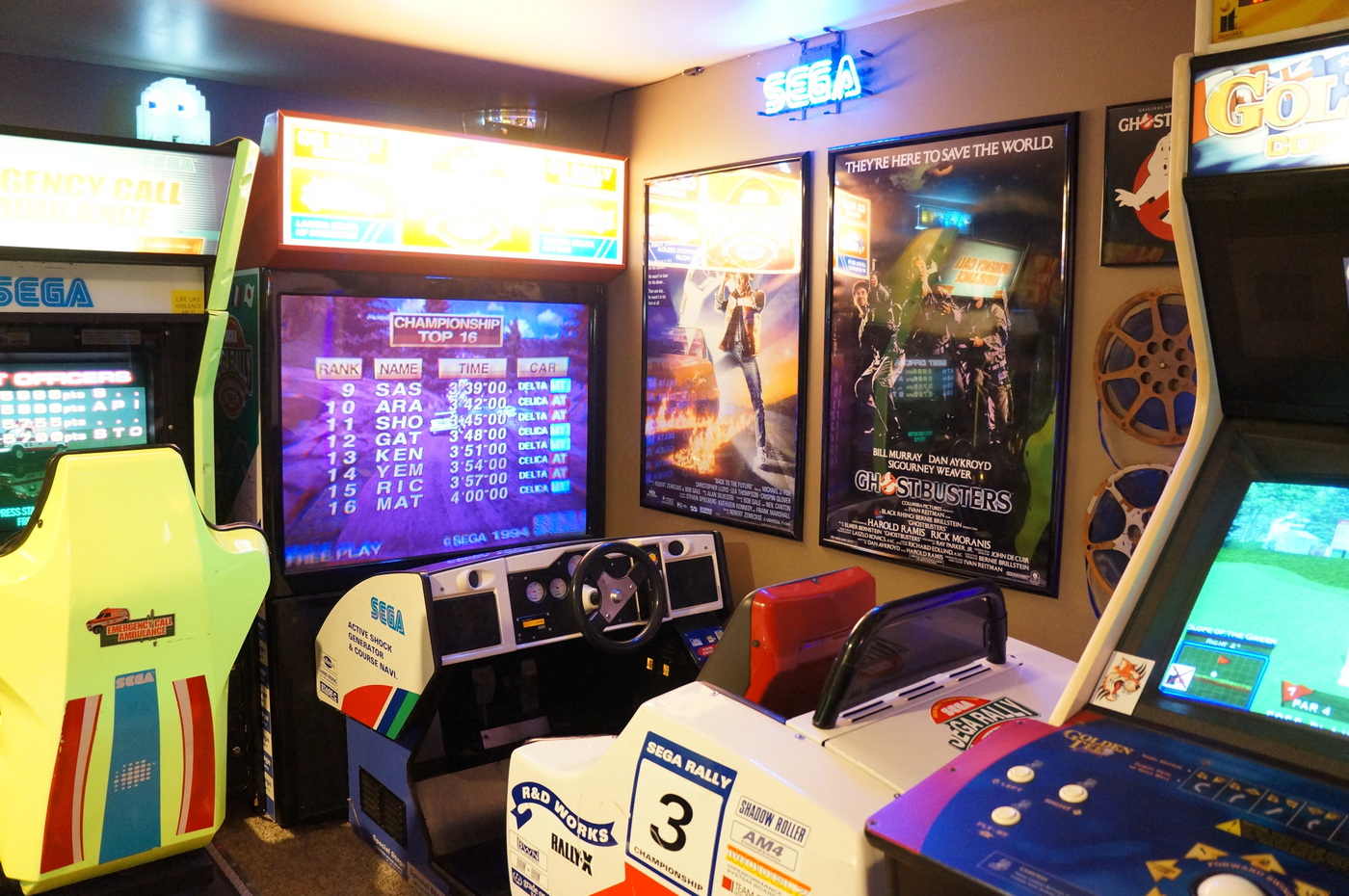 Pick Date: 7/21/17 For those who have been to my arcade, I have a massive 8ft long Sega Rally Deluxe Driving game with 50" projection monitor. This games clocks in at 1060 pounds (I looked it up) and is definitely an eye catcher. Everyone has to play it, its just huge! This particular game I fished out of a mobile kitchen and came with spare parts from a second game.
You can read about that road trip here

I love the game, have always enjoyed the game. However, the large 4 ft sign at the top had 2 large crack puncture holes in it, plus the back bumper was busted up pretty bad. The spare parts I had were boards and a steering column, but not those parts. I had came to the realization that I would never see another one of these again, and just live with those defects. In comes a Facebook arcade group, and Troy from MTZArcade posted that he was picking up a large load of games with a Sega Rally Deluxe in there, unknown condition. He messaged me, and asked if I wanted to get this game out of his warehouse for spare parts for a deal I couldn't refuse. He showed me pictures and there it was, a perfect condition sign and bumper. Thats it. Road Trip time!

I left at 11:30AM for the 3.5 hour trek that way. My good collector friend Todd came along to browse the arcade warehouse. Troy was heading out for a family camping trip but briefly met us up there to say hello and then left us in the hands of his father, who was a very friendly and gracious man. Todd and I spent more than an hour climbing through 2 warehouses packed with wall to wall games. We literally climbed on top of some games to get our bearings and a better look. It was like kids in a candy store. We assessed games that we would come back for (another story) and finally loaded up the Sega Rally Deluxe. We put the driving cabinet in the trailer, and barely managed to squeeze the 50" monitor on its back inside the Durango. With that, we began the long trek home.

Once home, the first thing I did was install the new sign and bumper on my game down in my arcade. I've had my first Sega Rally Deluxe for 7 years so its been a long time coming. Next, I began the process of reassembling the game in my garage so I can determine which parts I can harvest out of the game and shelf for future care. Well, the monitor worked but was shot, on its last leg. Everything in the steering column was messed up preventing the game from being played, but the main CPU booted to the game. Thats a good sign. I managed to start pulling off parts from my original spare steering column, a force feedback motor, motor stops, new potentiometers and gears. I even hooked up a temporary small VGA monitor which produced a beautiful screen. Long story short, at this point I have mostly a second working Sega Rally Deluxe but no monitor yet. I really don't know what I'm going to do, as I don't have space in my arcade for 2 of those monsters. I may put it at a friends house for awhile, I may put it at the church. Not sure yet. However, getting this 2nd beast working again wasn't the original plan. Remember, new sign, new bumper, a few parts and thats it. Either way, this has been a pleasant surprise. Check out the photos below of the road trip!
Click on images below to view image gallery