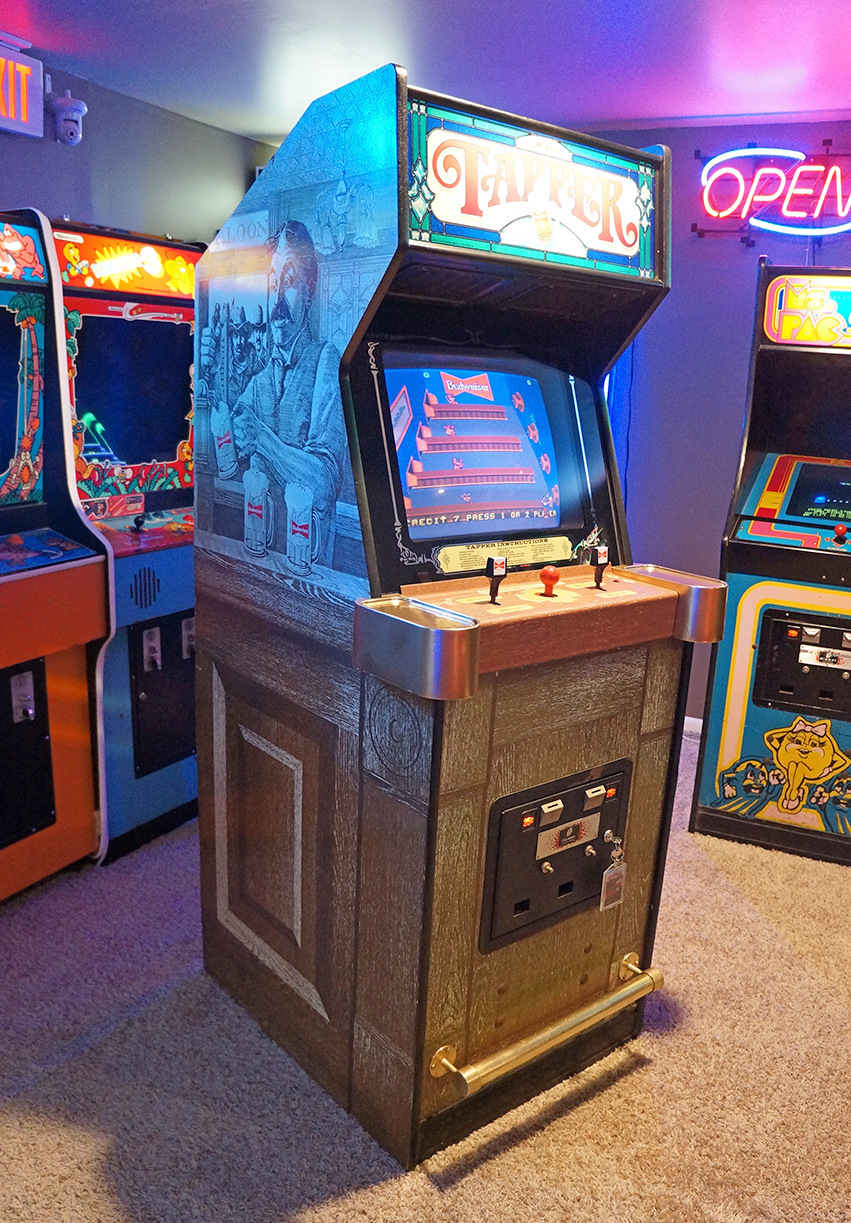 Pick Date: 6/19/18 Tapper arcade, made by Bally Midway in 1983. This game is now full on 37 years of vintage goodness. Originally sponsored by Anheuser-Busch, the arcade version features a Budweiser logo on the side art, tapper handles, and in game advertising.

I played one of these at the neighborhood malt shop, the place a group of us 12 year old boys would go to get ice cream. We'd ride our bikes up to the malt shop, get some ice cream and have a pocket full of quarters to play this and another arcade game. This bad boy was fun with its unique tapper handles, its cartoon characters and peppy background music.

I always wanted a Tapper, but then so does every collector. There was a Tapper at the auction I went to in Minnesota back in 2009, but I only had room for one game for the trip back. I was already picking up my grail, a Star Wars at the time. You can read about the Star Wars road trip here:
The Tapper had to wait, and it did for another decade. Now lets fast forward a little bit. A local arcade dealer had one for sale, and we come to an agreed upon price. This Tapper was working but needed quite a bit of TLC. The control panel overlay was trashed, the monitor had severe burn-in, the T-molding was beat up, the brass foot rest was tarnished, and it had beat up cup holders. Good news was the side art was in amazing condition, a plus. This game was an arcade grail for me, and it was going to get the royal treatment.

I made short work of the restoration. I put on a new control panel overlay and tapper handle stickers. Installed new t-molding. Found a colorful, bright, burn free monitor and installed. Shined up the dull brass footrest with some Brasso. Remove and repainted the cup holders with a nice brassy gold color. And finally, installed a freeplay ROM.

This Tapper now has a showcase spot right next to the entryway of the arcade. For me, this is in my top 5 collectable games with Star Wars, Q*bert, Tron and Space Ace. I'll be enjoying a cold one, and playing some Tapper in the Vintage Vault Arcade!

Click on images below to view image gallery