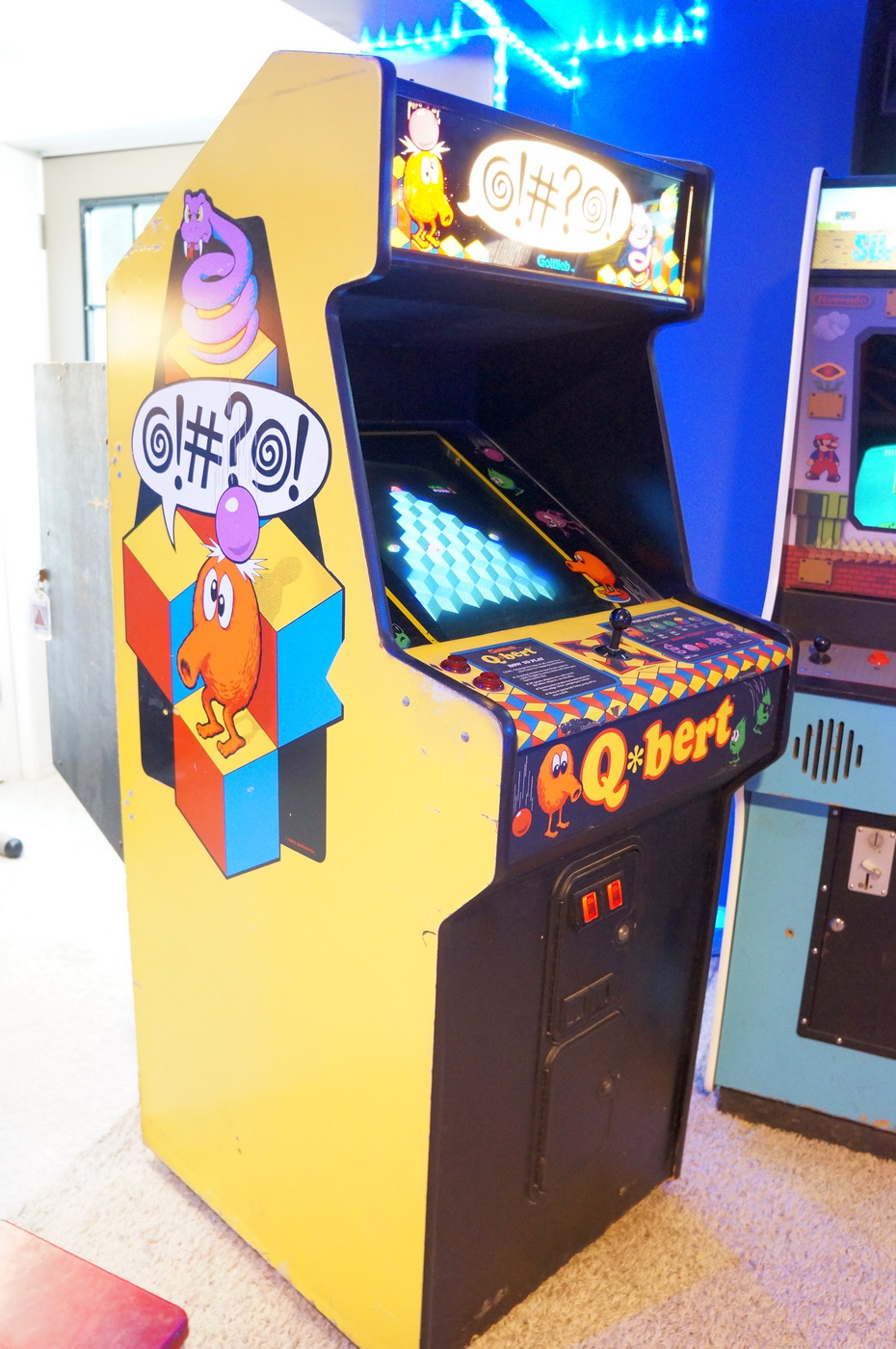 Pick Date: 3/01/08 I will forever remember this day, the day Q*bert entered the basement arcade. What is it about Q*bert, why did I fall in love with this game as a kid? Possibly the funky thumping sound inside that cabinet when something fell off the pyramid, maybe it was the ultra cool retro speech processor used in the game, or maybe it was because I got so good I could make 1 quarter last 15-20 minutes. Any arcade I went to as a kid, Q*bert always got my first quarter. That crazy thumping sound inside the cabinet drove me crazy as a kid, I could never figure out what that sound was! My brother and I debated whether the machine was somehow dropping a marble in there or whether it was only a trick being generated by an electronic speaker. I remember we even put our ear to the cabinet while the other one played but still couldn't figure it out. Well now I know! After owning the game, I have been able to observe that a pinball solenoid strikes a piece of metal inside the cabinet.

On this particular day, it was my son's birthday the next day, so I guess daddy's birthday came a little early this year, don't you think? I get up bright and early at 5:00AM on a Saturday morning. I shower up, grab something to eat, and leave the house at 5:23. It's pitch black outside still. A little weird, but hey Q*bert is worth it. I make sure the gas tank is full and set the trip odometer to 0. So my trip today takes me just a little south of Kansas City, and today I am flying solo. The last road trip with the wife and baby in the van the vehicle decided to die, so I'm doing it alone today. I am picking up this Q*bert from someone who claims to have 800 machines. I ask if he is a vendor or operator and he says "no". OK, I'll believe it when I see it, I just want that Q*bert. I must say the drive there was pleasant. For the first time ever my road trip consisted of birds singing, sunny weather and 70 degrees outside.

So I make it to this guy's house with no problems. I pull up and see Q*bert, the owner (Randy), his son (Happy), and his son's friend. They already have the Q*bert pulled outside, plugged in and the back door unlocked so I can check it out. Now that's service. I have showed up to people's house to buy an arcade, and somehow it hasn't been moved, it isn't ready to pick up, and it's not plugged in. I mean come on, didn't you know you were selling me the machine today? Well Randy sure did, and made sure it was service with a smile. So I check out the Q*bert and it checks out good. The screen is bright, all lights are working, and even the knocker still works (Usually dead on these machines).

OK, so I seal the deal with Randy, and ask him about these 800 other arcades. He tells me he is a collector not an operator, and has 6 buildings full. He tells me he needs to sell a few so his wife can move some stuff from her business into the building. Randy agrees to show me one of the buildings full of arcades. WOW.....Randy is not a collector. Randy is a hoarder. He is hoarding every game he can get his hands on. I take a tour of a small portion of his games, and see many duplicates, dedicateds and minis that I have never seen before. I ask him about Star Wars, Tempest and Crystal Castles. He has 3 Star Wars games, a Tempest mini and a Crystal Castles mini. Good God!.

Well after the tour, I am short on cash and time. Randy is a perfect gentleman, I shake hands with him, load up the Q*bert and I'm on my way home. I make it home with a round trip total of 429 miles. I unload the Q*bert, plug it in and bask in the glow of that orange fuzzy football. Gotta love it!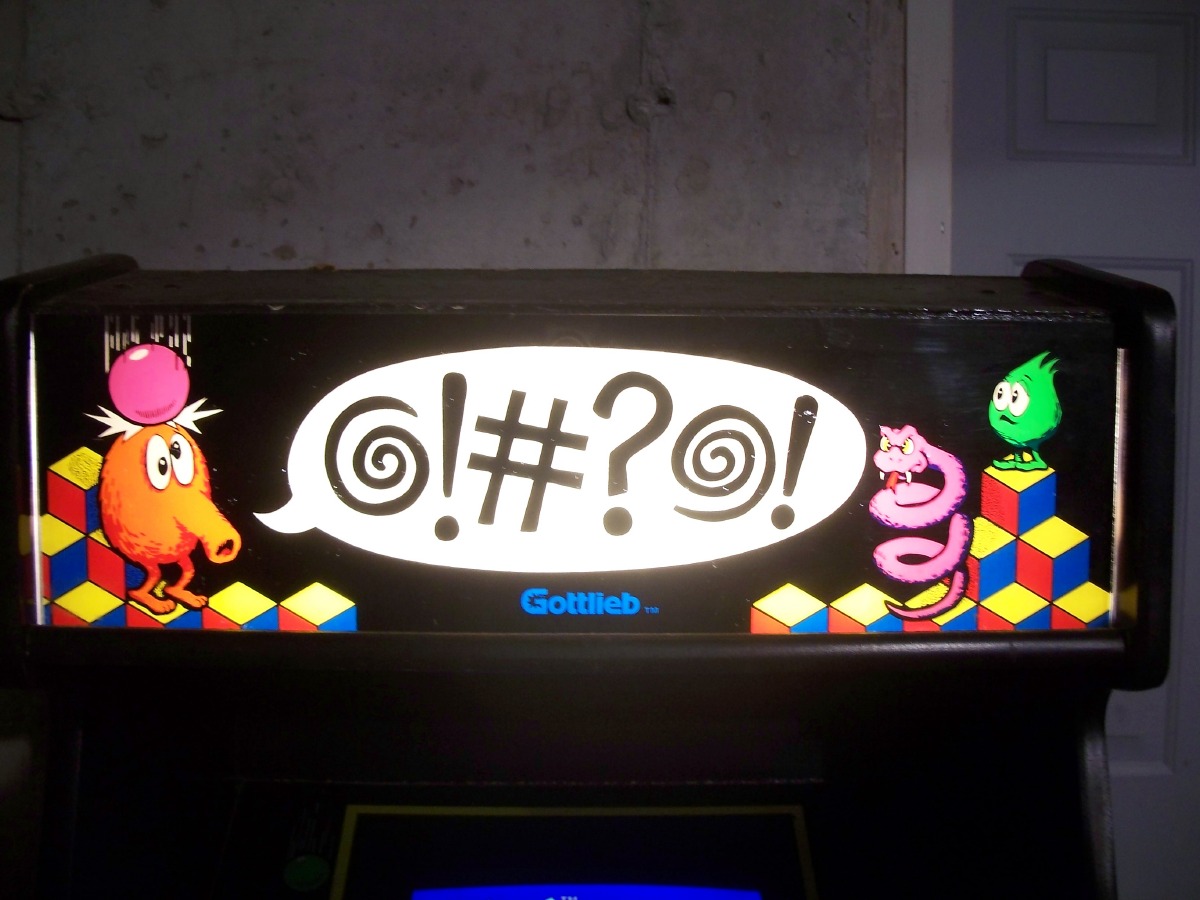 8/16/08 - Installed the rare Q*bert swearing marquee.
For you history buffs out there, the swearing marquee was supposed to be the header of choice until it was decided that no one at an arcade would know how to say the name or what to even call the game.

That is when they came up with the name Cubert, which was a combination of the words Cube and Hubert. Being concerned that people would pronounce it "cub - bert", they shortened it to the now classic name Q*bert.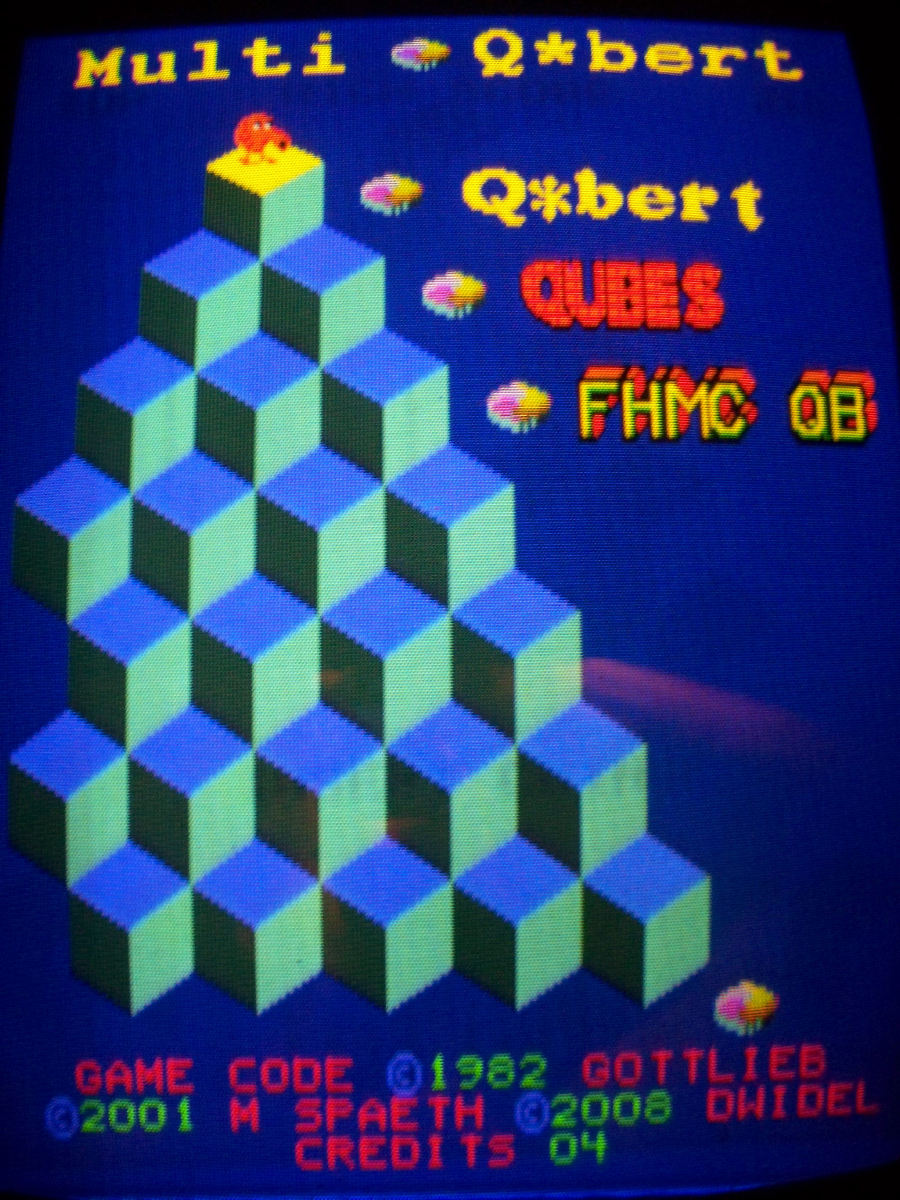 11/26/08 - Installed Multi Q*bert kit.
Purchased and installed a Multi Q*bert kit. The Multi Q*bert kit allows you to play several rare and prototype Q*bert games on the original hardware. Installation of the kit was fairly easy. You pull several of the game ROMs from the original Q*bert board. You then plug the kit boards into the existing ROM sockets. This boots the game into a menu screen and allows you to then run the original game code of 8 different games. To get to additional games you just jump your Q*bert off the bottom of the pyramid onto the awaiting disk and it takes you to the next screen.

The multi Q*bert allows you to run the following games:
Q*bert, Q*bert Qubes, Faster Harder More Challenging Q*bert, Insector, Curveball, Mello Yellow Q*bert, 7-11 Q*bert, and Tylz


Click on images below to view image gallery