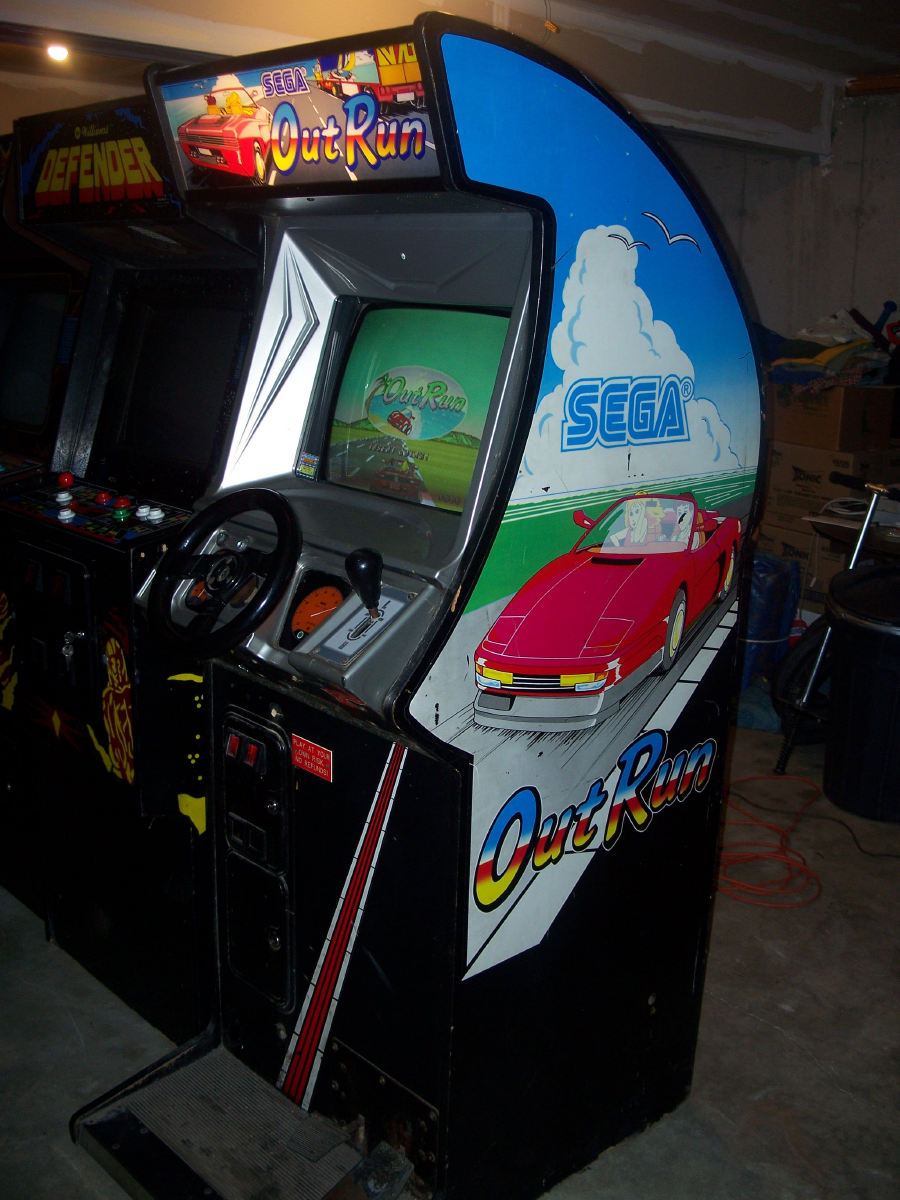 Pick Date: 5/08/08 The year was 1986. According to the historians, the golden age of video games had just ended. This of course was unknown to me at the time, as I was a 14 year old boy. All I knew was I typically didn't like racing games, and Pole Position was the only half-decent game to play. So I walk into some arcade in 1986 and see this little gem, with a rockin' soundtrack and flashy pseudo 3d graphics. I was instantly hooked and fed quarters into this game every time I saw one from here on out. I've been trying to find one of these for awhile now, and bid on a couple of them two auctions ago. Unfortunately they were bid up way too high.

So I get home from work one day and I was trolling Craigslist. I spy a very cheap working Outrun in Kansas City. Kansas City is 3.5 hours from my house, but I shoot an email to the guy anyways with my cel number. I thought what the heck, at that price its probably already gone. Much to my surprise, I get an email back with a guy's phone number saying its still available. The time was 6PM, and I told the guy I would be there as soon as possible.... at 9:30PM. I was praying he would not sell it out from under me with that kind of drive and price. I asked my oldest son who had school the next morning if he wanted to drive to Kansas City with me. He asked what time we would get home and I told him around 1AM. "Heck Ya!", he said, anything to get out of having to go to bed at a reasonable time. I have work the next morning, he has school, but what are you going to do? Let a bargain slip away? I think not.

At that I flew out the door and headed to Kansas City... on a whim. Funny thing is this guy lives about 10 miles away from the other guy in Kansas City who sold me the Q*bert. Who would have guessed? I show up at 9:30PM and observe the goods. The game checks out good, we exchange cash and I load up.

I stop at a gas station to gas up for the ride home. I was very tired and a little leary about the drive back. I told my son he can have any type of drink or snacks for the ride back. He picks up 2 cans of Rockstar energy drink and a can of Pringles. I decide to join him with 2 cans of Rockstar and a special Snickers "charged" candy bar which supposedly was loaded with extra caffeine. Within 15 minutes I was wired for the ride home. Bohemian Rhapsody was playing on the stereo which is a must for any road trip, wouldn't you say?

I pull in at 1AM and unload the van, still hot-wired and ready to go. I play with my new toy for a little bit and then finally go to sleep about 2:30AM. Ahhhhh...what a good nights sleep. I have work in 4 hours, but it certainly was worth it!

Probably the most significant thing I remembered about the game was how the steering wheel shook like crazy when you crashed. This machine didn't do that, so obviously this was the first thing I wanted to fix. After tracing down wires and checking out the shaker motor, it turns out someone flipped a dip switch and turned it off. Why? I don't know. Good news was that was a simple and free fix. I wish they were all like that.
Click on images below to view image gallery