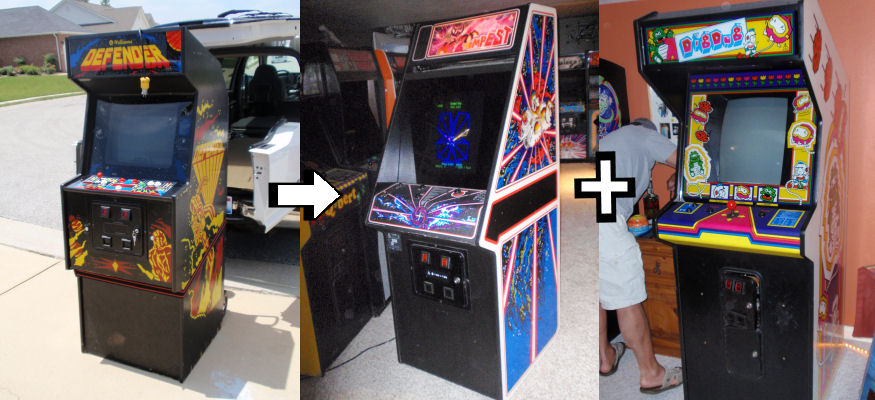 Pick Date: 7/03/09 So I usually cruise Craiglist for all things arcade related and I happen upon an arcade related post for a Tempest and DigDug. Someone was wanting to trade their Tempest and DigDug arcade machines for either a Joust or Defender. Now I have both a Joust and Defender, and I have been wanting a Tempest for some time now. So I shoot the guy an email and he was interested in either machine. He said he wanted to try both of them out and make a decision, but how could we do the trade? He was in Shiloh, IL which was 1.5 hours away and he could only haul 1 game at a time. I told him to bring the Tempest over to my house, check out the game room and pick out which machine he wanted, then I would follow him back to Shiloh, IL to pick up the Dig Dug. With that gentleman's agreement we were all set.

So this guy shows up at my house with his wife and the Tempest. She wanted to check out the new game. Apparently they weren't happy with the gameplay on Tempest and since he got a multigame (with Dig Dug) he thought the Dig Dug was taking up extra space in his gameroom. After checking out the Joust and Defender he was really wanting the Defender. It was one of his childhood favorites and I can't blame him, given Defender's awesome control panel and gameplay. Now the Defender had a new repro CPO, new repro bezel, new old stock buttons, and a new switching power supply installed so it was loved on while I still owned it.

Next we unload the Tempest, fire it up and all looked good. Tempest was my second most wanted vector next to Star Wars, so I couldn't pass it up. We go ahead and load up the Defender, and throw my wife and baby in my vehicle to follow him to another state for a road trip and pickup of a Dig Dug. 1.5 hours later we show up at his house. We unload the Defender and carry down into his basement. He definitely had a finished basement to be proud of, it was top notch. He had a few games and pinballs and everything was definitely looking good down there for some entertaining. He turns on the Dig Dug and it looks and works great. So now the next part was fishing this beast up the steps and out of the basement. I say beast not because those Atari cabinets are notorious for being some of the heaviest in the industry. I looked it up, the Dig Dug weighs 307 pounds. WOW. So we struggle and get that beast out of the basement into the daylight. It was a hot day, and I was covered in sweat from heaving that game up the steps. I load up, we shook hands and off we go.

By this time me and the wife were starving, so we stop at a local Chevy's mexican place in Shiloh. After our meal, funny thing was we bump into the couple I just did the trade with. They were outside on the patio enjoying some Chevy's also. Small world. So we head home and cross over the Mississippi river back into Missouri. Of course the Gateway Arch was there to great us.

Now I had a friend who was actively looking for a DigDug, and I already owned a DigDug cocktail arcade. I called up my friend and told him I can hand deliver this game to his house on my way home if he wanted to buy it. He agreed, so I swung by his house and flipped the game to him for cash. So with that and the trade deal, I go home with a Tempest and handful of cash. Nice!

I finally get home at the end of a long day, just in time to enjoy some Tempest. Now Tempest is my first vector game, so I'm definitely happy to have it enter into the gameroom. Welcome home!
Click on images below to view image gallery