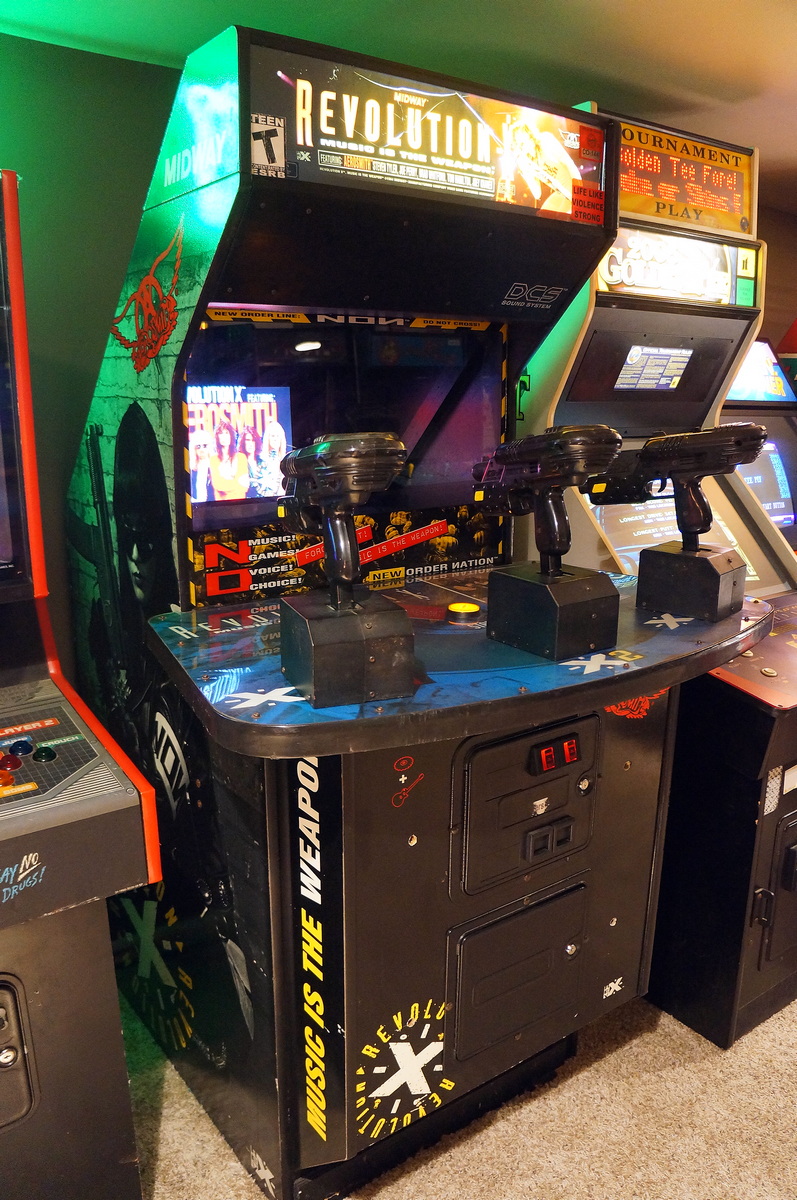 This game has been brutal to get fully functional again. However, it has also been the most rewarding. I like Aerosmith, I like music, I like large flashy arcade games. This beast clocks in at 700 pounds. It is the second heaviest and second hardest game I have had to move, with the Sega Rally Deluxe Championship driver taking first place.

I was able to fix everything on the game except the monitor. To keep the game fully functional I have installed a temporary LCD screen while the monitor chassis is out for repair.

Moving this game from the garage down to the Vintage Vault arcade...via the walkout basement...was a 1 hour feat of brute strength. All I had was myself and my 13 year old son to move it. At 700 pounds, I could not roll this game through the grass. It was just too heavy and would dig into the dirt if I tried. What I did was get 2 long, narrow pieces of plywood and used the Egyptians building the pyramids technique. I would push that 700 pounds with all my might to slide it along the first piece of plywood. Then my son would bring the back piece of plywood up front. I would push and slide it again onto the new piece of plywood. With the distance and the hillside to get downhill to the walkout, this took up that full hour.

It took another hour in the arcade to move around 6 arcade games to fit this beast into its final resting place. The width of Revolution X is 44 inches so it literally took up 2 arcade game spaces. However, in the end this is one beautiful game. Talk about fun when you get 3 guys in there shooting, this thing is a blast. Revolution X, the Vintage Vault Arcade salutes you. For some light reading you can click here to read about the Revolution X road trip.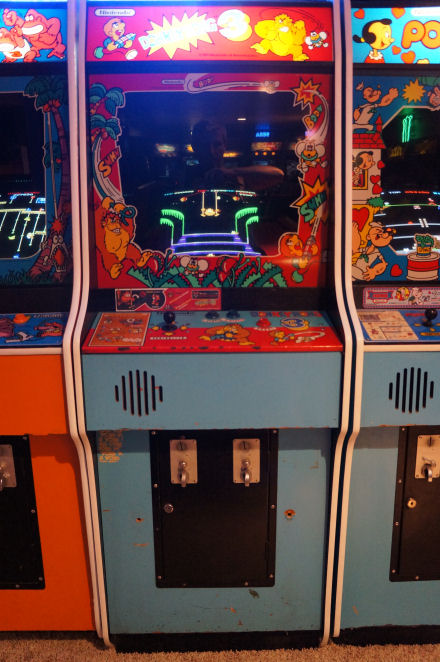 I picked up this Donkey Kong 3 at a Super Auctions back when my collection was just a small garage-cade. It doesn't get all the love it should as it never faired well in the arcades. This was mainly due to a new main character named Stanley, who shoots bug spray at Donkey Kong. This was Nintendo's idea to somehow turn Donkey Kong into a Galaga type shooter. This certainly is a fun, quirky little game, but the quarters it did not rake in.

Due to the failure in the arcade scene, Nintendo apparently killed Stanley off quickly and quietly. Out of the many dozens of Mario games released in the last few decades, Stanley is non-existent. There is always Mario, Luigi, Wario, Princess Peach, Donkey Kong, Donkey Kong Jr., Bowser and many others. One thing is always the same. No Stanley. I think Mario Brothers were a pair of triplets and Mario and Luigi killed off Stanley. Thats what I think.

Despite the poor showing in the arcades, Donkey Kong 3 will always remain in my basement arcade. I will never break up my Donkey Kong trifecta.

That being said, it has been a long time coming since I was able to polish this game up just a little more. When I bought the game, It was missing both coin slots, as well as one of them had a weird blue plate. Thanks to a good friend and local collector Keith, Donkey Kong 3 finally has proper coin slots. Keith generously game me 2 working Nintendo coin slots for me to swap on out.

For the curious, the small red button is a freeplay button that was installed in a hole that existed when I bought the game. Nintendo games do not have a freeplay option that allows the attract screen and Donkey Kong 3 does not have a freeplay upgrade kit. It certainly is nice to have the game dressed back up again with the proper coin slots.

Last weekend was a Super Auctions arcade auction. For the last year and a half, Super Auctions was on the verge of bankruptcy. Then it seemed as if they were on the brink of making a comeback, but unfortunately they had several low volume auctions after that. Then there was this auction. It certainly seems like everything has turned around at this point. There were several hundred games up for auction. There was a good combination of classics, conversions, newer games and sitdowns. It certainly was not an auction to miss.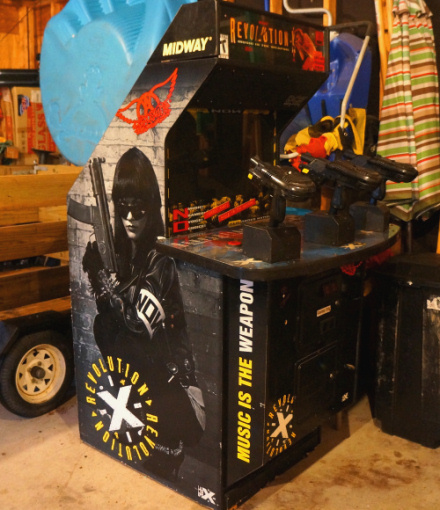 I picked up this Revolution X a month back as a project game. It had a non-working monitor, gun issues, and sound issues. I have hooked up a temporary monitor while the main one is being worked on. I have also fixed most of the gun issues at this time. However, the sound board was another problem. Apparently, these sound boards were known for going bad, with no real solution. This game features the band Aerosmith with soundtracks from the band. The games own artwork says Music Is The Weapon. Lets face it, playing this game without sound would be like going to a rock concert with ear muffs on. What's the point?

After trying my hand at fixing the sound board with no luck, I set out to track down an elusive working sound board. I finally managed to track down a working boardset in Minnesota and had it shipped to me. I noticed the replacement boardset said Proto 5, while my boardset said revision 1. I decided to research the Proto 5 chipsets, and found out that Revolution X originally shipped with a Prototype chipset (Proto 5) that had some missing sound samples and buggy code. Revision 1 corrected those issues, and I certainly have a Revision 1 chipset. I swap out all the chips to Revision 1 and plug everything back in. I then squeezed off a few games, and heard soundtracks like Eat the Rich and Sweet Emotion booming through the speakers. Steven Tyler's own voice also gives guidance throughout the game.

I still need to get the main monitor fixed before I bring it into my arcade. Until then, click here to read about the Revolution X road trip.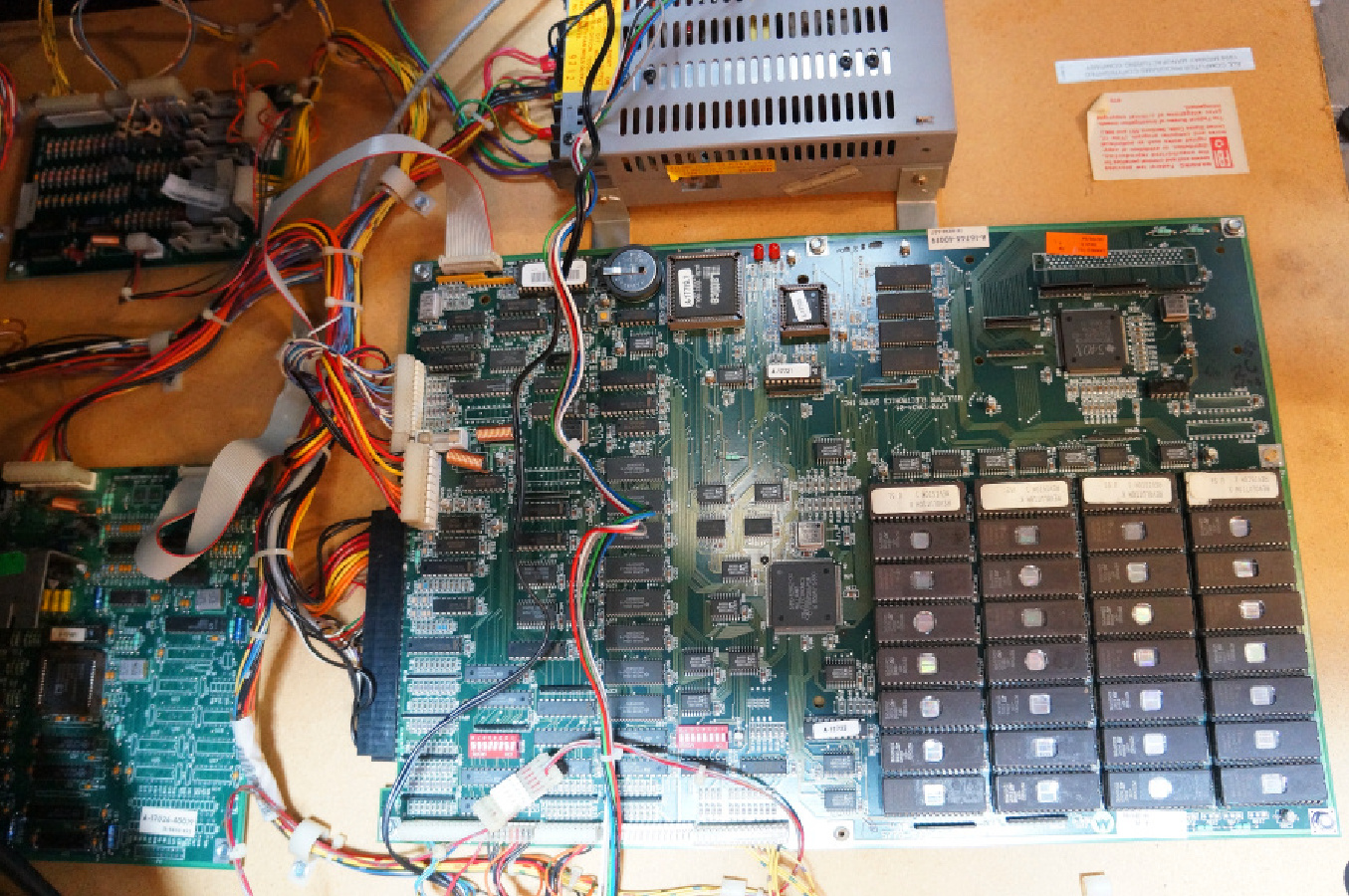 Recently I moved the Dig Dug cocktail over to the bar area and made the cocktail level to the bar. Then last weekend I had a friend over for a little gaming and relaxation. I was relaxing with one arm on the cocktail and one arm on the bar having some light conversation and next thing I know, there is no picture on the Dig Dug. Ugggh. I credit up a game and I can hear it playing, just nobody is home on the monitor front. I just repaired this monitor last November. I opened up the game, but I didn't smell the classic stinky smoky aroma of a fried flyback. I check the fuses on the chassis and they were good. I check the voltage to the monitor and it was good. I check the B+ voltage, and its 0v. It's possible I still have a fried flyback and HOT. However, this time I just didn't feel like messing around. I had a spare rebuilt G07-FBO chassis on the shelf and decided to pull my magic card. I pulled out the once bitten twice shy chassis and throw in the rebuilt one. Beautiful! I dial in the colors, close the cocktail lid and button up the game. I don't know if I'll ever repair the old chassis, but I do know that my Dig Dug is working again. Special note to the rest of my games. Don't Do What Dig Dug Does!