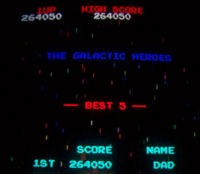 Not really news worthy, buy I just got to level 30 on Galaga for the first time ever. My high score is 264,050. Unfortunately I do not have a high score enhancement kit. What does that mean? When I turn off the game the high score goes with it. At least I took a picture for posterity. If I could have gotten to level 30 as a small kid at Showbiz pizza place I would have had a small crowd around me and I would have been a video game warrior. Balloons would have fallen from the ceiling and there would have been all the free pizza I could eat. Oh well...at least I can dream. Unfortunately calling for my wife to come look at my high score just isn't the same. Hearing the words "I don't want to come down to the basement and look at your score on Galaga" kind of ruined the moment for me.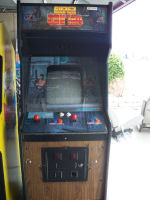 Unfortunately, if you tell me you *might* stop by sometime the next day and someone else comes in the next hour and puts cash in my hands.... guess who's going to walk away with a fun game?

So the story goes, and some nice lady gets this game for her kids gameroom, much to the disappointment of some other guy who possibly wanted it. She really wanted my Donkey Kong, but when I told her that was double the price she didn't seem to understand. I had to explain that game is one everyone wants, including myself. Therefore the price goes up. Simple economics.

I didn't win a particular Ebay auction and now this money is burning a hole in my pocket. Also there is a gaping hole in my basement arcade where Super Contra used to be. Anyone got a Crystal Castles or Xevious I can take off your hands?

Yesterday was my birthday. My wife took me out to eat and then gave me a present. It was just what I always wanted, a new Mario Bros overlay! Yes! Unfortunately it took 30 minutes to peel off the original overlay, and then 3.5 more hours to remove all the glue back to bare metal. It amazes me that those wacky Japanese made that glue to last forever, yet some snot-nosed kid managed to peel off a 4 inch section of overlay from my control panel. I can only assume that this nose picker must have been really bored at the arcade when he ran out of quarters. That brat must have been superman or something. Anyways, after nearly passing out from inhaling Goo Gone fumes for several hours the time finally arrived. I had my good wife help me install the new overlay, and as you can see from the picture above it looks beautiful. You can see more pictures of the overlay in progress on the Mario Bros road trip page.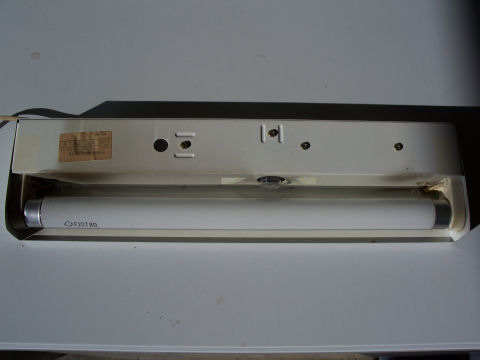 When I picked up my Mario Bros and Donkey Kong cabinets, both marquee lights were burnt out. Those marquee lights use non-standard Japanese bulbs and starters and you can't find them at your local stores. Last year I had wired in a Walmart light fixture in my Donkey Kong. No one ever knew but it always bothered me. When I picked up my Mario bros cabinet recently and there was no light I was determined not to do another chop shop fix. I placed an order from Topbulb for the fluorescents bulbs and starters a few months ago. After 2 months of backorder parts from Topbulb, I finally cancelled the order and placed the same order with Bulbtronics. The order came in a few days ago. I put in the new starter and bulb in the Mario Bros and fired it up. Beautiful. Then I re-wired in the original marquee light for Donkey Kong and put in the new bulb and starter. Again, very nice, both Nintendo cabs all lit up with original parts in them. I'm not really a purist about new old stock parts, but if you have the original then might as well fix them.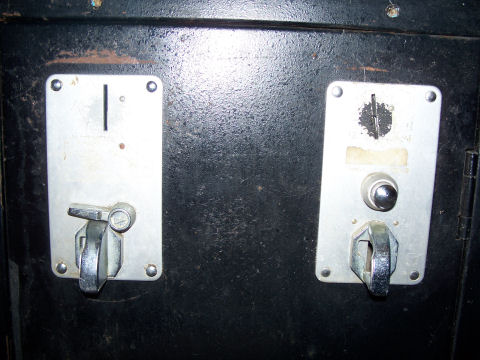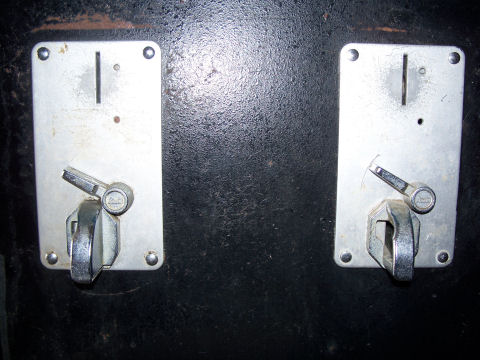 Ever since I picked up the cabinet for my Donkey Kong the coin door slots where mismatched and the coin reject lever was broken. See picture on left. I have replaced it with a matching coin slot and also fixed the bad lever. Now I everytime I walk past my Donkey Kong I won't look at the coin door and wonder what someone was smoking when they did that.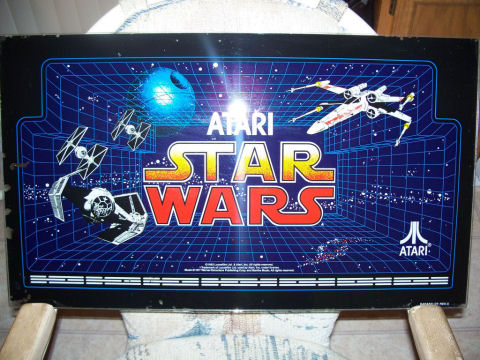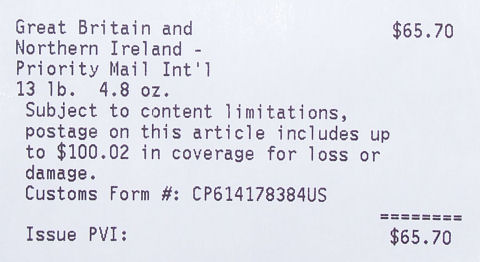 I sold my Star Wars cockpit marquee to fund another purchase. I picked up the marquee way back when I bought my Popeye. The guy gave it to me in exchange for some computer work I provided for him. I liked it but I found out later it was fetching a nice price tag. It was bought from a gentleman in Blackpool, England who was restoring a Star Wars cockpit. He paid the shipping costs. Ouch!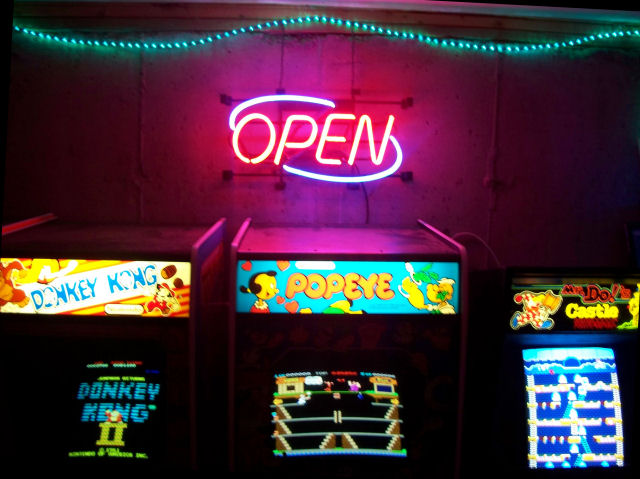 I got my first neon sign today. The Basement Arcade is now OPEN for business... errr... freeplay... ummm... whatever. Every arcade needs a little neon for ambience.

Believe it or not, this will be the first neon of many more to come. Believe it. The soft glow of an arcade monitor, and the colorful glow of a neon. Takes you back right to the 80s as it should.

Now which game should I play, Donkey Kong, Popeye or Mr. Do's Castle?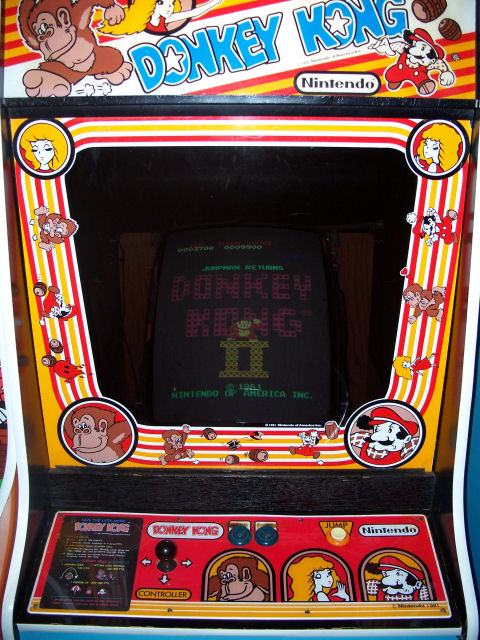 If you don't know what Donkey Kong 2 is, then you are missing out on a real treat. Donkey Kong 2 is a programmed remix of the original Donkey Kong arcade game. This is a kit that you install into your original Donkey Kong arcade machine, yes it runs on the original hardware. This kit adds 4 brand New Donkey KongLevels, 4 Old Levels, Intermissions and more! New levels include the Mixer, Foundry, Refinery and Incinerator.

The beauty of this kit is that you can play both the original Donkey Kong game, plus the harder remix called DK2. This differs from Donkey Kong Jr. as you still play Mario, just with harder more challenging levels.

You can find out more about the DK2 kit here.

My kit arrived in the mail. Of course I installed it immediately. Needless to say I'm hooked! I'm going to play more DK2, this rocks!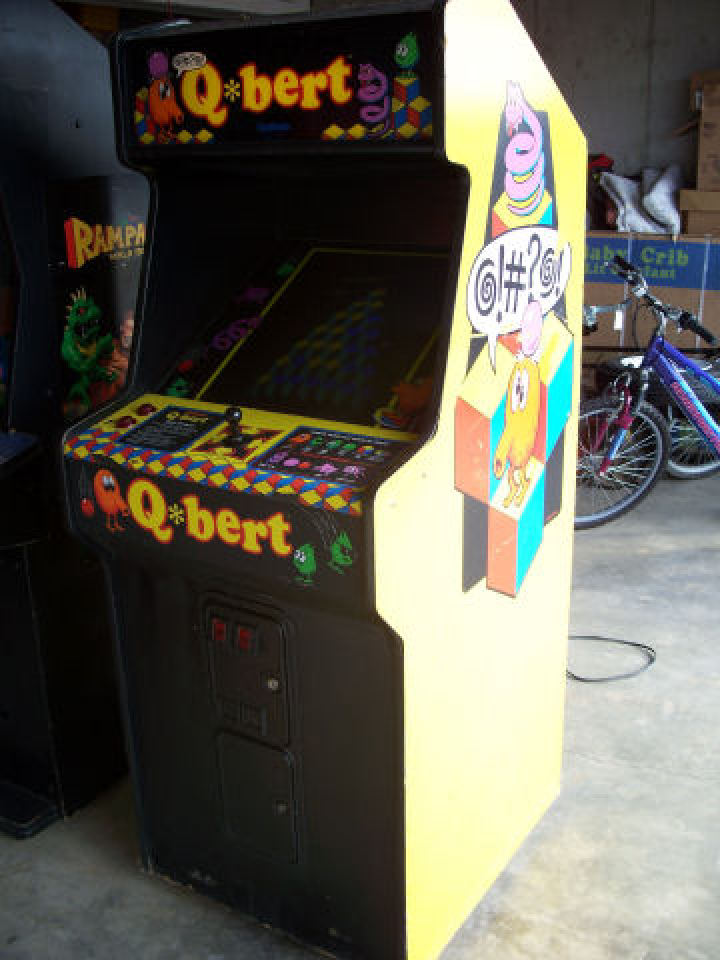 March 1st, the day I picked up my very own Q*bert. This was another top 5 most wanted game. What can I say, it's a Q*bert! Why did I fall in love with this game as a kid? Possibly the funky thumping sound inside that cabinet when something fell off the pyramid, maybe it was the ultra cool retro speech processor used in the game, or maybe it was because I got so good I could make 1 quarter last 15-20 minutes.

This road trip took me from St. Louis to Kansas City and back again. I get to walkthru a few warehouses of arcade games, and dub the owner, Randy the hoarder. Well he did part with a Q*bert, but only because his tech couldn't get it fixed. I brought that arcade game home, and it has worked perfect ever since. Not sure what kind of problems they were having, maybe the roadtrip jiggled something into place.

Anyways...welcome to the basement arcade you furry orange football! You can read about the Q*bert roadtrip here.