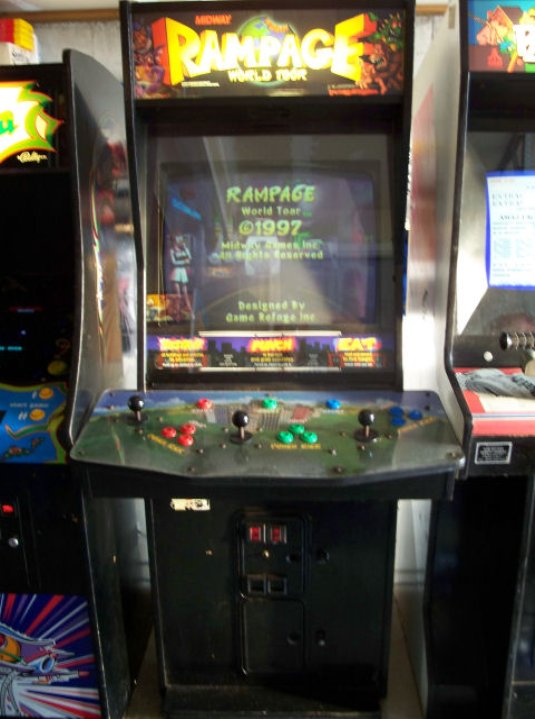 This summer has been good to me. REAL GOOD. There has been a steady flow of new games coming into The Basement Arcade the last few months. This means real estate in the basement is becoming a premium. As much as it saddens me that means something has to go.

I really liked the game Rampage World Tour, but the kids didn't care for it much. Why? I don't know. They would knock down a few buildings and then its like, been there, done that. The game was made in 1997, and as such was not a classic and wasn't one of those I played as a kid. I played the original Rampage but this was a nicely updated remake of the original. Anyways it went on the chopping block on Craigslist.

Wouldn't you know it but someone wants to buy this one pretty quickly. The only catch? I have to deliver it. Why oh why do I always have to deliver it. I have to pick up all my arcade games, why can't someone else? This game is now sold.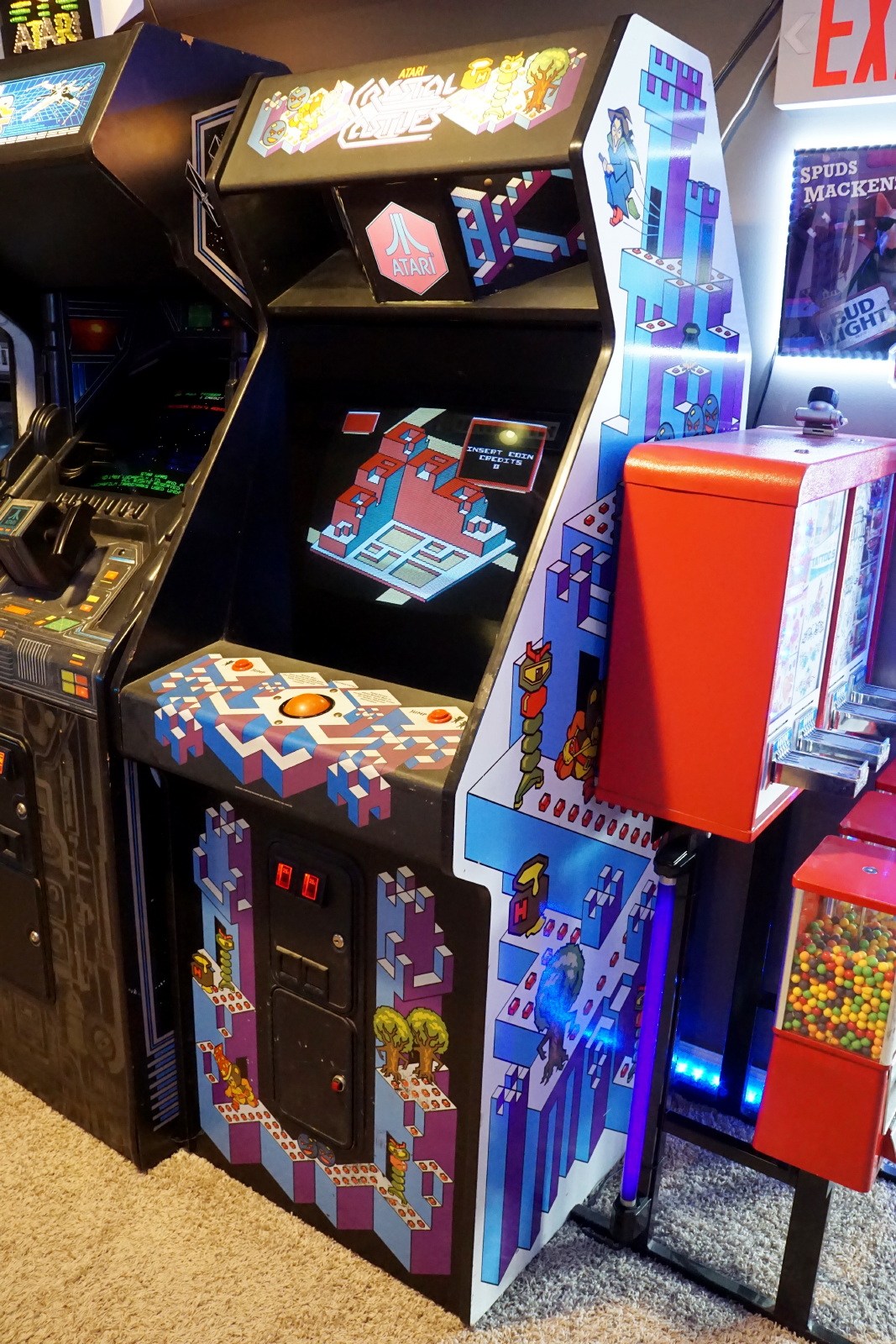 Time: 10:30PM, Friday night. Place: Craigslist, a website for buying and selling things. What I saw: A Crystal Castles for sale, non-working and cheap.

No phone number. Email sent. Go to sleep and hope for the best.

Time: 8:16AM, Saturday morning. Place: My email inbox. What I saw: Yes all there, Looks Good on the outside.Yes it can be picked up until 2 this afternoon. Call for address 314-xxx-xxxx Thanks Bob.

I call the guy, and he said 7 other people are already interested in it and the first one to show up with cash gets it. Hmmm.... you don't have to tell me twice. I hopped in the van and sped off down the highway, cash in hand. As you can see from the picture, I beat everybody. Yes I did. That was one beautiful bad boy, and on the top of my list of must haves. Score!

You can click here to read more about my new Crystal Castles arcade game.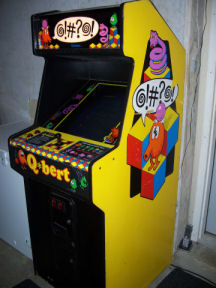 The rare Q*bert swearing marquee is a much sought after item for classic arcade collectors. After much waiting and searching, my Q*bert machine now proudly boasts one of these marquees. Very nice indeed!




For you history buffs out there, the swearing marquee was supposed to be the header of choice until it was decided that no one at an arcade would know how to say the name or what to even call the game. That is when they came up with the name Cubert, which was a combination of the words Cube and Hubert. Being concerned that people would pronounce it "cub - bert", they shortened it to the now classic name Q*bert. See the rare swearing marquee image above along with the more common Q*bert marquee image. Click here to view the Q*bert page.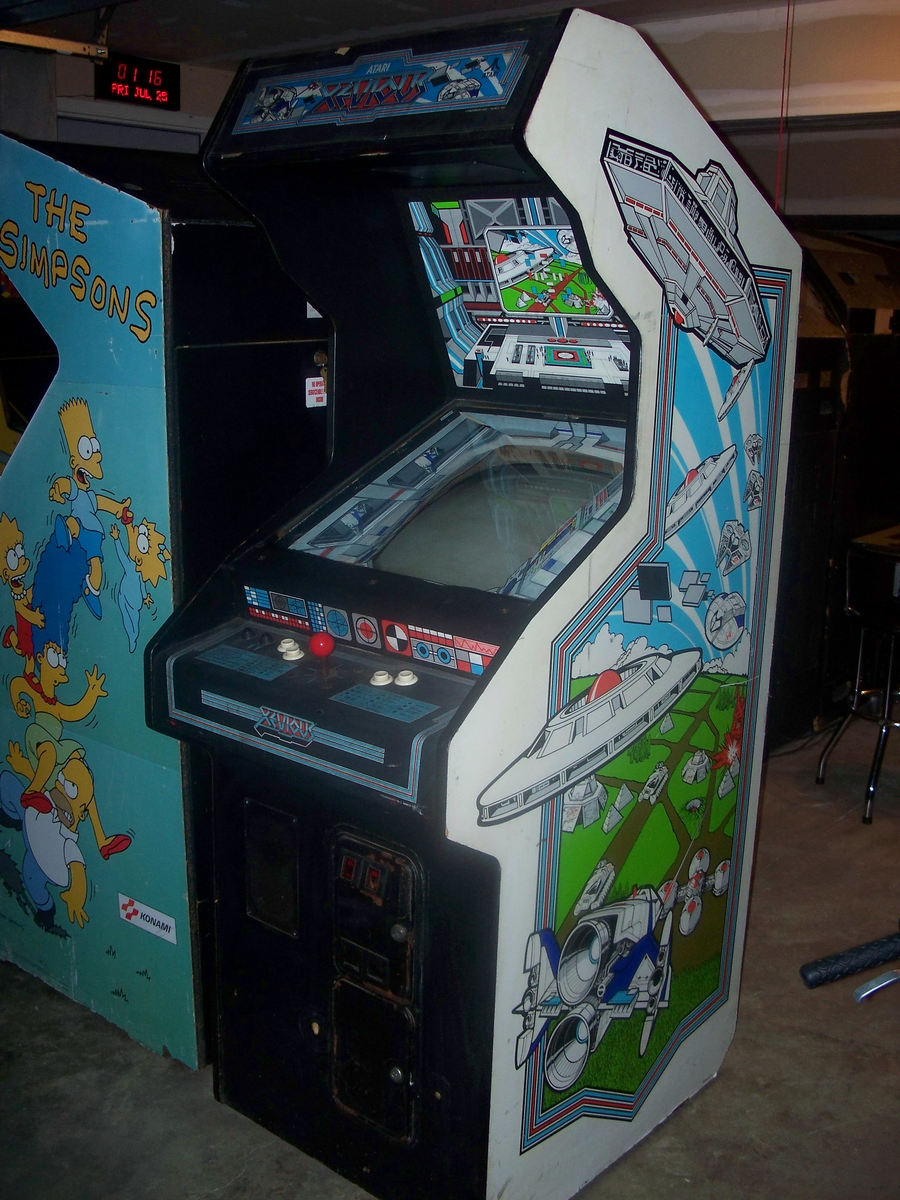 Xevious is the grand-daddy of vertical scrolling shooters, circa 1982. The background has a constantly changing scrolling terrain and the musical score for the game is infectious. I have fond memories of this game from my childhood, so it is no surprise that I've been wanting one for the basement arcade.

For those that remember the gameshow Starcade, the background music from Xevious was used in their hotline short video clips.

I've been looking for a Xevious but this elusive machine has remained hidden, until now. Unfortunately this little adventure took me across three states to finally land at my destination in Louisville, Kentucky.

Click here to read about the Xevious road trip.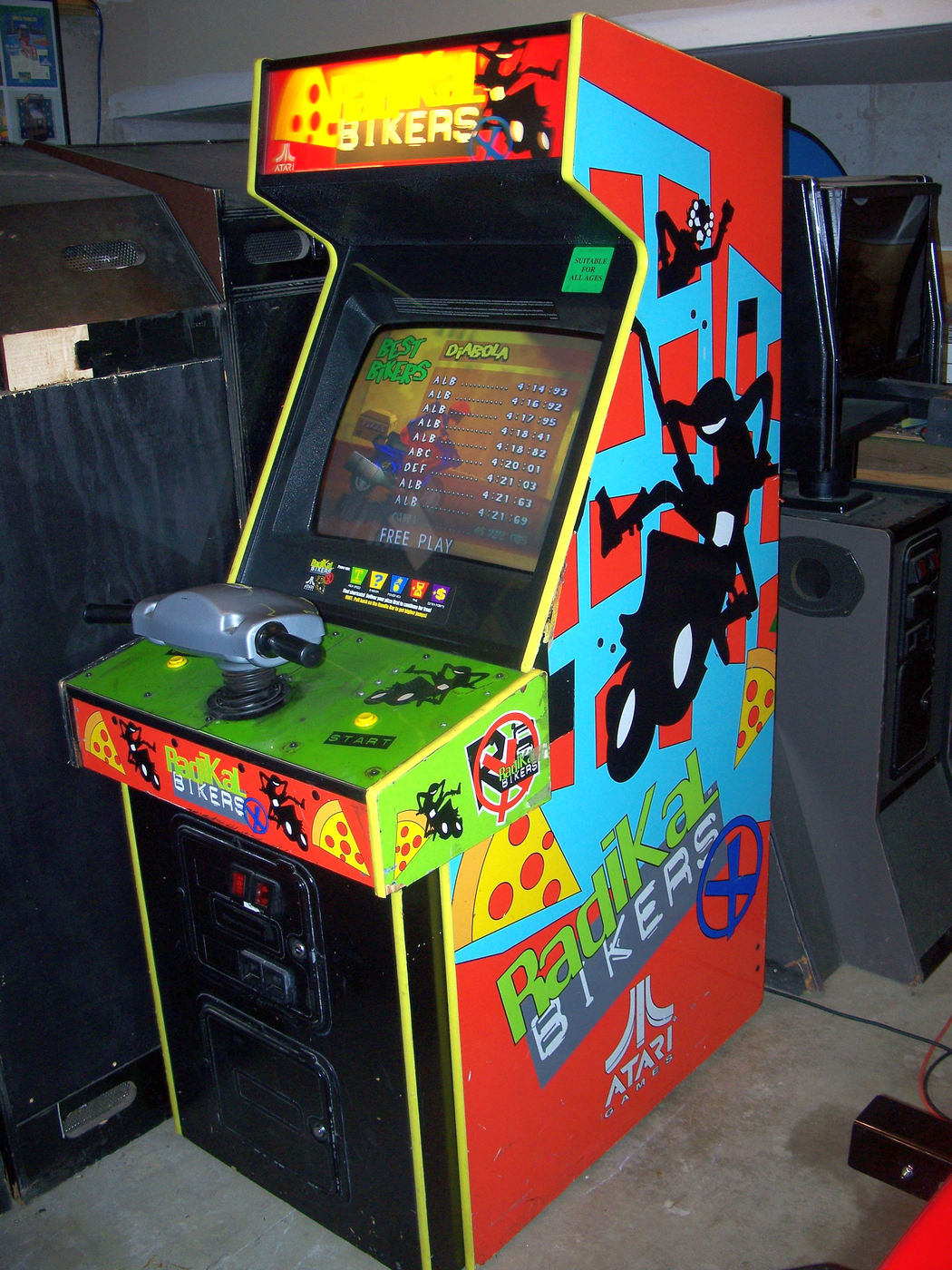 Last saturday myself and my friend Todd went to an arcade auction in Belleville, IL. We took Todd's truck and left my vehicle behind with the intentions of only buying one game between the both of us. Unfortunately, that didn't happen. It took four vehicles to take home the Radikal Bikers, Q*bert, and 2 race car kiddie rides that we bought between the two of us.



Yes, you read correctly. Being the super dads that we are, we bought race car kiddie rides for our baby boys....... at an arcade auction. There was a selection of around 25 rides and they all went pretty cheap. We just couldn't pass it up. But hey, even Chuck E Cheese has kiddie rides and arcade games.

Special thanks go out to Karen, Ann and Kent for hauling some of our stash back for us.
Click here to read more about the auction, the Radikal Bikers game and kiddie ride that I picked up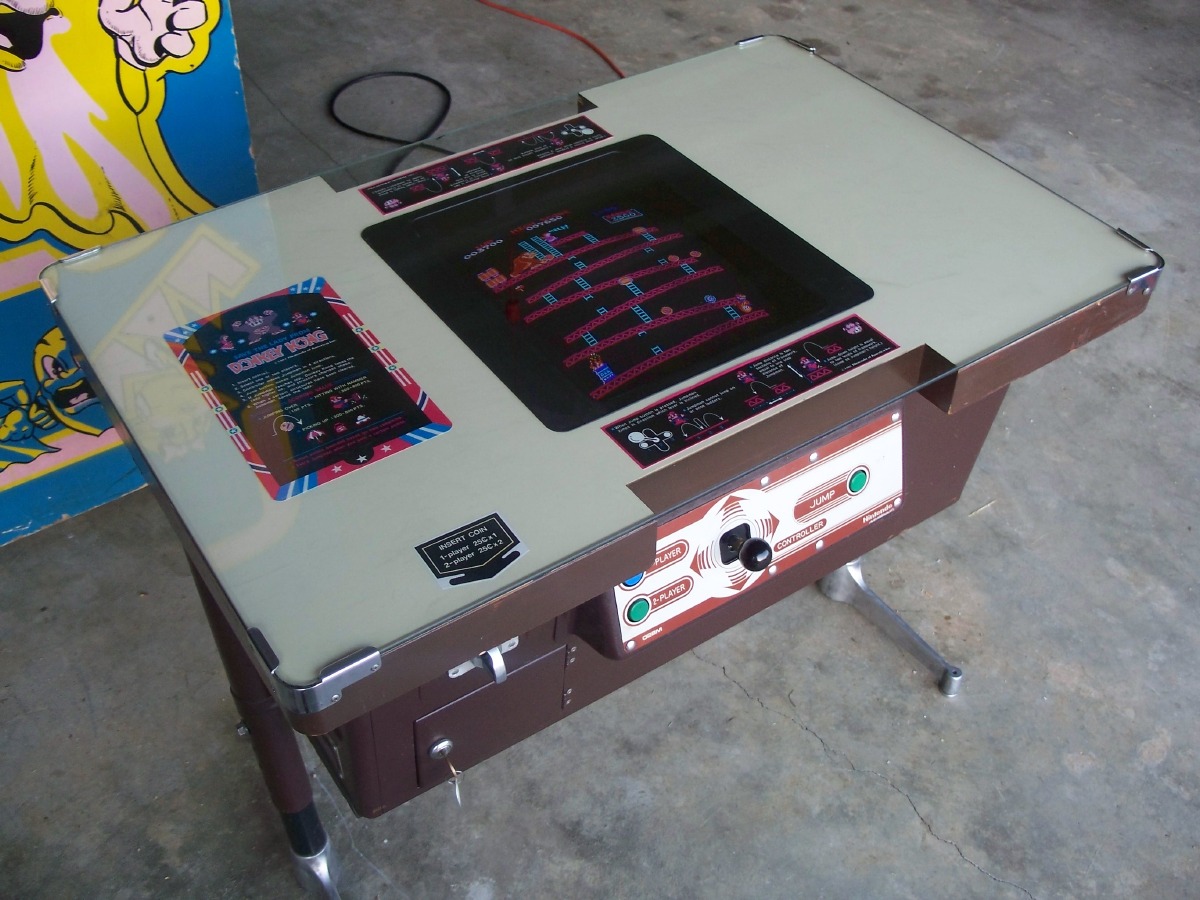 I picked up a broken Donkey Kong cocktail a few months ago to turn a little profit. I already have a Donkey Kong, but this one was too cheap to pass up. I fixed and sold this game 38 days ago. For 38 days it sat waiting to be picked up. Today it was finally picked up. What the hold up was, I don't know. I do know that I should have charged a storage fee.

The buyer was supposed to pay in cash, but after 2 weeks I realized he wasn't coming anytime soon. I asked him to pay electronically via Paypal or else I would have to relist the machine for sale. He obliged and paid. Unfortunately, I think that gave him all the more reason to come at his earliest convenience. That turned out to be one month later.

LESSON LEARNED: Always print in your auctions,
"Item must be paid for within 5 days of the auction's end. Item must then be picked up within 10 days."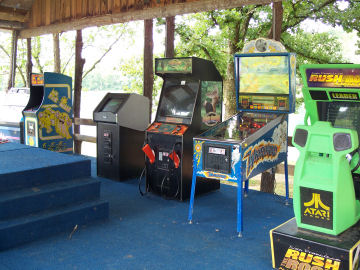 Recently I went to Whippoorwill Lake in Leopold, MO. While at the beach I spied an outside pavillion with what appeared to be a small lakeside arcade. There was a 100CD jukebox, a Ms. Pacman, a Megatouch XL, Trophy Hunting, Whirlwind pinball and San Francisco Rush the Rock. All looked good but I thought that was a bit bizarre being lakeside with moisture and exposed to all the elements. Well that night it rained and poured something fierce. The next morning I stopped by the pavillion for a peak. The Trophy Hunting was completely dead. The Ms. Pacman appeared to be stuck on a startup screen, but was still on. I then took a 1 hour walk around the lake and came back. I looked at the Ms. Pacman and she gave up the ghost. The screen was blank. I unplugged the power cord, plugged it back in, turned the power switch off and on and there was still nothing. I guess it just goes to show, nice concept, poor execution. Arcade machines and water are a bad thing.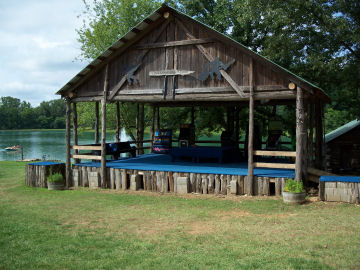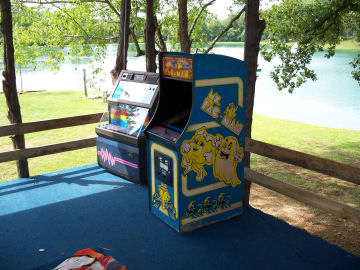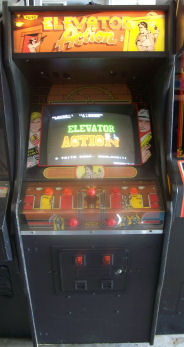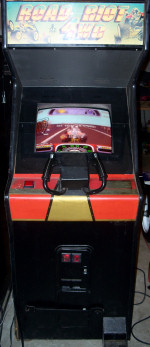 There comes the time in every collectors life that they have to sell off a few games. The reasons are many. Sometimes we need the cash to fund another game purchase. Sometimes we need the room for a new game. Then, every once in a blue moon, we actually tire of a game and decide to pass it on to the next person for their enjoyment.

For me it was all of the above. So I put Elevator Action and Road Riot 4WD up for sale on Craigslist. For some reason my kids wouldn't go near Elevator Action. They said the just didn't get it, although the instructions were clearly printed on the game bezel. Then the Road Riot 4WD has not received any love ever since I got the totally insane, totally awesome, totally collectible Outrun driving game. Excellent.

So there you have it. A nice gentleman opening up a vintage collectible store purchased the games. He was completely happy with them, and sent me on my way with several issues of a new vintage gaming magazine he is publishing.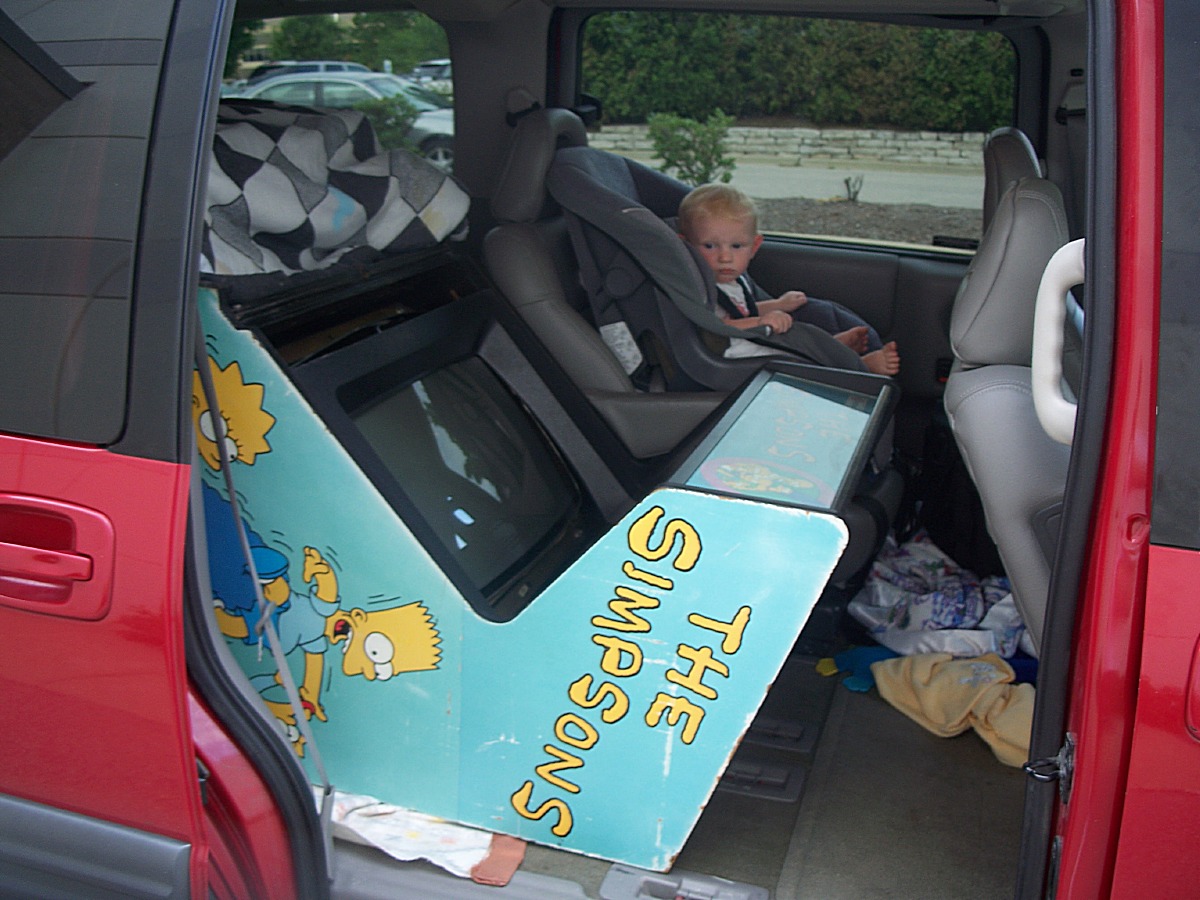 The Simpsons has been in syndication since 1989. I was an instant fan. The Simpsons and Beavis & Butthead cartoons skirted the rules for what was considered the norm.

Then the Simpsons arcade game came out in 1991. An arcade game starring one of my favorite cartoons? Of course I was hooked. Later on through the years my kids loved the show and the game. The great thing about this game is its ability to play 4 players at once. I don't have any 4 player games, so I have been looking for one of these for awhile.

Well look no more...check out The Simpsons Roadtrip