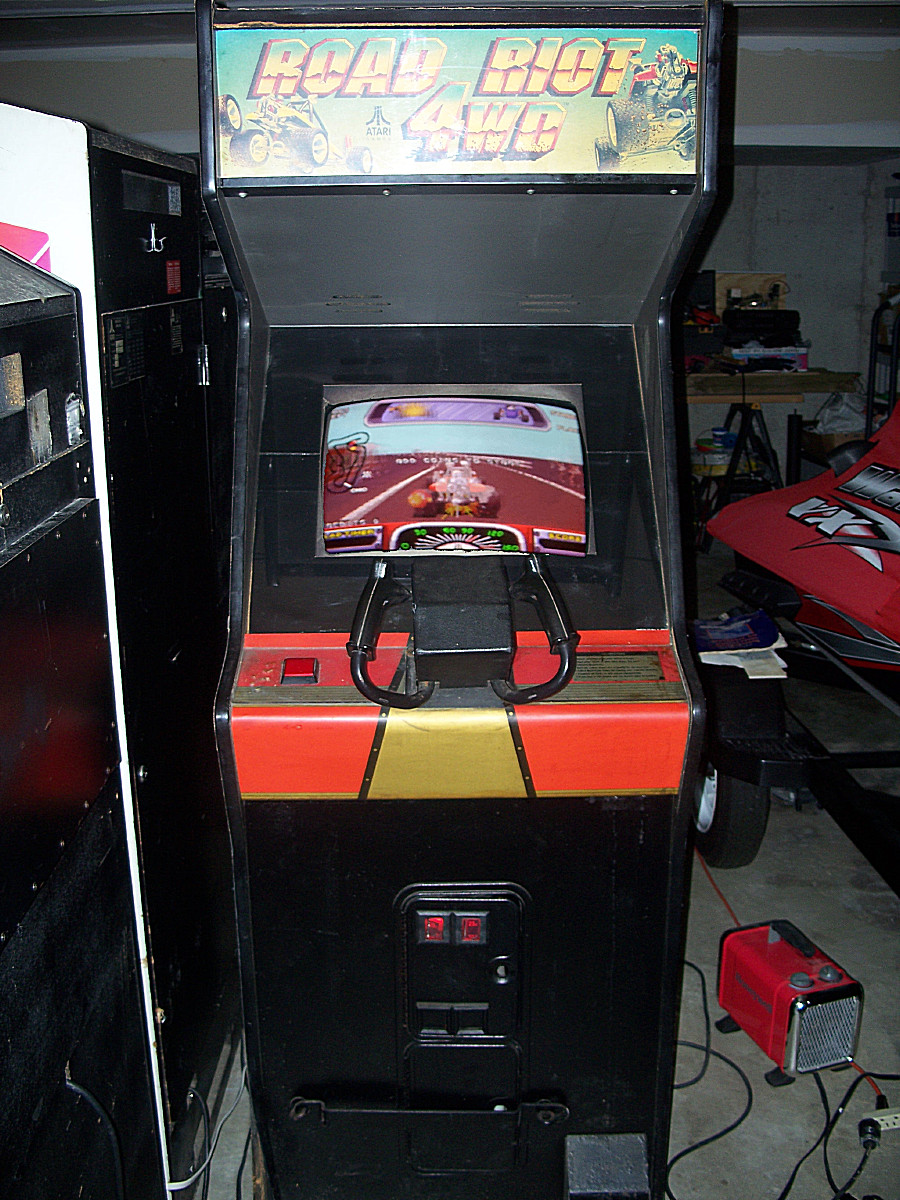 Today I brought home the twentieth arcade in my collection... in the freezing rain. I won off ebay a Road Riot 4WD for $50 which listed as "The game comes on and tries to play but the steering doesn't work".

Now I normally don't recommend buying arcade games off ebay. Pictures can lie, condition might not be as described, and you don't have an opportunity to walk away. HOWEVER, this was $50. How can you go wrong?

Sounded like a simple fix so I jumped at the chance to bring home my first driving game for such a low price. I figured at least the working monitor was worth $50 if it came down to it, plus the game could be parted out. You can read more about this road trip here.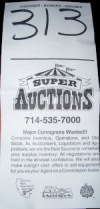 Myself and Todd went to an arcade Super Auction on 11/17/07. My intent was to take home a new toy. Sadly, this did not happen. The image you see is the bidding card which won ABSOLUTELY NOTHING. A lot of good that did. I bid on several cabs, and all of them went for more than what I wanted to pay ($100 or less for a broken cab, $200 or less for a working cab). I did spy a very nice Power Drift cab. Unfortunately my friend Todd said he wanted it and I *owed* him for beating him to the last several Craiglist cheap cabs. He won the auction for $125. Man, that one could have been mine. Since I was at the auction, I would just like to point out a small fact about several "Dead Rows" of cabs, as I was looking for a project nintendo cab myself. While it may seem to most that these *projects* went rather cheap, they were in fact mostly 1 small screw away from being torched for firewood this winter. Most of these cabs were completely devoid of boards, marquees and bezels. These things looked so bad you couldn't even scrape the cabinet of parts and turn it into a Mame cab. I swear to you, some of these cabinets were slanted sideways. It appears whoever dragged these cabs to the auction today spent more on gas money and listing fees then what they were worth or sold for. My personal opinion is everything went too high at this auction, with the exception of a very nice Power Drift cab which my buddy picked up for $125 and a Turbo mini for $100 which another friend got.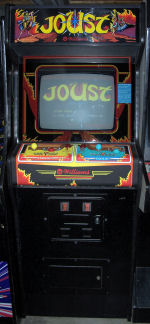 I just picked up my 19th arcade, a Joust! I got it super cheap and the best part is that this was one minty little cabinet. It had all the manuals, schematics, keys, and the warranty registration card. Personally I consider it my best deal yet.

The game was advertised as non-working but...it was a Joust! Besides Mario Bros., this was the other 2 player cooperative game back in the day. One of those games to play with a friend or family.

My vehicle broke down on the way to pick it up, but a quick phone call and I had a truck come to the rescue. This deal wasn't going to get away.

Click here to read more about Joust.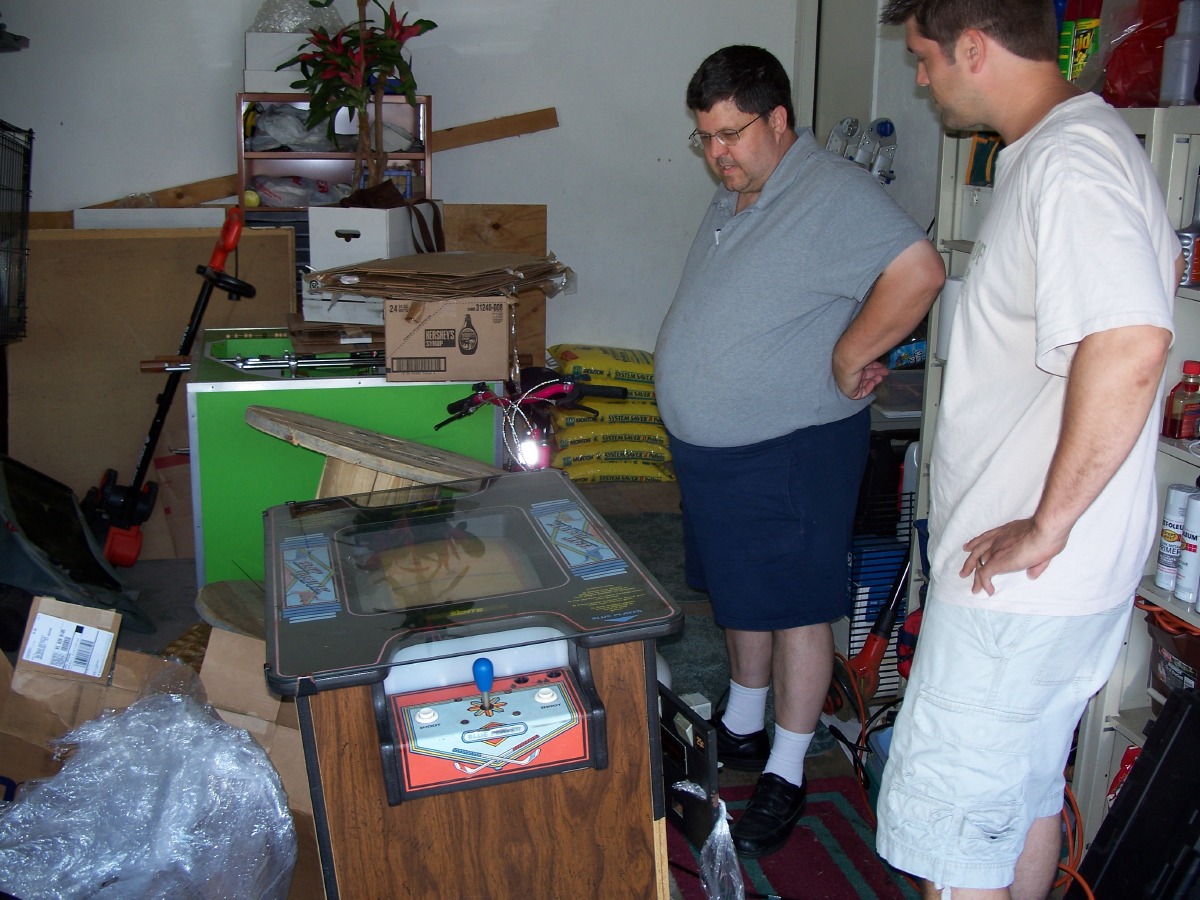 This is Bob. Bob owned a Hat Trick. My friend Todd happened to win this Hat Trick cocktail arcade game on Ebay.

I went with Todd on a road trip through 3 states with a 12 hour round trip to pickup up his dream machine.

Read more about Bob and the Hat Trick road trip here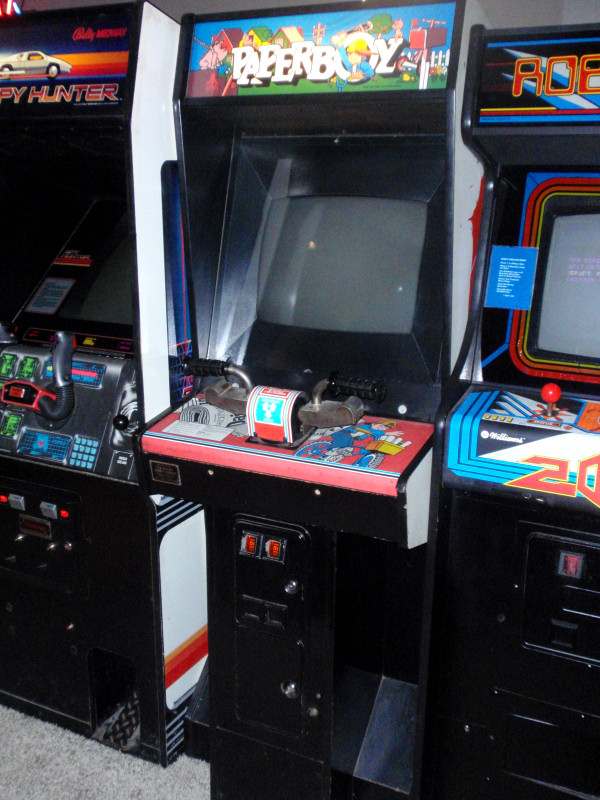 I have been looking for a Paperboy for sometime. I finally found one located in Coweta, Oklahoma and purchased it off of Ebay. I know, probably not a good idea to buy a game off ebay, site unseen, from another state. But this was Paperboy!

Now Paperboy is a stereo sound game, with great audio, background music and sound effects. After I got there and started to test play the game I noticed off the bat that the right sound channel was not working. Ebayers. Just tell the truth man. In the end I diagnosed the issue as a right amplifier chip on ARIII board. Replacing it fixed up both sound channels.

Total round trip distance: 768 miles. Total time: 12 hours. Unfortunately I was so excited to get my Paperboy that I forgot to bring a camera and photograph the road trip. Maybe next time.

You can read more about the Paperboy road trip here.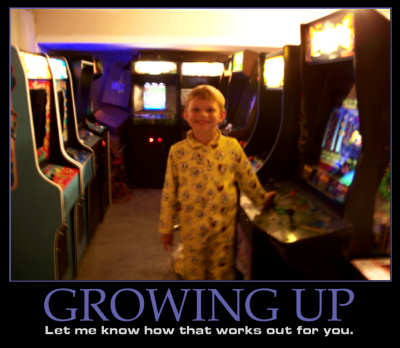 I bought my first 2 arcade games in 1996, a Contra and Mr. Do's Wildride. The third game I bought in 2003, and that kicked off the collecting bug. I haven't stopped since.

Now I have my own arcade, and it just keeps growing. To chronicle road trips, adventures and growth of the arcade I have started this website, The Basement Arcade.

I started small, but now have an amazing home arcade. To see how far things have come, jump ahead 14 years to see the home arcade as it sits now by clicking on the My Arcade link.

The picture here is the arcade in 2007 and my son Joshua at 8 years old. The arcade was my playground as a kid, and owning my own arcade is not only reliving my youth, but also a dream come true.