Family Christmas time. This is my favorite time of year. Some people are in it for the presents. However, its all about the giving, not the getting. All my brothers and sisters and all their kids gathered at my home for the family Christmas. Of course all the kids got in a little gametime as well. It seems that the games with 2 player versus or cooperative got the most play at my family Christmas. That includes Mario Bros, air hockey, linked Rush the Rock cabs, linked Vapor TRX units and 3 player Revolution X. The oddball was Fix It Felix which got tons of play for obvious reasons. Always a good time with family down in the Vault.
Two weeks ago we had loads of fun down in the arcade for my church kids. With over 35 people in attendance, there was not shortage of games being played. The new air hockey and Fix It Felix Jr. arcade game were instant hits. Check last weeks website entry for the video. Below is the image gallery of all the fun being had.
I really do like being a children's pastor. Gamedays with my church kids and their parents are always a blast. Last weekend despite some light snow we had over 35 people in attendance. The new Fix It Felix arcade machine and air hockey table were a hit with everyone. As always the racing games and 3 person Revolution X got lots of play. One of the parents had 2 foreign exchange students staying with them. One was from Norway, the other was from Germany. They got to experience a good American retro arcade for the first time. I even caught one of them on the Star Wars machine, which means they have good taste obviously. Below is a video from that gameday. You can see the arcade was definitely being rocked out. Great time as usual!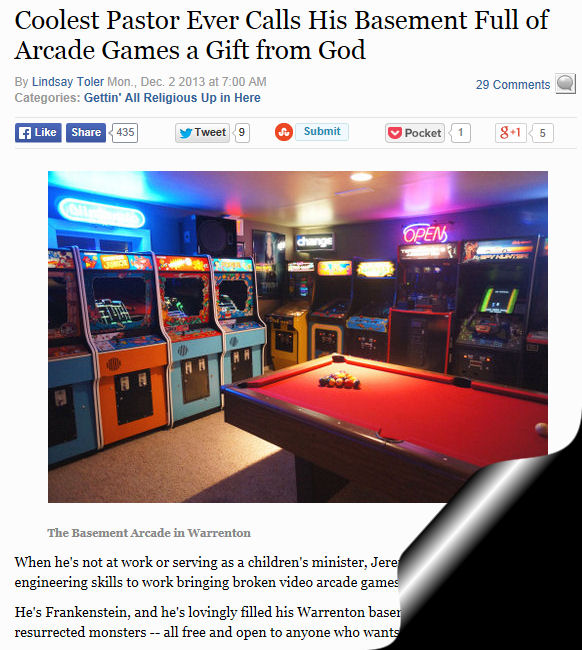 After many hits like Robotron, Joust & Sinistar, Williams Electronics refocused back on pinball machines following the videogame crash of 1984. In 1988, Williams decided to enter back into the videogame market with a vengeance. They used their hit programmer Eugene Jarvis to come up with their golden child. The game was called Narc. It used a medium resolution monitor (basically higher res graphics), digitized human voices, and was one of the first ultra-violent videogames to hit the market. Your mission, to arrest or kill drug dealers and people whacked out on drugs. Kill, as in blow them away will all the blood, guts and flying body parts from rocket launchers that you can handle. This was a pre-cursor to todays Call of Duty type videogames. Oh yes, Narc did it first.

So after becoming a staple in my arcade for some time, the monitor went out. I could hear the game play, but no picture. I take the back off of the game and try to diagnose the problem. Next thing I know the back of the flyback blew up with a sizzling black ooze coming out. See picture above, yes THAT flyback. Is that black tar heroin coming out of the flyback? Seriously...How do you blow up a flyback? Turn the game on one too many times apparently. From what I understand, a medium resolution monitor pulses the flyback much faster than normal which can cause them to fail prematurely on occasion. Lucky me.

Since these monitors are rare and not in the normal supply chain, your best bet is to fix what you have. So I take a chance that it is ONLY the flyback that was the issue and order a new one. When I replaced the flyback I put in a new HOT (horizontal output transistor) as they are kind of a buddy system. When one acts up it usually affects the other so its best to replace both at the same time. With that I fire up the game and am blessed to see Narc again in all its gun toting glory. I dial in the monitor focus and colors then proceed to blow away a few digitized drug dealers. MUCH more satisfying than blowing up flybacks. JUST SAY NO TO DRUGS!
I picked up this Golden Tee 2005 over three years ago at an arcade auction. This golf game is very popular with the bar crowd and older folks. The game is actually quite fun and can be relaxing, as the game isn't pushing you on a time limit to kill off your guys and steal your quarter. The only complaint I have had with this game is that Golden Tee 2005 only had 5 courses. When you have 18 holes of golf over 5 courses, thats still 90 different holes of golf to play. However I noticed that with time it seemed to lose its luster with repeat players.

IT Technologies had a solution to this, and that was in 2006 they released Golden Tee Complete. Golden Tee Complete contains all 29 golf courses contained throughout Golden Tee 2002, 2003, 2004 and 2005. That is 522 different holes of golf. That's a lot of golf. Ever since I bought the Golden Tee 2005 version, I knew someday I would upgrade it to a Complete. The price on an original Complete machine, and the Complete upgrade kit kept me away for some time. However, the day has finally arrived. Not only did I upgrade it to a Golden Tee Complete, but I swapped out the hard drive in the game with a flash drive. That means faster bootup and no moving parts for future proofing any failures (all hard drives will fail someday).

Today, the Golden Tee is now at the height of its game, and now Completes the Vintage Vault Arcade. This is another one of those timeless games that won't ever be leaving the arcade. Time to play some golf! Fore!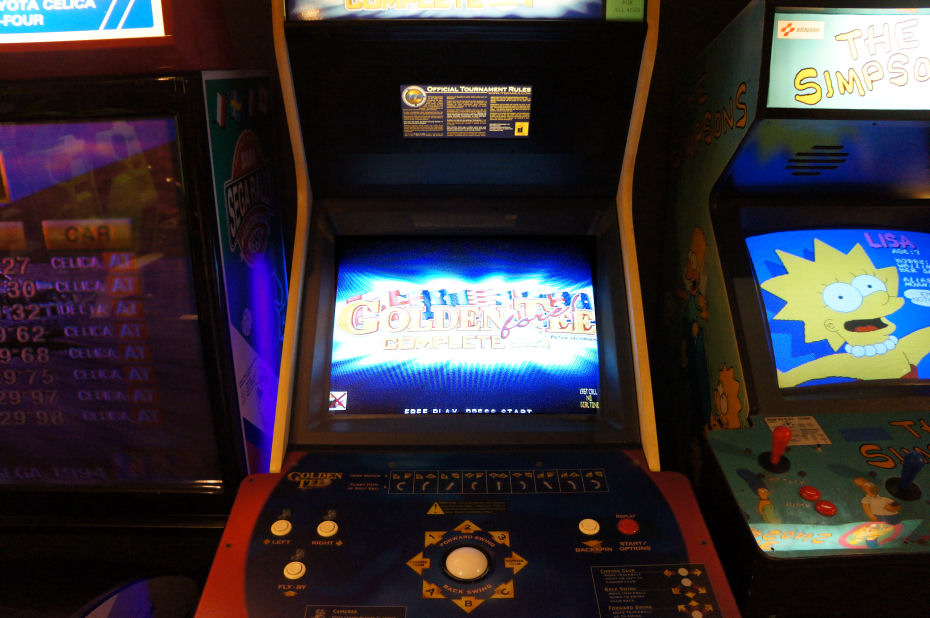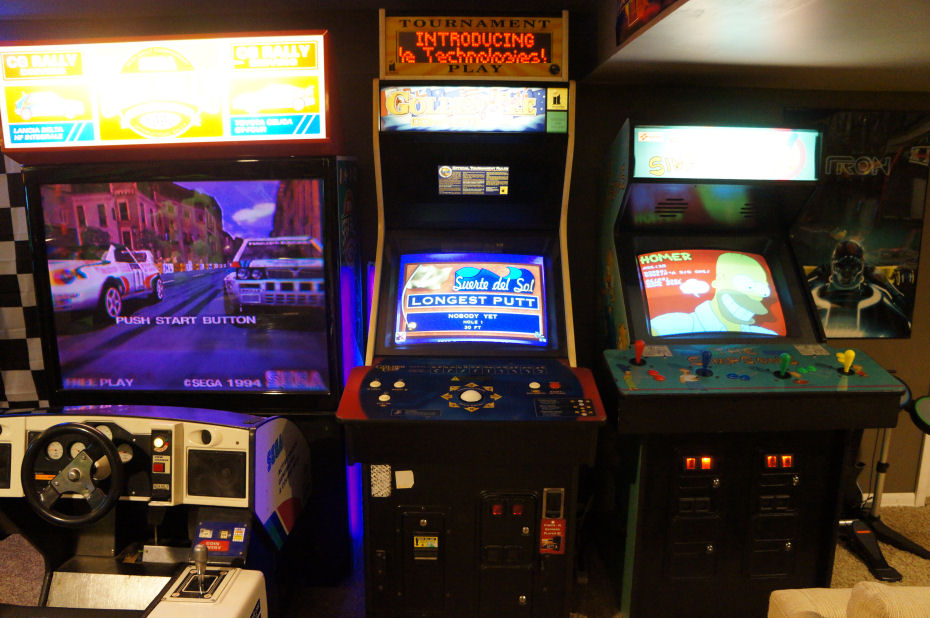 My son Isaac just finished his soccer season. We decided to reward the hard efforts of the boys with an end of season soccer party at the Vintage Vault Arcade... AKA my basement. I can personally vouch that my boy Isaac scored plenty of goals this season so I'm quite proud of him. The Fix it Felix Jr. arcade machine and the air hockey table are new items in the Vault and have already proven to be quite popular with the kids. I also popped through 2 large batches of popcorn in the new popcorn machine. Even coach Ken decided to play hard the entire time of the party. As always, I took plenty of pics so I can share in the fun. Enjoy!
I'm always on the lookout for things to add to the arcade. This type of stuff doesn't always have to be videogame related, but definitely something you would find in some arcades back in the day. I recall during the Starlite drive-in raid that I tried to buy several vending and snack machines that was at that creepy run down theater but the owner wasn't selling them.

For years now I have been watching prices on popcorn machines just like you would find at a snack bar area in an arcade. Most new commercial machines were insanely overpriced, and the home use ones I have been seeing at Sams Club are still $200, and definitely too decorative and fancied up. Often friends and family are looking out for items for my arcade, and this time was no different. A church member was selling her retro commercial popcorn machine and said she would sell it to me cheap before it went to ebay. Well, thank you Lord that was just what I've been wanting: retro, nicely used and the right price. She even gave me 30 commercial combo popcorn/oil packs to go with it.

I got this machine home, cleaned it up and popped some popcorn on the spot. After spending the last 10 years on microwave popcorn in my house this was a welcome change of pace. It had that awesome, arcade, theater, carnival taste to it popped right out of the kettle. I've already popped popcorn for my childrens church, for an arcade soccer party, and several movie nights at my home. The doors were tinted yellow and a bit scratched up from use, so I recut new clear doors for it to give the machine a small makeover. This popcorn machine fits right at home in my arcade, and definitely adds something more to my snack bar area. I welcome fresh popcorn on every gameday and family gathering for years to come. Smell the pop!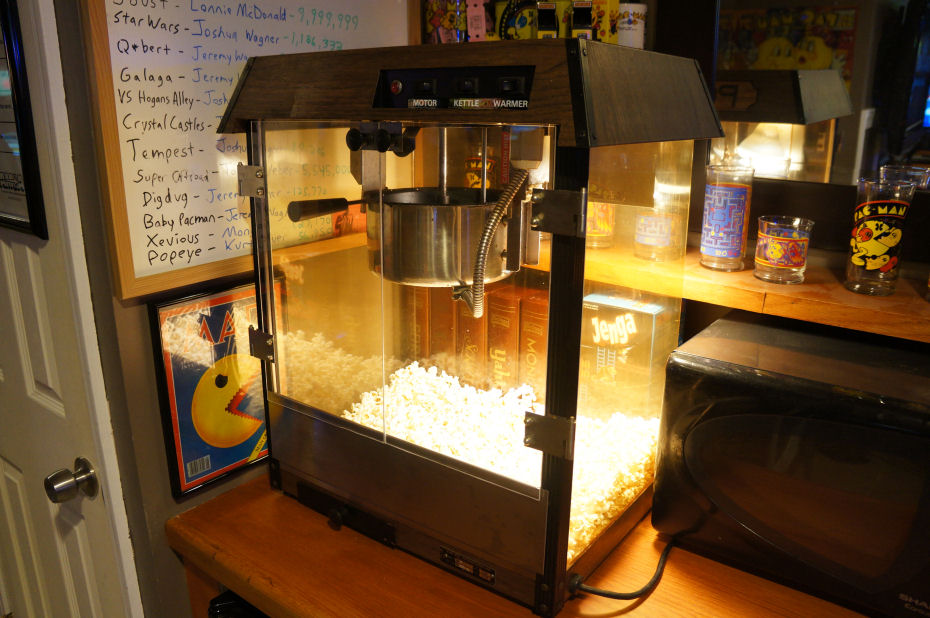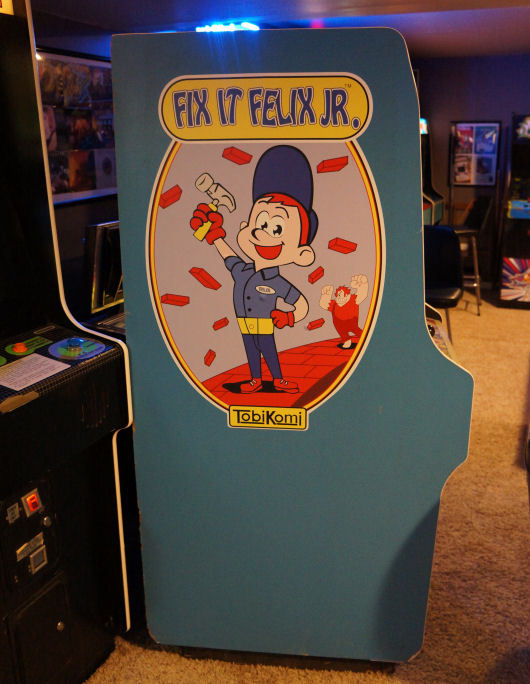 That's right. My Crazy Taxi stopped woofing. I'll explain in a moment. So my Crazy Taxi seems to be one of the most popular games in my arcade, and why not? You have a cool rock sound track, bass thumping in your britches, you drive a car at crazy speeds slamming into stuff without any damage, and you get to run over people without killing them. Everytime I have a gameday I ask my childrens church kids what their favorite game in the arcade is, and they say Crazy Taxi everytime.

Needless to say the game gets near 100% playtime in my arcade with large groups of people. So recently, someone was playing the game and I notice a loud crackling vibration sound coming from the drivers seat. Something definitely sounded broken. I know from experience that there is a bass speaker, a subwoofer if you will, under the drivers seat in most of my games. This was the problem sound. While checking out the game, I sat in the seat and also noticed it no longer slid forwards or backwards. Hmmmm, nobody told me that was a problem either. With that I knew I had to disassemble the seat to figure out both the subwoofer problem and the seat adjustment problem. It turns out that to unbolt the seat from the frame, you have to unlock 2 keylocks which unhinges the seat track. I did not have those keys. Personally, I'm amazed how many of these games are sold with missing keys. What to do, what to do? The only thing you can do is drill out the locks. These 2 locks were so difficult I broke a drill bit in half, and finally powered through with the second bit. I lift up the seat, unbolt it from the frame, and get to the subwoofer.

AHA. Look at the picture below. I disassemble the subwoofer box and the foam or rubber ring which supports the cone is completely disintegrated. That was the vibrating sound. I had a similar sized spare subwoofer and install it back into the box. Next, I take the sliders under the seat rack and give it several doses of WD40. After unsticking the seat sliders I reassemble everything back together. I sit down, readjust the seat back nice and easy, and play a few games with that bass thumping sounding as good as ever. Crazy Taxi lives on!