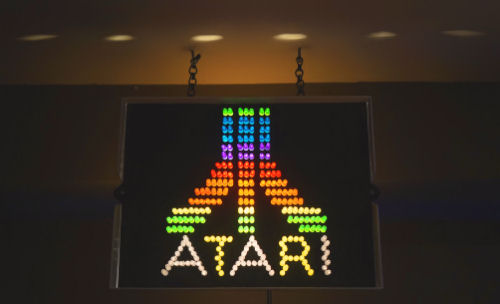 Let's talk marquee lights. If you look at some of the games below every marquee is nothing more than some title artwork backlit by a fluorescent tube. Of course, the end effect is amazing. Now lets move on to another kind of light box. This was a retro toy called a Lite Brite very similar to a marquee. The difference? You custom design your artwork by pushing colored pegs through holes in the light box. The colored pegs are then back lit to display your image.

When I saw this Lite Brite at a garage sale I couldn't resist. Using some skill and talent I came up with a multi-colored Atari logo and hung it right above Atari row. The result? Complete awesomeness. Its retro, its colorful, and its cool. Atari row couldn't be any prouder.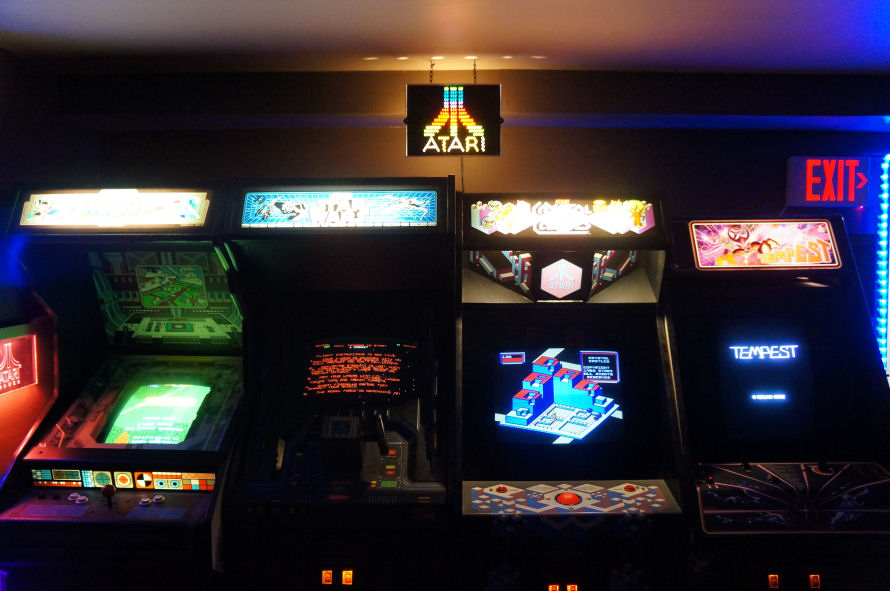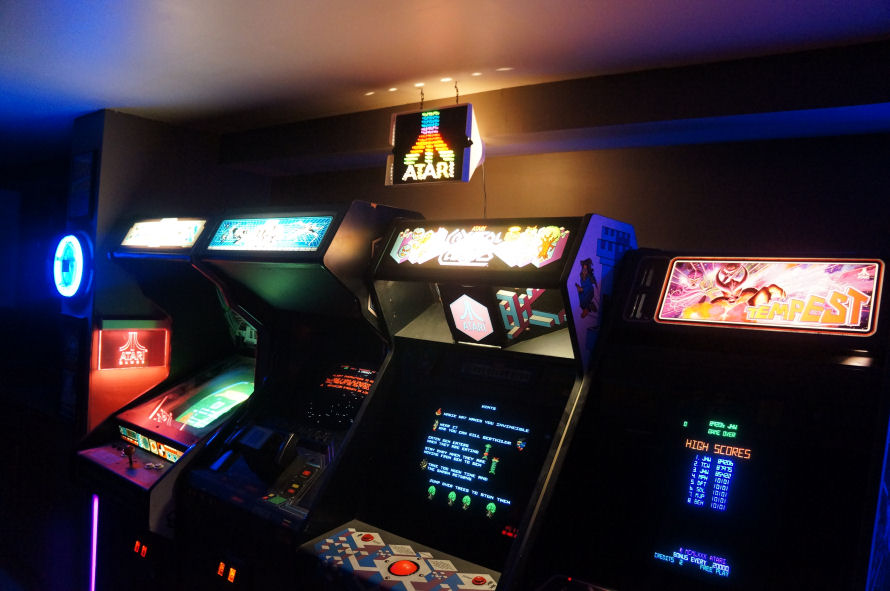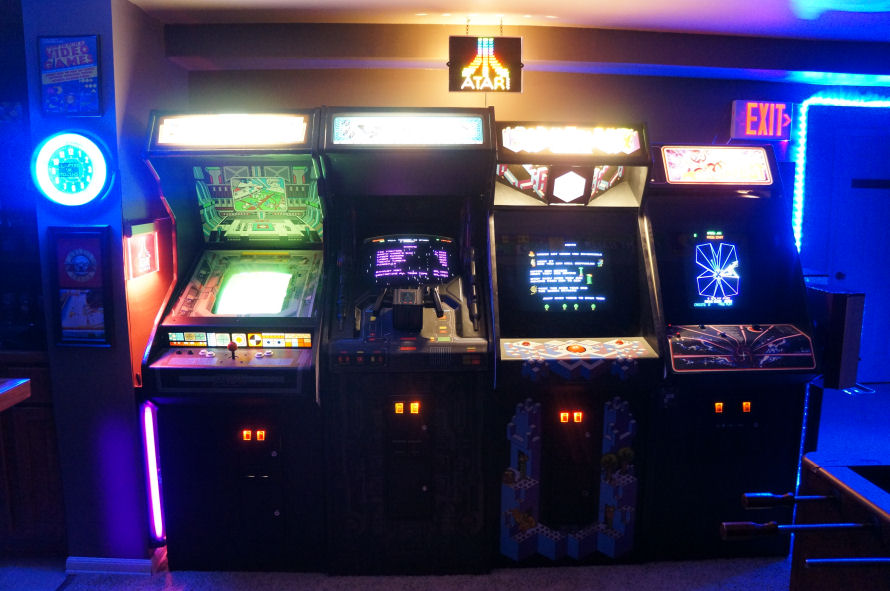 I hosted a graduation party for my niece Bree who just graduated from high school and is heading to college in the fall. We had around 60 guests in attendance at the Vintage Vault Arcade. The 3 player Revolution X made its first large party debut and pretty much had constant play throughout the day. The new Rush the Rock also proved a big hit giving players the chance to race each other with dual linked games. The rearranged drivers row had guests on them all day and the candy crane was pretty much emptied of all its ring pops. As always, it was another good day down in the Vault with all the games getting an old school work out just like Back In The Day.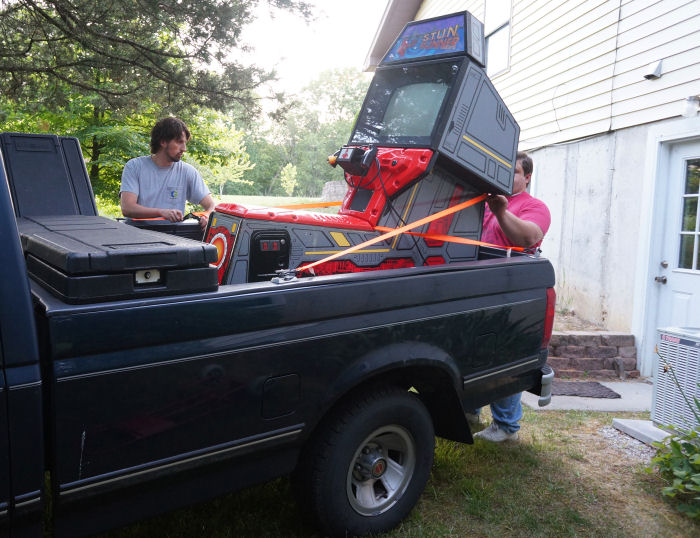 With the recent addition of a second Rush the Rock for linked gameplay, gameroom space was at a premium in the arcade. That meant something had to go. I was sad to sell it, but my STUN Runner was the 3rd game that I purchased and had kickstarted my collecting into high gear. It was also the first dedicated game I had purchased as the others were conversion cabinets.

My arcade has certainly milked plenty of gameplay out of STUN Runner over the years. However, with all the new driving games I have picked up in recent times it wasn't getting the same play anymore. This meant it was time to go to a good home to be enjoyed as a new addition in someone else's gameroom. A local collector bought the STUN Runner to add to his collection. It couldn't have gone to a better home. May you serve your new owner well STUN Runner. You can read about when I first picked up my STUN Runner here.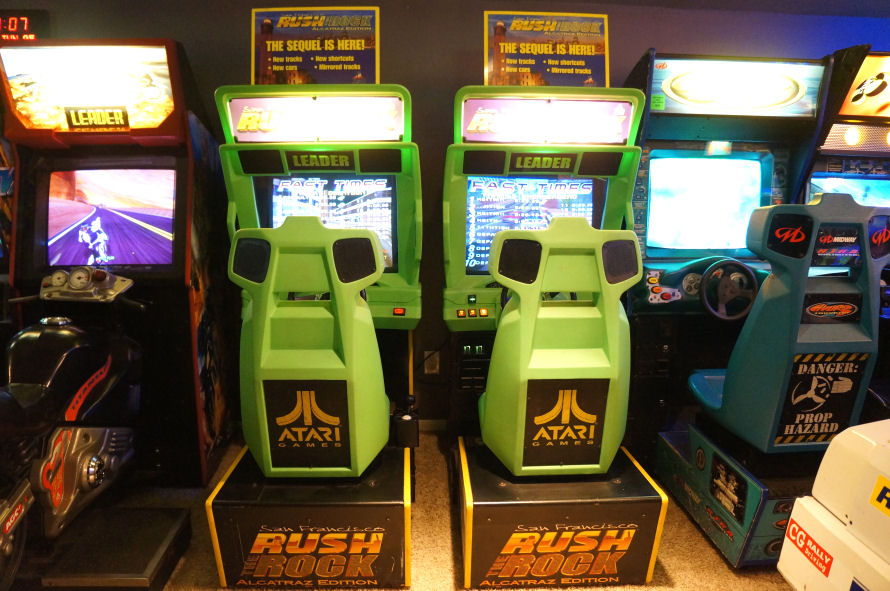 THE TITLE SAYS IT ALL. Yes. Not one, but two Rush the Rocks. Not just two Rush the Rocks, but two Rush the Rocks linked together so you can race against each other. Ever since I picked up my Rush the Rock a few years ago, I dreamed of someday getting another cab to link them together. That dream, came to life today. I received a surpise phone call from friend and collector Keith asking if I wanted to buy his Rush the Rock. The rest is now history

I have been wanting to reorganize my driving games for some time now, but the monumental task always kept me from doing it. With this new game gracing the gameroom presence, I took on the task. I moved around 18 games (almost half the collection) so I could line up Drivers Row all nice and neat. This took me an entire day, and yes I did it with no help whatsoever.

See the pictures below of the reorganized Drivers Row. In my opinion, it is simply stunning. The games almost resemble a work of art. The last picture is that of Keith, standing next to the Rush that he has now sold me. Of course he can come visit it anytime he wants and beat out my high score. To read more about this story, click here.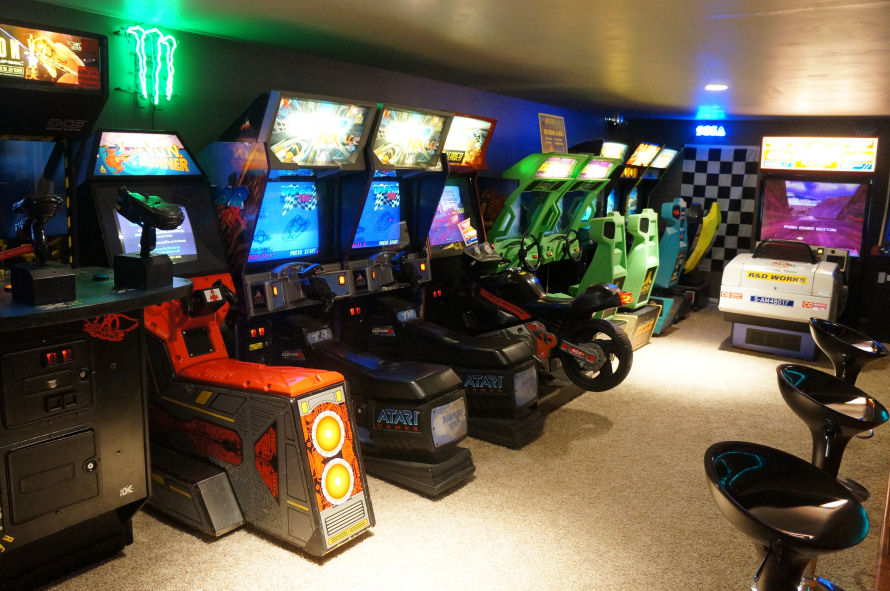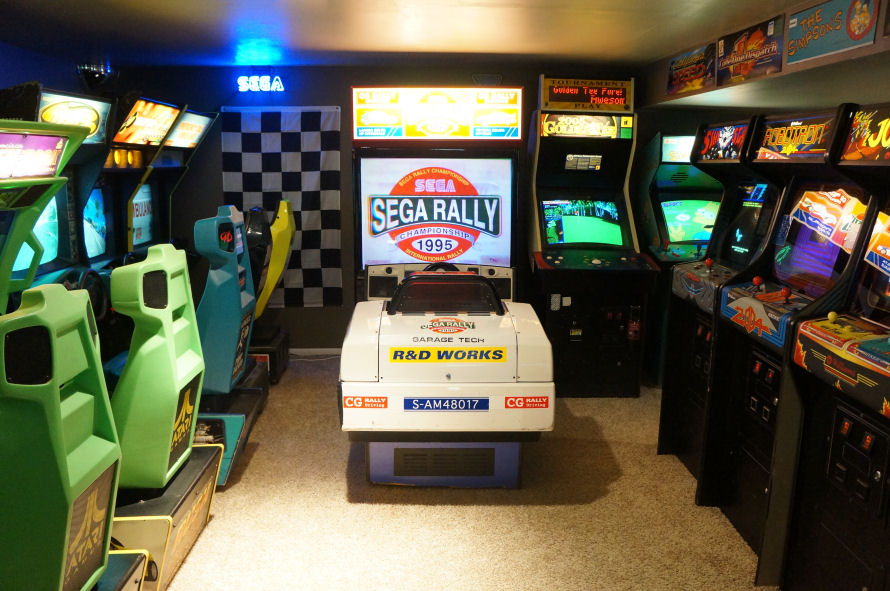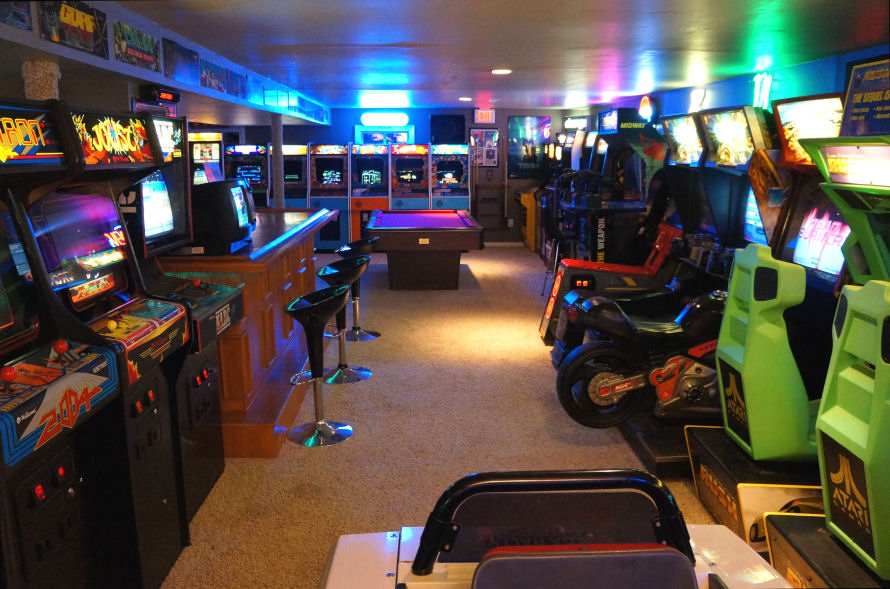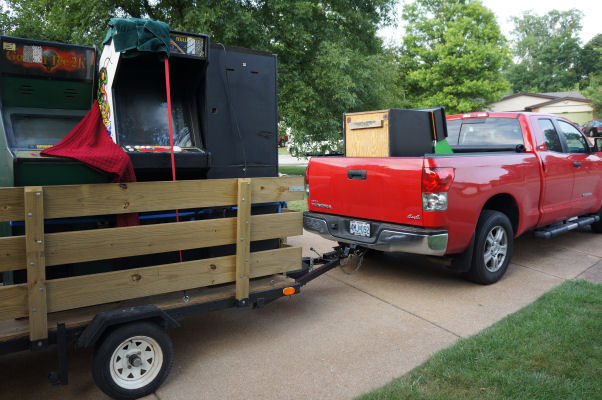 Memorial Weekend is a time to remember those who fought for our freedom, barbecues, swimming...
and picking up arcade games.

My plans for the day was a barbecue and swimming, but my collector friend Todd had other plans and asked me to come along. I still got in my barbecue and swimming, then Todd swung by and picked up me and my trailer after 4:30PM. What was supposed to be a 3 game pickup soon turned into 4 games.
You can read about the Memorial Day road trip here
The Revolution X has probably been the biggest project I have taken on since collecting games. This 700 pound monster of a game with 3 player gun action was just begging to be brought to life. The 33 inch Hantarex Polo monitor was dead, the sound wasn't working, the wiring to the guns and coin door was all messed up and gears and buttons were broke inside the guns. I managed to fix everything with the last repair to be fixed was the 33" monitor. You just weren't going to find one of these for sale. 19 inch monitors are plentiful, 25 inch monitors can be found in multiplayer and racing games with a few 27 inch ones out there. But 33 inches? Forget it. It was either repair it or put in something smaller and non original. Finally, at this point in the time the monitor is now fixed. The pictures below just don't do it justice. The color and brightness on this thing is beyond compare. I have a 25 inch monitor in my dual gun Terminator 2 and the 33 incher DOES make a huge difference. The dual stereo DCS sound system with the IN YOUR FACE monitor immerses you into the game in a way that many others don't. If you want to see Steven Tyler in all his glory, forget American Idol, all you need to do is WALK THIS WAY and play some Revolution X!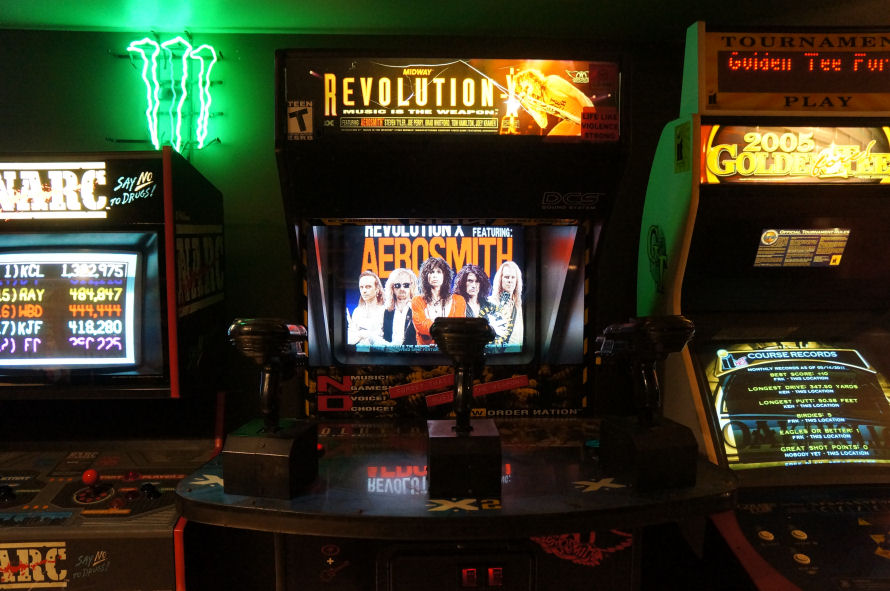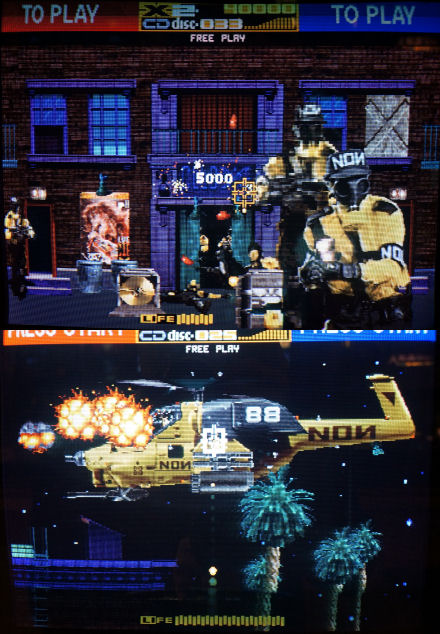 A cool month ago I hit up an Arcade Super Auction. I bid on a few games but I didn't win any auctions. However, the day was not lost. Right next door to the auction was Brewmania. While the standard fare was beer related, there was also other stuff for sale. I managed to snag this working Pepsi neon for a price so low that I'm just not going to tell. This neon is bright and absolutely gorgeous. I certainly didn't go home disappointed. I gave the neon a center place of honor in the arcade because of its beauty. Besides the neon glow which gleams off the arcade machines in a quintessential array of colors, it also fits right in with the vintage Pepsi machine that resides outside the doorway of the arcade. Arcades and Neons. Peanut Butter and Jelly. Just do it. Now I'm hungry...and thirsty. I think I'm going to get a soda out of the soda machine and play this Joust right below the Pepsi sign.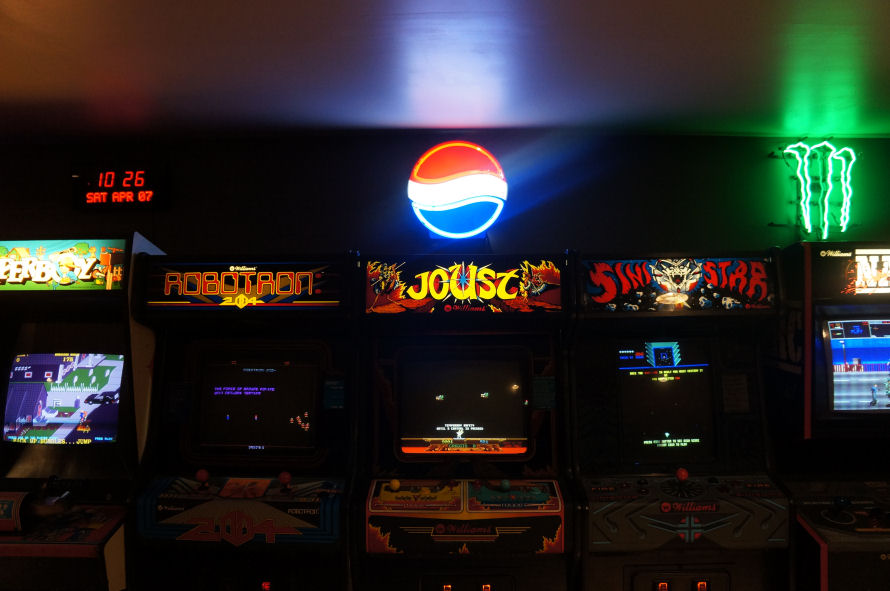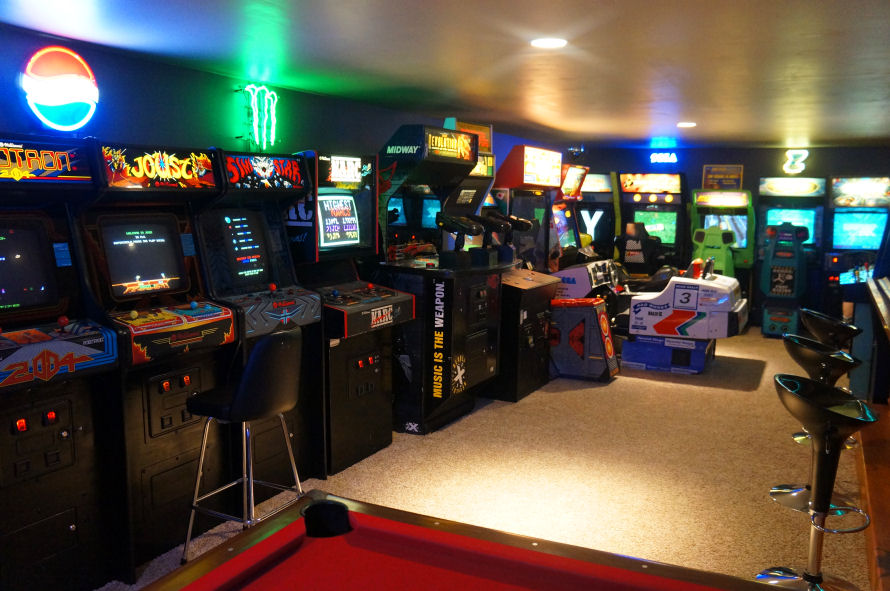 You saw the pictures, now its time for the video! This was from a church gameday at the Vintage Vault Arcade on 4/22/12. I couldn't resist adding the opening clip with the games in the background. Crazy kids. Enjoy!
It was that time of year again. The big day was April 22, 2012. Time for another church gameday at the Vintage Vault Arcade and Gameroom. For those that might not know I am a childrens pastor. Not all families can afford an unlimited experience at Chuck E. Cheese. But everyone can afford the Vintage Vault, its all free! Parents and kids alike look forward to this day. This was the biggest crowd yet with 55 people in attendance. The only machine with an issue was the candy crane and I think thats because the girls were overloading the game with credits or just plain running the motor non-stop. After hours of non-stop use it appeared to be jammed up. I turned it off for an hour to give it a breather and it came back up no problems for the rest of the day.

Here is a breakdown of the top free earners of the day. The 9 driving games were running pretty much constantly. The Simpsons and both Megatouches always had someone on them. Vs Super Mario was taken most of the time. Not surprisingly, the gun games VS Hogans Alley and Terminator 2 had a lot of play also. I was surprised that pretty much every classic game in the gameroom was played multiple times over. Also, the Baby Pacman, Ms Pacman, and Galaga corner would always be filled with three people.

We ordered 12 large pizzas and they drained the soda machine of about 150 cans of soda. This was on top of candy, cookies and chips. It WAS a great day. This time I took plenty of pictures. 72 pictures to be exact. Enjoy the photospread because everyone had a blast!